CALAIS, France — Police beefed up security in this port city at the center of Europe's escalating migrant crisis, seeking to stem a flood of illegal border crossings from France into the U.K.
France dispatched 120 extra police to Calais after officials said Wednesday that more than 2,000 migrants tried to rush the Eurotunnel which leads to Britain in just one night. One migrant was killed — the ninth since June. Around 37,000 have been blocked at the Channel Tunnel this year.
When night fell on Wednesday, flashing police lights dotted the horizon. Officers patrolled on foot and formed lines near the fences separating hundreds of migrants from the train tracks.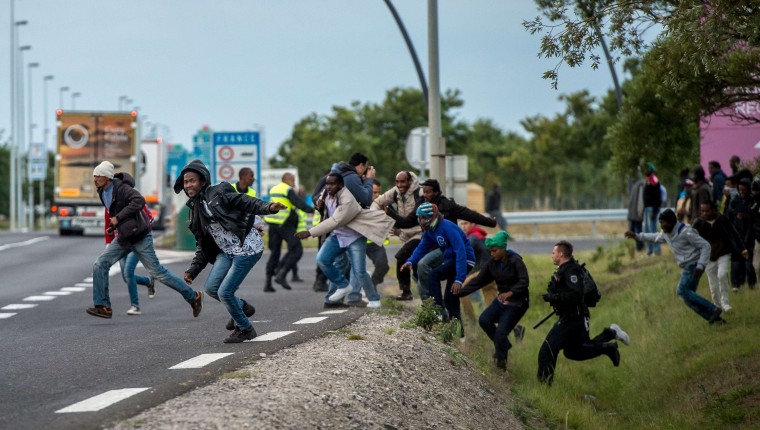 The migrants — the majority of whom are refugees from the world's most deadly conflicts — appeared to be mostly undeterred.
Driss Ahmad has been trying for the past 15 days. The 20-year-old left his native Eritrea in hopes of a better life, crossing through Sudan and Libya before taking a perilous sea journey with other refugees. A civilian ship rescued him from his floundering small migrant vessel and brought Ahmad to the Italian island of Sicily, where he then set out for Calais.
Calais has not been kind to him, Ahmad said. He sleeps outside under bridges and in the adjoining forests. There is no water, no toilets, and little food.
"There it is so difficult — in Eritrea — so they were saying to me come here to find humanity," he said. "We are coming here, we didn't find any humanity here."
Ahmad — like many of the migrants — alleged police beatings and brutality against the migrants. The men who were with him spoke no English but pointed repeatedly at the police and made hitting motions.
"They hit us with the stick," Ahmad said, adding that police had used an irritant like tear gas or mace on Wednesday evening. NBC News was not able to confirm his account.
The U.K., to him, looks like an attractive alternative. Many migrants think finding work or asylum will be easier in Britain. Others want to live and work in an English-speaking country.
"They treat us so bad here," Ahmad explained. "Life is better there than here."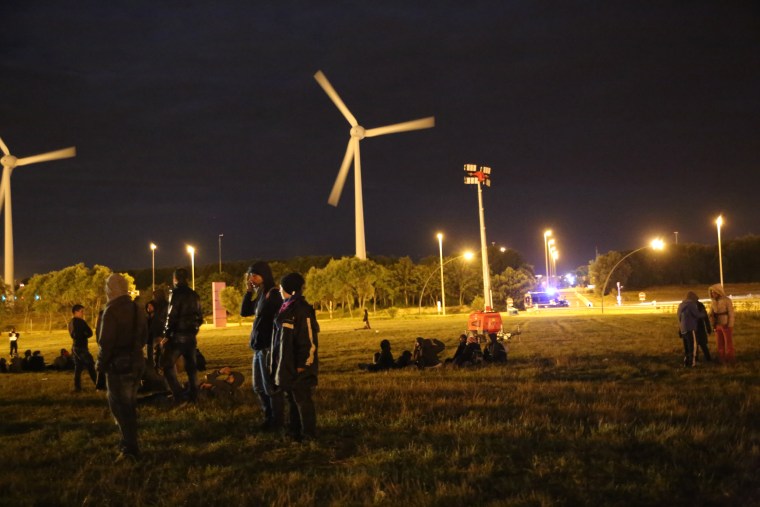 Ahmad said he sleeps during the day in order to be ready for nighttime attempts — and while he knows others have died trying, the potential risks don't faze him.
"Yes, it is dangerous but we are coming from the dangers," he said. "We're trying and trying and we keep trying."
Just behind him migrants were gathered in groups, quietly waiting and watching. The main road near the tracks were filled with young men walking silently in single file, many wearing scarves to cover their faces.
Further down the rails it was quiet, too — until the silence was broken by intermittent thuds.
Gallery: Migrants Attempt Journey Through Eurotunnel
The sounds came spaced about 30 seconds apart — enough time for a migrant to pop out of the darkness, hoist himself up and crawl belly-flat through a tiny hole in the fence. About a dozen migrants came through like that, quickly jumping to their feet before setting off down the tracks.
They made their way along the rails, heading for the Eurotunnel. Fifteen minutes later the thuds came again — another group was sneaking through. Police vans were parked just a few hundred feet away, lights flashing.