BRUSSELS, Belgium — At the end of a contentious summit, European and Balkan leaders committed early Monday to add capacity for receiving 100,000 more migrants to ease the plight of the tens of thousands coming from Syria and beyond and marching across the Balkans toward the European Union's heartland.
After lashing out at one another's ineffective handling of the continent's greatest immigration crisis since World War II, the 11 leaders agreed to slow the chaotic flow of people moving up from Greece and provide much more shelter as winter looms.
"This is one of the greatest litmus tests that Europe has ever faced," German Chancellor Angela Merkel said.
At a hastily called emergency summit in Brussels, the leaders were especially looking to shore up Greece's porous border and ensure that the countries along the way wouldn't simply ship the people through their territory and dump them at the border of the next northern neighbor.
"Waving them through has to be stopped, and that is what is going to happen," EU Commission President Jean-Claude Juncker said.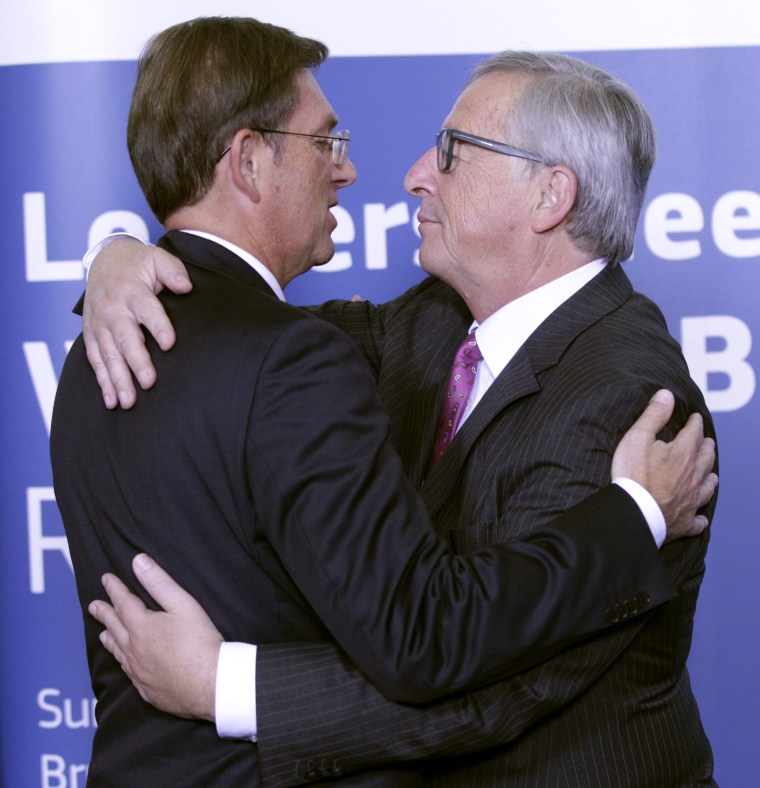 Nearly 250,000 migrants have passed through the Balkans since mid-September, and the surge isn't being deterred by cold weather or colder waters off Greece. Croatia said 11,500 people crossed into the country Saturday, the highest in a single day since Hungary put up a fence and refugees started coming into Croatia in mid-September.
Slovenian Prime Minister Miro Cerar said his small Alpine nation was being overwhelmed by the refugees — with 60,000 arriving in the last 10 days — and wasn't getting enough help from its EU partners.
He put the challenge in simple terms: If no fresh approach is forthcoming, "in the next few days and weeks, I do believe that the European Union and Europe as a whole will start to fall apart."
Related: Slovenian PM: European Union Will Collapse if Leaders Fail on Migrant Plan
At Slovenia's overwhelmed Brezice refugee camp near the border with Croatia, a spokesman for the U.N. refugee agency urged leaders to come up with a system to register and screen newcomers when they first enter Europe, rather than in piecemeal attempts at borders along the way.
"But also very important is to help Syria's neighboring countries, where there are around 4 million refugees," UNHCR spokesman Babar Baloch said. "These people don't need to take these risky journeys if there are legal pathways to come to Europe."