A record-setting 137,000 migrants arrived in Europe by sea in the first half of 2015, according to a United Nations report Wednesday that said the continent is "living through a maritime refugee crisis of historic proportions."
Data from Greece, Italy, Malta and Spain revealed an 83 per cent increase Mediterranean crossings compared to 75,000 in the same January - June period last year, the UNHCR report said.
The problem is likely to worsen significantly because the number of crossings is historically higher in the second half of the year, it warned.
A number of shipwrecks led to the drowning of an "unprecedented" 1,308 in April alone, compared to 42 in April 2014. After international sea patrols were stepped up, the number fell to 68 in May and the downward trend continued with 12 in June, the report said.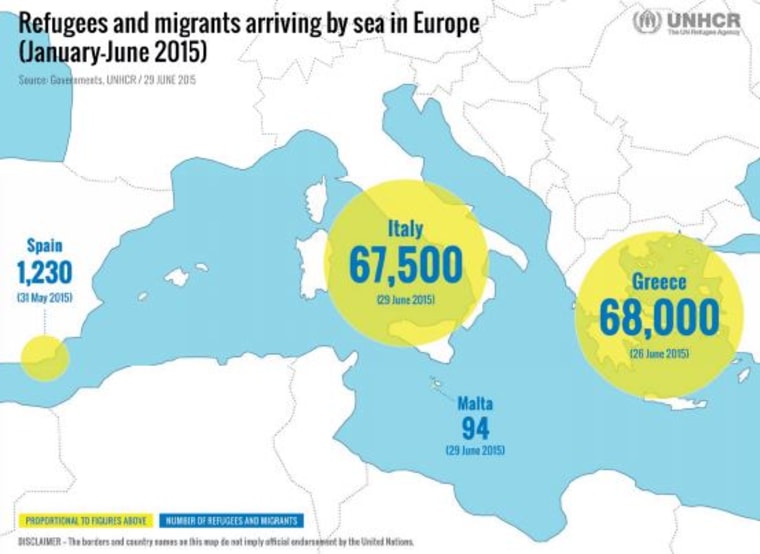 Almost one in every 12 migrants arriving in Italy was an unaccompanied or separated child, the report added.
It comes as European Union leaders remain divided over how to tackle the problem, which is primarily borne by southern member states including debt-crippled Greece. A deal reached last week would see some 40,000 relocated to other EU states — but some have refused to accept any more refugees.
The report said the crisis had triggered "a rise in anti-foreigner rhetoric and xenophobia in several European countries, including those traditionally welcoming to refugees."
"Europe has a clear responsibility to help those seeking protection from war and persecution," said António Guterres, the UN High Commissioner for Refugees, in the report.
"To deny that responsibility is to threaten the very building blocks of the humanitarian system Europe worked so hard to build. European countries must shoulder their fair share in responding to the refugee crisis, at home and abroad."
The report added: "The protection of refugees has been a core human value as long as civilization has flourished. In times of conflict, fences and borders will not stop people fleeing for their lives. They will come. The question facing the international community is not whether to engage with this crisis, but how best to address it."