LESBOS, Greece — Sub-zero temperatures and ice-cold waters haven't stopped tens of thousands of migrants from landing on the shores of this tiny Greek island this winter — though many have died trying.
The locals of Lesbos have been flung into the roles of rescuers and receivers. Their courage, compassion and self-sacrifice has inspired a Nobel Peace Prize nomination. Here are some of their stories.
The fisherman
Thanos Marmarinos has traded fishing time for towing in boats full of desperate migrants, saving scores from the frigid sea.
"One boat was filling with water — there were 18 children in it, including a three-month-old baby. If we hadn't been there, they'd have drowned," the 62-year-old said.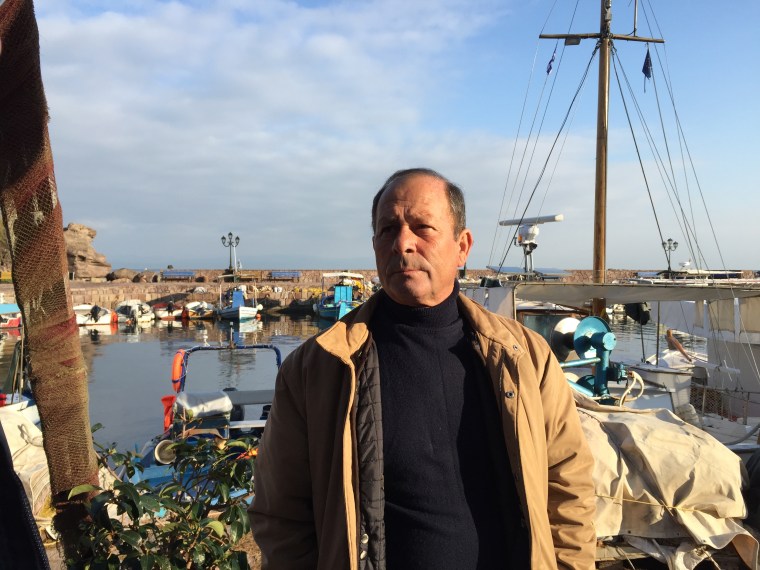 Sometimes, though, he and his comrades are too late. Only last week a woman and her baby died of hypothermia before Marmarinos could get the pair to safety.
While he's doing everything he can, Marmarinos thinks Europe should be doing more to help the people washing up on his island's shores.
"I'm ashamed to be European now," he said.
The Coast Guard commander
Vassilis Liropoulis and his team search for people every day and night. He doesn't know exactly how many they've saved but "it's a lot," he said.
"There are many accidents with boats sinking and breaking up — we find bodies from many accidents," the 42-year-old said.
The Nobel nomination feels good, although he already feels fulfillment from his work.
"I am doing something for these people — that makes me feel good, nice," Liropoulis said. "But it's hard for the island."
The villager-turned-volunteer
The last year has been surreal for Philippa Kempson, an Englishwoman who's lived on Lesbos for 16 years with her husband Eric.
"I've seen too many faces, too many boats lost, too many people lost," she said. "People just walking their dog on the beach — you don't expect to find a body of an 18-month-old child on the beach in the morning on a dog walk."
The hotel owner
The refugee crisis started in earnest for Dimitris Vatis last year.
"Suddenly there were 10 people outside my hotel. So I gave them rooms," the 70-year-old said.
He tried to keep his hotel going while still helping those in need, but that was hard because some of his guests were uncomfortable by the refugees' presence.
"Some weren't happy at the refugees but by the end of their holiday most of the tourists were helping us too," he said.
He holds out little hope that the situation will improve.
"Things aren't going to change — we know the refugees will keep coming," Vatis said. "The only thing we can do is when the people come here, we try to help them."
"But we do need help."
The Red Cross volunteer
Angeliki Chousou is grateful for the Nobel nomination.
"We deserve it! We give them clothes, food, blankets, clothes from our own homes, toys for the babies. And we give them love — lots of love," she said.
The islanders know only too well what the migrants are going through, she said. Many are descended from people who themselves were driven from their homes in what is now Turkey during WWI and its aftermath, Chousou said.
"We understand what they are suffering because many of our grandparents were refugees too," she said.
The refugee camp director
Talk of a Nobel prize means little to Efi Latsoudi though, who said she is angry, frustrated and often overwhelmed.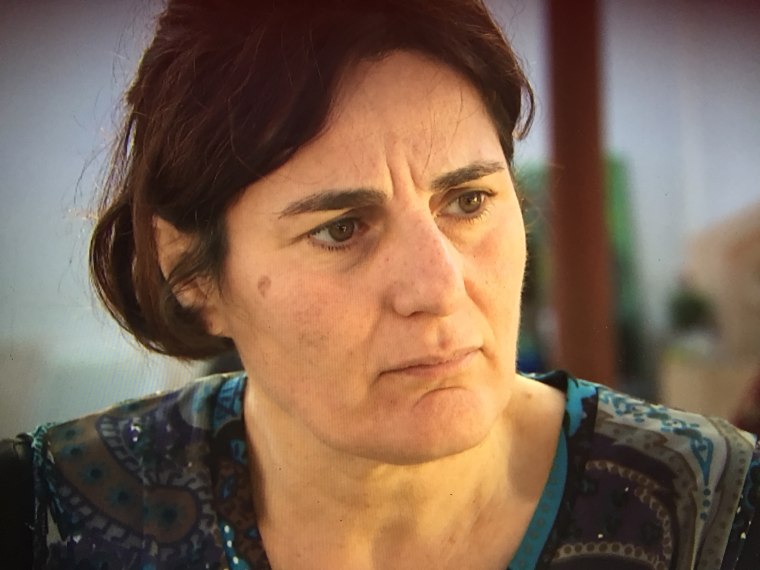 "I don't want the Nobel Prize if people are dying this way, if we find the bodies of children every day, of women, of young men, of anyone," the 48-year-old said. "It would be an empty, meaningless thing to win a prize as long as people are suffering and dying like this."
She too said Europe should be doing so much more to help.
"There is no reason why people should die in this sea," she said. "It's not just a Greek problem, it's an international problem. We know that these people will die and we let them die."
The emergency doctor
Tassos Gianoumis works at a medical unit near the port where refugees come ashore.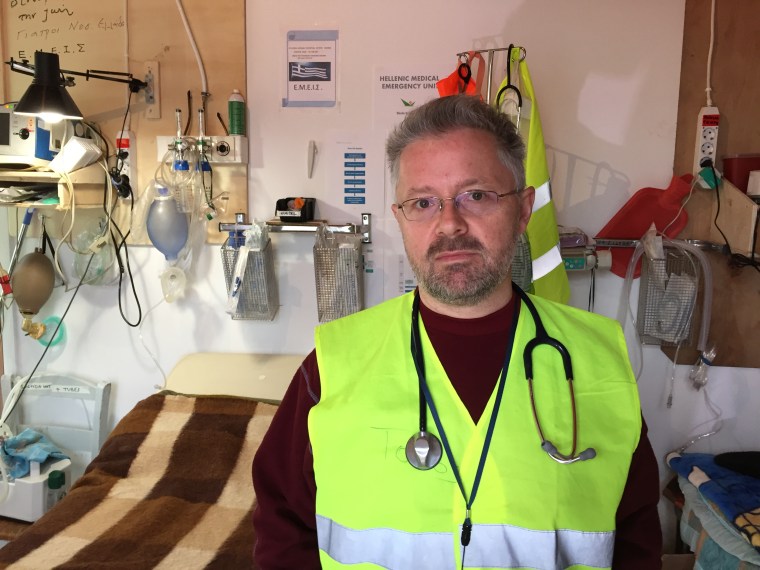 "We put a tube into their lungs to try to get the water out. We try to warm up people who've almost died of the extreme cold," he said. "Last week a woman and a small child died this way."
He might be saving lives all the time but Gianoumis says the roots of the migrant crisis — conflict in Syria, Iraq, Afghanistan and beyond — must be addressed.
"This war must stop," he said. "And if it doesn't, what we are doing here is like an aspirin."
The restaurant owner
First one boat per week showed up, then it was two and now it is 50, according to Melinda McRostie, who struggles to feed as many as she can at Captain's Table, her restaurant.
"Now it's almost like a war one that we're in — we've had a lot of people who haven't made it," she said. "So many people have died."
But it is hard.
"We've all sacrificed — I've deserted my business, my restaurant."
The mayor
A Nobel nomination was a great honor, but it is not a priority, according to mayor Spyros Galinos.
"The first priority is that the international community should intervene and stop the crime that's being committed by the Turkish smugglers," said Galinos, who is mayor of the city Mytilene. "Right now, lives are being lost in the Aegean and there's no reason that should be allowed to happen."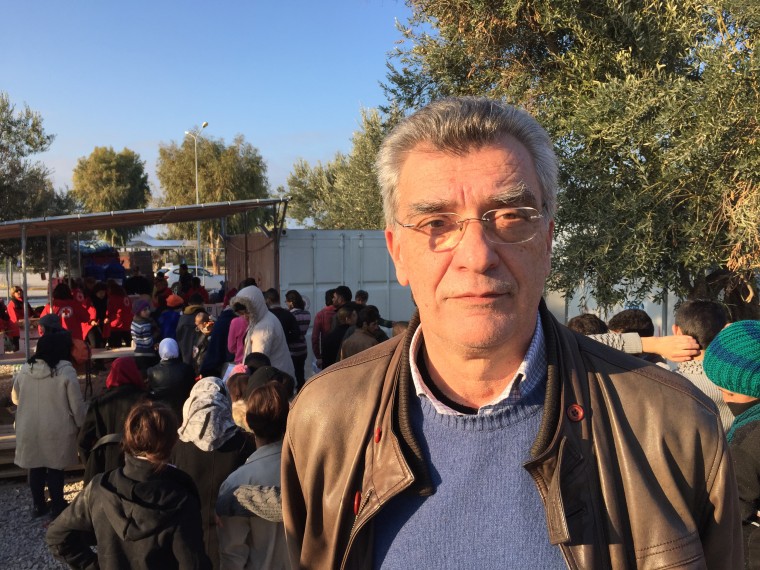 More than 550,000 people came through his island in 2015, he said — and more will wash up on the island's shores this year.
"As long as Europe does nothing to stop this, more and more lives are going to be lost," Galinos said. "We can't handle... lives being lost a few meters off our shores, with Europe doing nothing to help us."