BERLIN, Germany — Violence against refugees in Germany reached new heights over the weekend as armed groups attacked Syrians in several towns.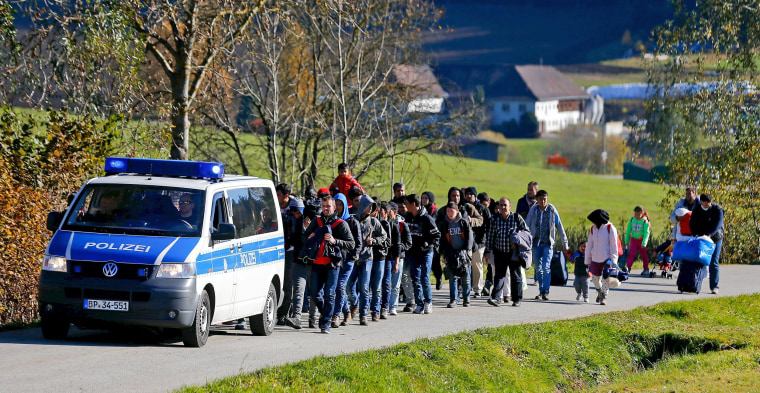 The incidents included a group of at least 20 dark-clothed people — including some armed with baseball bats — targeting a group of asylum seekers early Sunday in Magdeburg, police said. Three Syrian men had to be treated in hospital for bruises and injuries to their faces. One of the attackers was arrested near the scene.
In Wismar, two Syrian men had to be treated in hospital after they were assaulted outside a building which is used as a shelter for refugees. Police said masked attackers armed with baseball bats and other weapons threatened and then beat the pair.
A 26-year-old asylum seeker was injured in Freital, Saxony, after an explosive device detonated in front of his bedroom window. A police spokesperson told NBC News they suspect that the act was motivated by right-wing extremism.
Related: Anti-Islam Rallies Get 'Angrier' Amid Migrant Crisis
Police also reported several deliberate fires at under-construction refugee shelters.
"This is a new climax," Hajo Funke, a German expert on right-wing extremism, told NBC News. "These elements now see that the time has come to strike hard."
Germany is expected to take in more than 1 million asylum seekers this year and thousands of them continue to enter the country on a daily basis. Some worry whether Germany can cope with the high number of new arrivals.
Funke said that Germany's far-right movement has been on the rise in recent years and appeared to be trying to capitalize on the recent influx of refugees and migrants.
"They see that there is a certain fear and try to charge it with right-wing extremism," he added.