ZURICH — The number scrawled across the wall in a Libyan detention center connects to a cellphone more than 1,000 miles away in Europe — with a Catholic priest at the end of the line.
Father Abba Mussie Zerai answers that number at all hours, acting as an emergency hotline for refugees pleading for help from the world's deadliest migrant route. After fielding the distress calls — often screaming and crying — from stricken boats in the middle of the Mediterranean Sea, Zerai uses his contacts at the Italian coast guard to push for a rescue.
"It's very urgent, it's a big responsibility," said 40-year-old Zerai, an Eritrean priest now living in Switzerland. "I try to find solutions to help these people."
Zerai's followers say he's helped rescue thousands of migrants since first making contact with a group of refugees held in a Libyan detention center in 2003 through a journalist. Hearing their stories — "what kind of violation, what kind of abuse, torture" — made him want to act, Zerai said.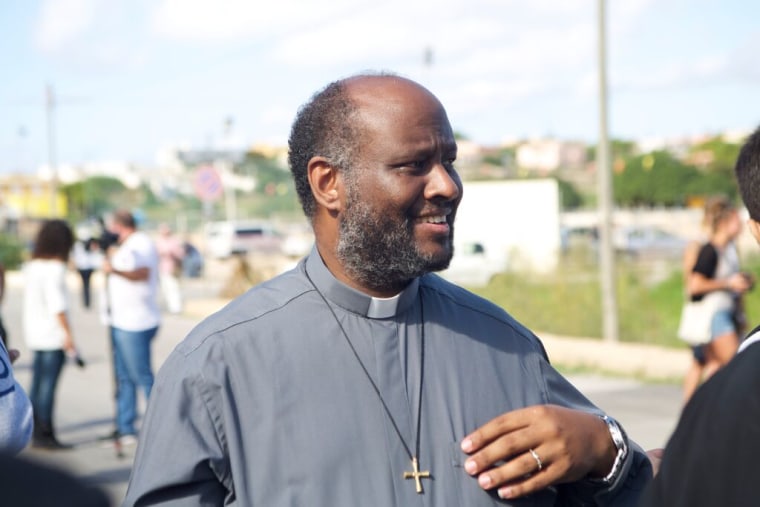 "I say: 'I can't keep all this history only for me,'" Zerai explained. "So, I start to denounce publicly. I start to do advocacy for the refugees' rights."
That same group of refugees wrote Zerai's phone number on that wall so those who came after them would have someone to call in case of an emergency. Over time, the phone calls starting coming from outside the site's walls.
"I start to receive distress calls from the Mediterranean Sea, distress calls from detention centers, from everywhere," Zerai said. "Not only from Libya … even from Indonesia, Cambodia."
Lately, most of the voices on the other end of the line are coming from the stretch of sea between Libya and Europe. Around 2,900 people have died on that route this year, according to the International Organization for Migration (IOM).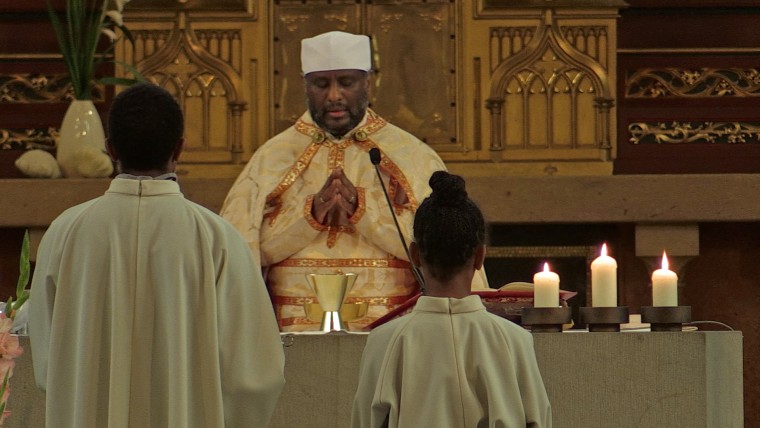 "When we talk about people who try to reach Europe across the Mediterranean Sea we are talking about human beings, not about numbers," Zerai said. "Human beings — like me, like you, with the same dignity, the same rights, with the same dream."
Those making the dangerous journey from Libya risk their lives on old, overcrowded boats — and the largest number come from Eritrea — the country Zerai fled in 1992 after 30 years of war.
Zerai remembers the Eritrea of his youth as a place where people didn't have the freedom to talk openly to each other.
"I want … to experience what it means to live in peace, in democracy, in freedom," he said. "That's why I leave my country."
Since he left, the country has been under the iron grip of President Isaias Afwerki — a former rebel commander whose regime has been accused of widespread and systematic human rights abuses by the United Nations.
"For our people, we call Father Mussie when we are in trouble"
Zerai said many Eritreans fleeing to Europe are trying to escape the country's mandatory military service which conscripts men and women at 18, often indefinitely and without pay.
"You know when you start but you don't know when you finish," explained Zerai, who also oversees a community of Eritrean Catholic refugees in Switzerland. "That is big, for the young people especially. They say, 'What is my future? I can't spend 15-20 years of my life in military service. I become slave of the regime.'"
There are more than 360,000 Eritrean refugees spread out across 56 countries, according to the United Nations. More than 30,000 have arrived in Italy this year alone.
A sense of compassion for his countrymen is what drove Zerai to help refugees in the first place — and led to the success of the all-hours hotline.
Meron Estefanos, an Eritrean activist and radio journalist in Sweden, has worked with the priest for years and says the help he provides is "amazing" and unparalleled.
"He is our ambassador," she said. "Normally you call an Embassy ... For our people, we call Father Mussie when we are in trouble."
Father Zerai's role as informal ambassador for Eritrean refugees took him to the small Italian island of Lampedusa, Saturday, where he led prayers at a commemorative march in memory of the 368 people who died off the coast in October 2013. Survivors from the shipwreck returned to the scene of the sinking for an emotion wreath- laying, less than two miles off the coast.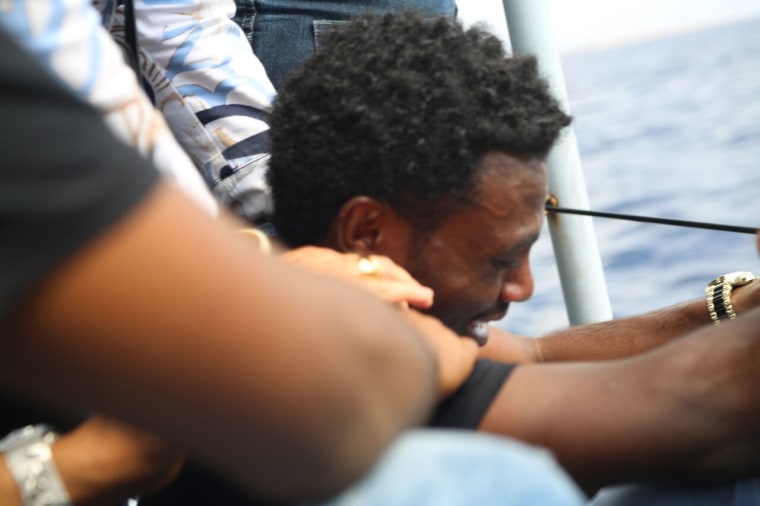 In addition to answering the distress calls, Zerai founded and runs a charity called Agencia Habeshia — named after the Habesha people of the Horn of Africa — to help advocate for refugees' rights and provide legal and training support to migrants in Europe and Africa.
His work has drawn attention — and buzz about a possible Nobel Peace Prize.
To Zerai, though, it's not about an award.
"Why I am activist? Because I say these people [are] like me," he said. "The important thing is the message … No peace without justice, no peace without freedom, no peace without basic rights for the people."