The father of the toddler who drowned with his brother and mother as the Syrian family tried to reach Greece said the boat they were on was overloaded by a smuggler, who assured him that the trip would be safe.
Aylan Kurdi was one of 12 refugees laid to rest Friday after drowning when two boats capsized en route from Turkey to the Greek island of Kos. His father, Abdullah, described the harrowing ordeal, saying the boat that flipped was one of three that malfunctioned during the journey.
PHOTOS: Sad Homecoming: Drowned Migrant Boy Buried in Syria
Abdullah Kurdi said he was told by a smuggler that the last boat was large, but it ended up only being 6 meters (6 yards) long.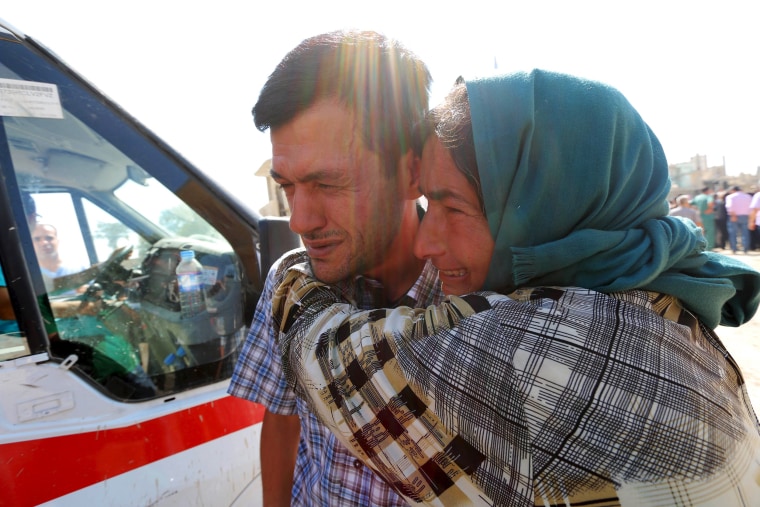 "There were 12 passengers, plus the chauffeur, 13," he said. "I told him this won't go ... and he said just try it and see for yourself, if it doesn't move quickly when we push, we'll go back ... guaranteed."
But "the waves got really high," and nearly overcame the boat, Kurdi said. When the chauffeur jumped overboard, Kurdi said he took the helm. "It wasn't scary, you just had to know how to move with it," he recalled.
One wave proved too violent, and the boat flipped "within a matter of seconds," Kurdi said.
The father said he grabbed his kids and wife from the water and tried to lift them up so that they could breathe, "but it was out of my hands. I swear it was out of my hands."
Three-year-old Aylan's story has sparked outrage from around the world, and highlighted the dangers that thousands of refugees are face as many try to flee their war-torn countries and make it into Europe.
Kurdi said he hopes his family's story "becomes an example to the world ... to stop these massacres."