MAINZ, Germany — A firefighter who told authorities he was "scared" of refugees has been accused of setting a blaze in the attic of a house where Syrians were living.
A pregnant woman was among seven who fled the burning dwelling following an arson attack in the western German town of Altena on Oct. 3.
"One bystander said something like, 'just let it burn down' when the fire department arrived on scene," said 67-year old Christel Foerste, who helped the refugees escape from the flaming house. No injuries were reported.
A 23-year-old later turned himself in while a 25-year-old local firefighter was later arrested in connection with the deliberate blaze. The latter said his motive was that "he was scared about refugees living in his neighborhood," prosecutor's office spokesman Bernd Maas told NBC News.
Amid Europe's migrant crisis, Germany is expected to take in more than 1 million asylum seekers this year, Germany's vice-chancellor said Sunday. The country has already seen a sharp rise in attacks on refugee homes and officials have repeatedly warned about tensions emerging.
Police say the fire alarm system had been disabled by the culprits.
"These people could have easily suffocated in their sleep.
However, the decision by prosecutors to charge the men with severe arson instead of attempted murder has drawn criticism. They were also released on bail, pending trial.
Maas said that "under German law, we could not detect enough evidence for intentional homicide."
The two men were also not charged with political hate crime, as prosecutors did not identify a connection with Germany's far-right scene or organized crime.
"The main suspect is integrated into a normal, solid family in the town and has no criminal record," Maas added.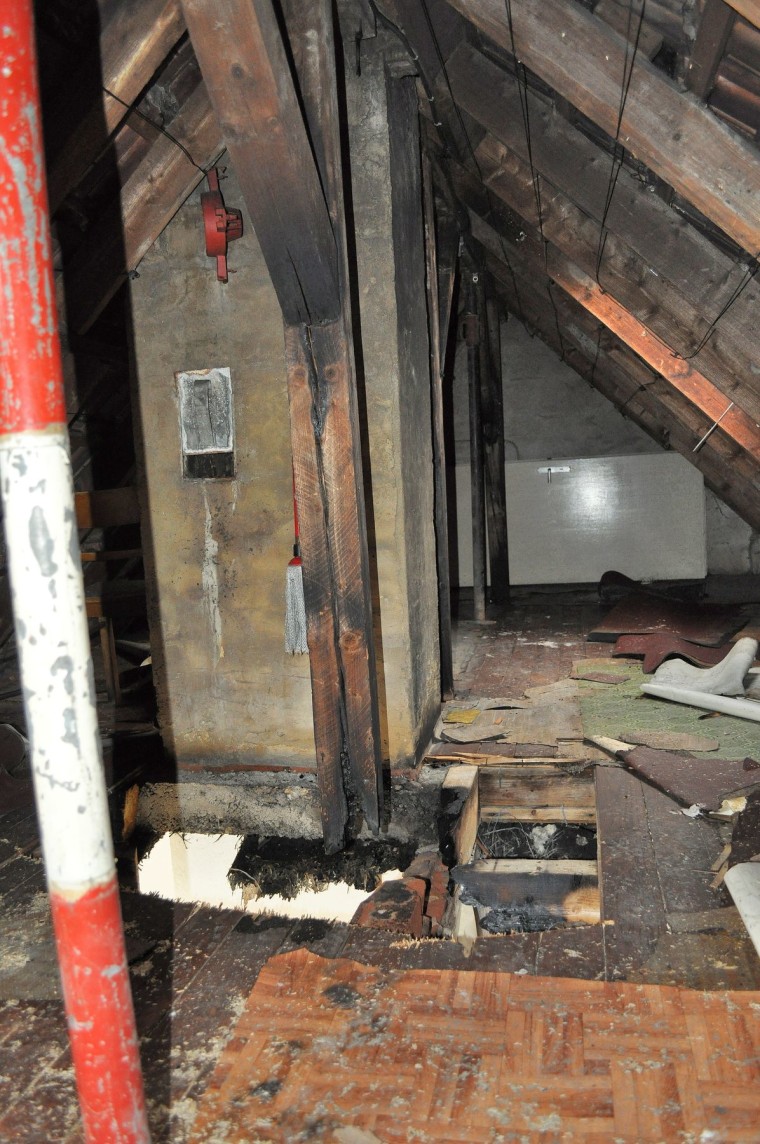 But the decision to not pursue more serious charges was branded "absurd" by Green's party lawmaker Omid Nouripour.
"If the prosecutor's office plays down such crimes, then there will soon be 'reasoning' for every infamous action," he told the Bild am Sonntag newspaper.
Dirk Wiese, a member of parliament from Germany's center-left Social Democrats (SPD), called the prosecutor's assessment "simply wrong."
"Similar cases in the past have lead to attempted murder charges," Wiese told NBC News.
The case has triggered intense debate in Germany and prosecutor's office spokesman Maas has even received a threatening email warning that his home would be burned.
Following the incident, Christel Foerste and her husband Ruediger donated dishes, blankets and an old refrigerator to the Syrian refugees for their new home across town.
"I do not understand at all why some people are so hostile," Foerste said. "I was simply shocked that someone would set a fire because these people could have easily suffocated in their sleep."