MAINZ, Germany — Refugees who fled war-torn Syria and other troubled countries are finding hope for their homelands' future through a new integration project.
The initiative is dubbed Multaka — which means "meeting point" in Arabic. It aims to help battle culture shock by offering new arrivals from the Middle East tours of four renowned Berlin museums in their native language. The guides are fellow migrants.
Many refugees have expressed surprise at the wealth of Islamic artifacts on display at the attractions in the German capital. Several were also moved to explain their own experiences at historic sites in Syria during their tour.
"When the Syrian refugees visiting the German historic museum saw how badly this now-flourishing country was destroyed after World War II it gave them hope for their own country," said Zoya Masoud, a 28-year-old architect from Latakia, Syria, who came to Germany four years ago and now works as one of the guides.
In particular, tours at Berlin's Museum of Islamic Art highlight the "centuries of cross-cultural exchange" among Islam, Christianity and Judaism in the Middle East, officials say.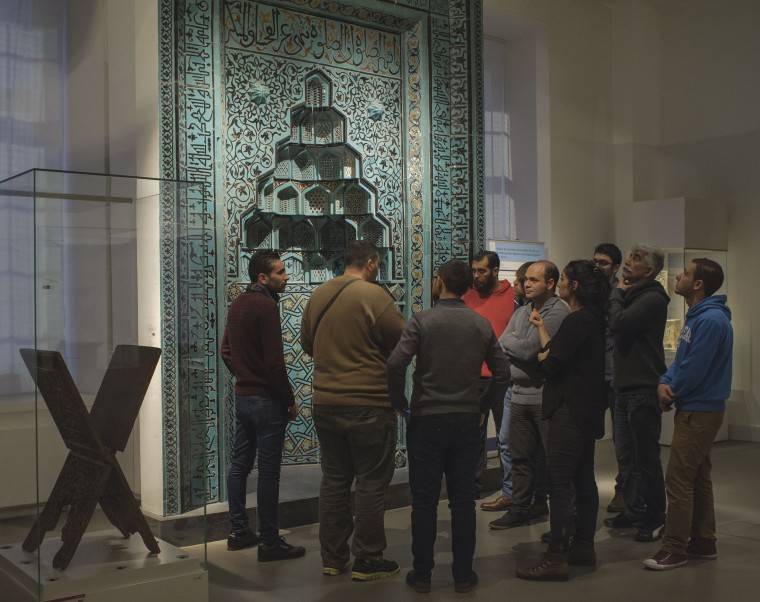 "Our Aleppo room from 1601 with Islamic and Christian inscriptions, or the Jewish dwelling house niche from Syria in 1500, are reminders of the long history of practiced plurality in the Middle East," museum director Stefan Weber told NBC News.
The integration project, which relies on public and private funds, offers "a much-welcomed balance to the uneventful daily life at the refugee shelters, after a stressful journey to Germany," said Masoud, who hosted a group of 21 migrants from various ethnic backgrounds on Wednesday.
"This allows these people to see how their own Islamic culture is appreciated in Germany," she said, adding that many of the newcomers were also eager to learn more about Germany's culture and history.
Germany has welcomed more than one million refugees this year, a four-fold increase on 2014.