Germany anticipates up to 7,000 refugees and migrants pouring across its borders from Hungary over a 48-hour span, authorities told NBC News — a final stop for asylum seekers fleeing war and poverty in their homelands.
Most of them are arriving this weekend in the German state of Bavaria, which borders Austria, and authorities are organizing buses and trains to take them to other states throughout the weekend.
About 4,300 people were received by 8 p.m. local time Saturday, Munich police tweeted. "They were welcomed warmly," the tweet said.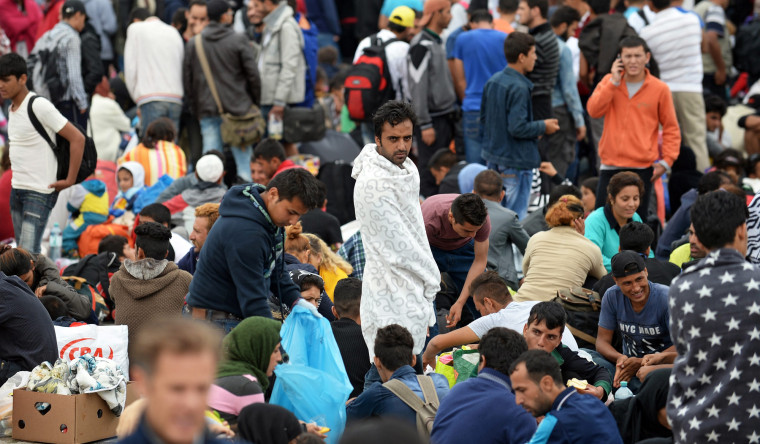 Neighboring Austria said it received at least 6,500 refugees and migrants who flooded across the Hungarian border, where charity workers provided hospitality and much-needed bedding and food.
Hungarian authorities had spent most of the week trying to force those crossing into the country to report to government-run refugee centers to apply for asylum in their initial European Union entry point as the 28-nation bloc's rules require. But thousands refused — some expressing fears that Hungary would deport or detain them indefinitely — and demanded free passage overwhelmingly to Germany.
Related: 'Refugees Welcome': Thousands Pour Across Austrian Border
German government spokesman Georg Streiter told The Associated Press that Saturday's acceptance of migrants represented "an attempt to help solve an emergency situation. But we continue to expect Hungary to meet its European obligations."
German Chancellor Angela Merkel, who has led calls for other EU members to shelter more migrants as potential refugees, particularly those fleeing civil war in Syria, said in comments published Saturday that her country would observe no legal limit on the number of asylum seekers it might take.
Merkel told the Funke consortium of newspapers that "the right to political asylum has no limits on the number of asylum seekers."
"As a strong, economically healthy country we have the strength to do what is necessary" and ensure that every asylum seeker gets a fair hearing, she was quoted as saying.
Both Germany and Austria have said they would take responsibility for the mass of humanity already on the move — chiefly from Syria, Iraq and Afghanistan — into Eastern Europe. Hungary on Tuesday had suspended train services from its station in Budapest to Austria and Germany, compounding the build-up there as it sought to compel the visitors to register for asylum locally.
Related: Order Reigns as Migrants and Refugees Reach Macedonia-Greece Border
A spokesman for the interior ministry in Vienna told NBC News that the Austrian government continues to see the flow of refugees and migrants from Hungary as an "emergency situation" and said Austria "will not use police power to prevent those who are seeking protection and who are desperate from crossing its border."
Earlier comments from the Hungarian government suggested that the current passage of refugees and migrants would be a one-time opportunity. But Austrian officials told NBC News that there is no exact timeline on their side to firmly shut entry to those coming from Hungary.