MAINZ, Germany — One year after the emergence of the PEGIDA anti-Islam movement in Germany, experts fear there has been a surge in support amid the historic influx of migrants and refugees.
After a decline in the numbers of protesters over the summer, the regular Monday night gatherings of "Patriotic Europeans Against the Islamization of the West" have seen a recent resurgence, with up to 9,000 participants.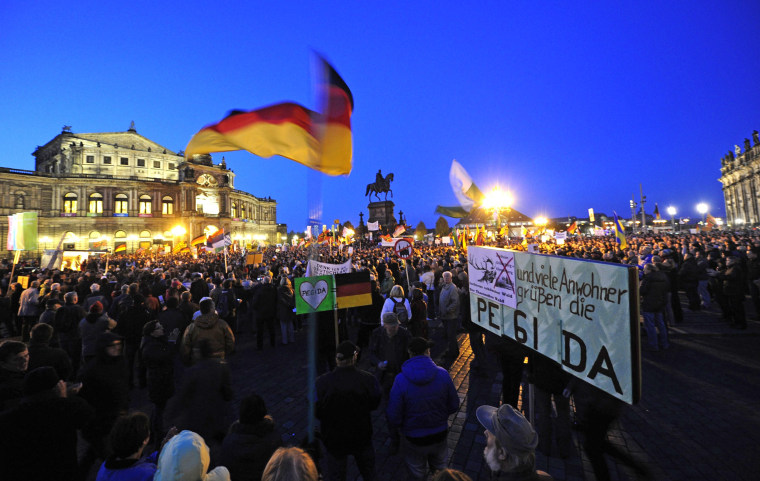 "Today we see an inner hardening among the movement, participants have become angrier and more upset, which can be described as a radicalization," Professor Werner J. Patzelt told NBC News.
He said there was a risk that German society was being polarized — and not only by Europe's immigration crisis.
In a study published earlier this year, Dresden's Technical University found that the main motives for participation in the demonstrations were primarily "discontent with German politics," followed by "fundamental resentments against migrants and asylum seekers."
Analysts from the university found that nearly 20 percent of PEGIDA rally participants are young, far-right extremists, but the majority of its followers "are not right-wing radicals."
"I am concerned about the general problem, a polarization within the German public, which PEGIDA is only a symptom of," Patzelt said.
Last week, prosecutors in Dresden launched a preliminary investigation after a PEGIDA rally participant held up a mock gallows bearing the sign "reserved" and the names of German chancellor Angela Merkel and her deputy, Sigmar Gabriel.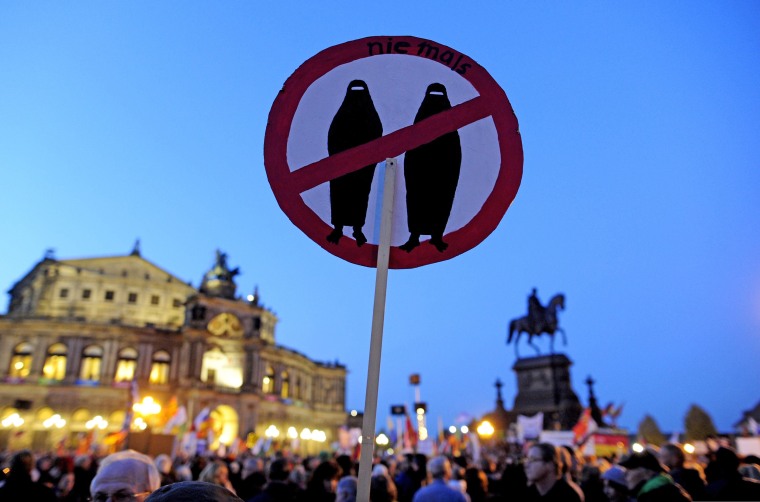 Police told NBC News the demonstrator would face a possible charge of public incitement to commit crime. Investigators were seeking clues in photos from the rally, which showed the small mock gallows among an estimated at least 7,000 protesters. Prosecutors indicated that a questioning of a suspect was imminent.
Politicians were quick to express their dismay. "People, who do such things, don't belong on the street, they belong before a judge," Justice Minister Heiko Maas said in Berlin.
German Interior Minister Thomas de Maiziere went even a step further Sunday, saying: "It is very clear [that] those who organize [the protests] are hardcore right-wing extremists." In an interview with public broadcaster ARD, de Maiziere said that PEGIDA's supporters "sweepingly call asylum seekers criminals."
He added: "That is far from any democratic consensus."
Government officials in Berlin stressed Monday that PEGIDA gatherings were "being watched very closely by domestic intelligence authorities."
Earlier this month, German prosecutors charged PEGIDA co-founder Lutz Bachmann with incitement of racial hatred after the 42-year-old allegedly described asylum seekers on his Facebook page as "trash" and a "filthy mob."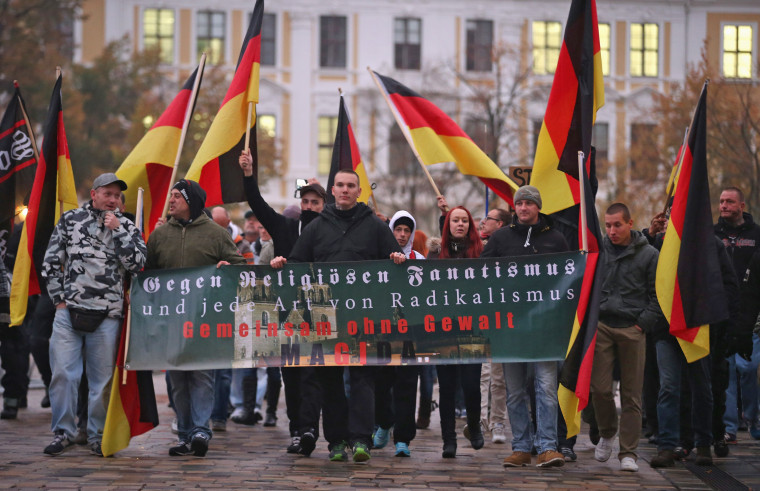 Patzelt said that Germany's social tensions could worsen, warning that "problems will intensify with the continuing influx of migrants and refugees."
While PEGIDA evolved from a private Facebook group, with 300 people at the first demonstration one year ago, it is now being supported by a large number of German citizens who have the perception that their culture is under attack, Patzelt said.
To counter a rise in xenophobic tendencies and the city's growing negative image, many citizens of the eastern German city have joined a Facebook and Twitter campaign called "Colorful Dresden" — or "Buntes Dresden." Backers have also voiced their dismay at the rise of PEGIDA in statements under the hashtag #IchbinDresden — or "I am Dresden."
PEGIDA was due to take to the streets again Monday and several groups had vowed to make a "colorful" point by staging a counter-demonstration.
On Saturday, thousands of people in Berlin had formed a "chain of light" in a show of solidarity against xenophobia in Germany.