Greece' s Nazi-inspired, anti-immigration party saw a strong showing in this weekend's national election — especially on one island struggling to cope with an influx of refugees and migrants.
Golden Dawn returned more than 10 percent of the vote on Kos in Sunday's election — almost double their previous representation on the island, according to official results released by the Greek Interior Ministry. The poll was called amid twin debt and immigration crises gripping Greece.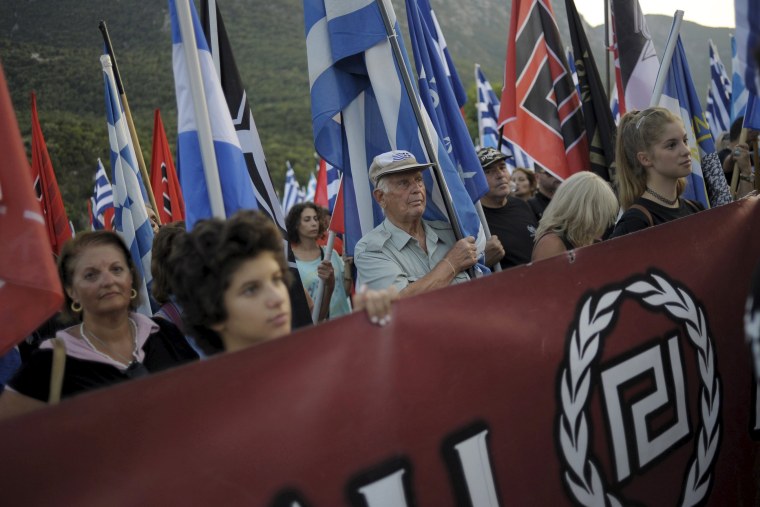 Kos and its neighbors — Kalynnos and Leros — received more than 52,000 refugees and migrants between January and August of this year, according to the International Organization for Migration (IOM).
The island sits less than 16 miles from the Turkish coastal town of Bodrum, where thousands of Syrians and Iraqis fleeing violence at home have set sail for a new life in Europe. Syrian toddler Aylan Kurdi drowned when his family's boat capsized on the route to Kos from Bodrum.
While there are no official figures for arrivals on Kos for the month of September, the IOM estimates more than 85,000 people have reached Greece by sea this month alone.
Golden Dawn — which sports an ancient Greek symbol closely resembling a swastika as its emblem — took about 7 percent of the national vote on Sunday and won 18 of 300 seats in parliament coming in third place behind the ruling left-wing Syriza party (145 seats) and the conservative alternative, New Democracy (75 seats).
Related: Nearly 3,000 Migrants Drowned in Mediterranean This Year: Agency
Prime Minister Alexis Tsipras' Syriza exceeded expectations, comfortably beating the opposition to retain power in a coalition partnership with the small right-wing Independent Greeks. Following a protracted sovereign debt crisis, Greece faces continued austerity reform as part of the international bail-out deal accepted by Tsipras's government earlier this year.
In a sign of widespread discontent, however, more than four in 10 Greeks stayed away from Sunday's poll. After years of recession and tough reforms, a quarter of the country is still out of work and its national debt is worth a stunning 175 percent of annual output.