Officials worked to clear an overcrowded makeshift refugee camp on Friday as European leaders met to discuss the border crisis that has left 14,000 migrants stranded there in desperate conditions.
Nikos Toskas, Greece's deputy minister for public order, said the 14,000 people camped out at the border near the village of Idomeni were being persuaded to move to nearby government-built shelters.
However, he ruled out using force.
"We have to persuade them [to move] and we can't do that using tear gas. Half the people there are women and children," Toskas told local media Friday.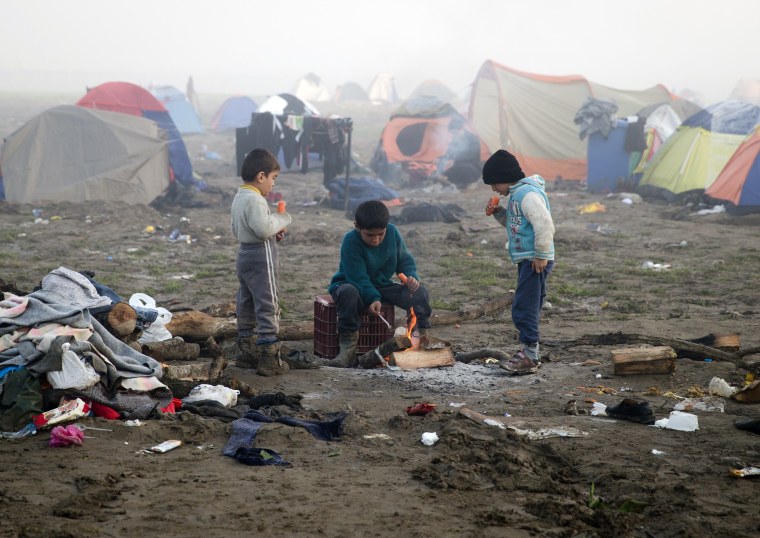 Authorities say about 800 people have agreed so far to leave the camp, but more arrive daily. In total, almost 42,000 people are stranded in Greece following the closure of a key migration route.
Macedonia closed its borders to all migrants and refugees this week — joining several Balkan countries in adding border restrictions after European Union leaders agreed Monday to close the Balkans route.
EU and Turkish leaders also announced a draft deal Monday that would see people sent back from Greece to Turkey unless they apply for asylum. For every person sent back, the EU would take in one Syrian refugee, thus trying to discourage them from the dangerous sea journeys often arranged by unscrupulous smugglers.
But that complex and unclear agreement remained a concern for many, including human rights officials who questioned its legality.
"This agreement will dramatically reduce the legal entry points into the Union, forcing desperate refugees to look for other routes," warned Guy Verhofstadt, the leader of the liberal ALDE bloc in the European Parliament. He said people will again try crossing the Mediterranean, or go through Bulgaria and Albania.
With European leaders meeting again over the migrant crisis on Friday, officials in Serbia said about 150 people are arriving each day via a dangerous trek through Bulgaria, with frequent reports of robberies and beatings by locals.
"This will be a major win for smuggling groups," said Tuesday Reitano of the Global Initiative against Transnational Organized Crime, referring to the EU-Turkey deal. "The effects are already visible."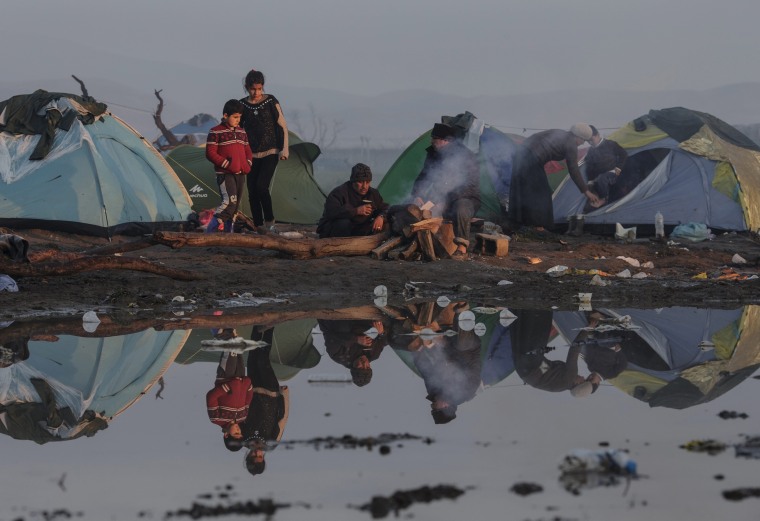 Three days of heavy rain finally ended at the Idomeni camp on Friday, but that did little to ease the misery for the thousands of people staying in donated tents in nearby fields and along railway tracks.
Long lines formed for sandwiches, tea and soup. The fields have grown increasingly fetid, with pools of water and deep mud that sucks the shoes off children.
Authorities say about 70 children at the camp have received treatment in the past three days for fever and diarrhea.
Almaz Moho, a Syrian Kurd who traveled from Aleppo with her three daughters, one of them an infant born in Istanbul, said they came to Idomeni "because they said the borders are open," but found out otherwise.
"And they're unsettling the children, between the filth, the dust, under the pouring rain, with little food and soaked clothes," she told The Associated Press. "Where do you want us to go? Where do they want us to go? We have no homes."