Migrants risked severe injury Wednesday as they clambered over or wriggled under a razor-wire fence placed by Hungary across its border with Serbia – a desperate attempt by authorities to stem a record flow over refugees across Europe.
The hastily-installed fence consists of three layers of razor wire along Hungary's 109-mile southern border with Serbia, which doubles as the entry point into the European Union.
In Roszke, a Hungarian border town, migrants mostly from Syria, Iraq and Afghanistan requesting asylum were being processed by authorities. Police used tear gas to break up a brief scuffle involving about 200 migrants, saying the incomers were growing impatient with delays in the registration process.
Hungary's police chief said Wednesday more than 2,100 police would be sent to the border as the country tries to thwart the refugees.
"The border protection will be reinforced with 2,106 extra police from September 5," Karoly Papp told reporters in Budapest, according to Agence France-Presse.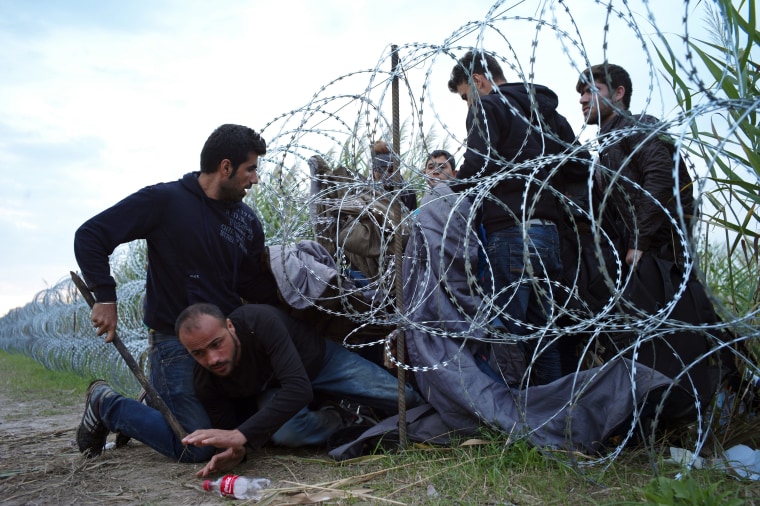 One group of migrants, including women and children, crawled under it Wednesday, using blankets, sleeping bags, jackets and a stick to raise the wire. As a police car approached, they dashed through a field.
"Very, very difficult," Odei, a Syrian migrant from Daraa, said of his journey so far. "We raised the fence and crossed it now. We were here from yesterday. We are very hungry. There's no food, there's no medicine for the children, there's nothing. We are so tired."
These migrants are following the Balkans route, from Turkey to Greece by sea, up north to Macedonia by bus or foot, by train through Serbia and then walking the last few miles into EU member Hungary. That avoids the dangerous Mediterranean Sea migrant route from North Africa to Italy, where some 50 bodies were found Wednesday in the hull of a smugglers' boat rescued off Libya's northern coast.
Once inside the 28-nation EU, most migrants seek to reach richer EU nations such as Germany, The Netherlands or Sweden.
Over 10,000 migrants, including many women with babies and small children, have crossed into Serbia over the past few days and headed toward Hungary. The flood follows Macedonia's decision to lift a three-day blockade of its border with Greece after thousands of migrants simply stormed past Macedonian police.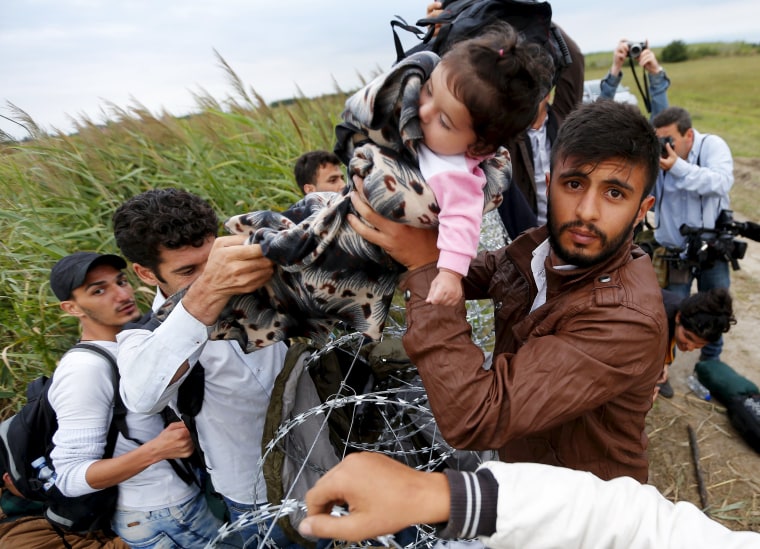 On the Serbian side of the border, groups of migrants were camping or strolling along the fence, looking for ways to beat it. An old blanket was thrown over it at one spot to cover the razor wire, a hole was dug under it elsewhere. The migrants' goal is to cross without being spotted by Hungarian border police, so they will not be detained and sent to asylum centers, where they are fingerprinted.
"If I get fingerprinted in Hungary, I don't go to Germany," said Abdul Majed, a 25-year-old language student from Syria. "We make fingerprints in Germany, so you will be a refugee in Germany, not in Hungary."
By early Wednesday morning, 1,302 migrants had already been detained at the fence, Papp said. He said 2,533 migrants were detained Tuesday, up from 2,093 on Monday, with the numbers setting records nearly every day.
The EU released $1.7 million worth of humanitarian aid Wednesday to help provide refugees in Serbia and Macedonia with water, health care and shelter.
Migration will figure also high on the agenda of a summit of Western Balkans countries in Vienna on Thursday.
In Serbia, police banned an anti-migrant rally by far-right groups that was to be held Monday in Belgrade. "[We] will not allow any kind of gatherings against people forced to flee poverty and wars," said Serbian Interior Minister Nebojsa Stefanovic.