Hungarian police have unveiled the obstacle they intend to deploy to block the most high-profile gap in their border security fence: a rail container lined top to bottom with razor wire.
In recent months, people arriving in Hungary from Serbia have walked across the border on train tracks near the village of Roszke, despite razor-wire-topped fences on either side.
The cargo container is expected to be rolled at midnight down to the border and will entirely block the gap. It can be removed to allow trains to pass.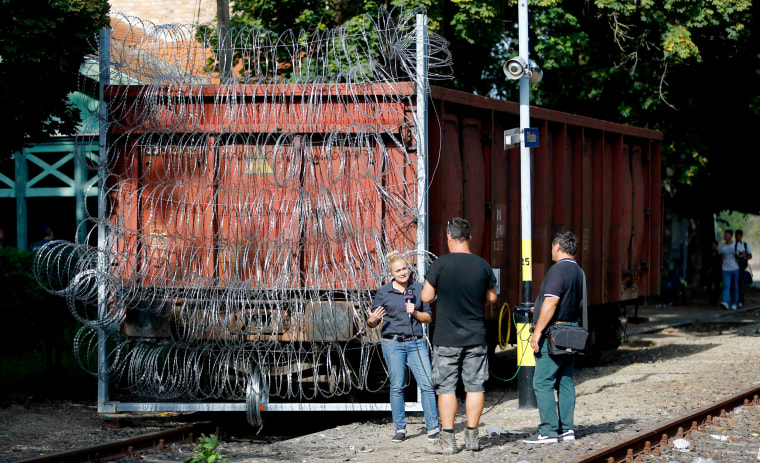 Starting Tuesday, the government says people seeking asylum in Hungary or deeper in Europe must use a police-supervised road crossing. Anyone trying to get through the fence will face criminal charges and potential imprisonment or deportation back to Serbia.
Hungarian authorities hope reinforced border patrols, a 13-feet high fence on the border with Serbia and new laws criminalizing those entering Hungary illegally or cutting through the fence will deter migrants from coming to Hungary as they try to make their way to Germany and other, wealthier EU nations.
Hungarian Prime Minister Viktor Orban told border police told police bound for the Serbian border on Monday that they must "defend Hungary and Europe" and "protect our way of life."
He added that "illegal border crossings will no longer be misdemeanors but felonies punishable with prison terms or bans."
Orban also said that "punishment for human trafficking will be so severe that it will be really deserved by those who do business with the life and fate of others."
Related: One Family's Journey From Hell to Happiness
Still, Orban advised police to use minimum force and treat the newcomers as fellow human beings. Hungarian police detained 5,809 migrants Sunday, shattering the previous one-day mark of 4,330 set Saturday.
Orban said he hoped the new measures would deter foreigners from traveling into the country.
"Hungary is a country with a thousand-year-old Christian culture," he added. "We Hungarians don't want the worldwide movement of people to change Hungary."