VALLETTA, Malta — Dozens of super yachts line the wharf at the Birgu Marina, a harbor carved in limestone just south of Malta's capital. But one vessel appears remarkably out of place: an old trawler from Norfolk, Virginia, that looks ready for the scrapyard.
The Phoenix is not your typical fishing boat. Its stern has been turned into a landing pad for two drones carrying HD-quality, night-vision and thermal-imaging cameras. Two speedboats hang from the fishing cranes and its old bridge has been replaced with a custom-made flight deck.
"Hear that?" the Phoenix's owner Christopher Catrambone asked as he pulled the handle of its old foghorn. "The sound is so muffled because the loudspeaker is buried under hundreds of life vests."
Born and raised in New Orleans, the American philanthropist has transformed 130-foot Phoenix into the first privately funded search-and-rescue vessel for migrants in distress in the Mediterranean Sea.
Catrambone has helped to save 3,000 lives in just 60 days — including more than 330 last week.
The Mediterranean Sea is the front line in Europe's border crisis. Strife in Gaza, Syria, Libya and Egypt mean a record-breaking 3,200 people have lost their lives this year while trying reach the continent by boat, according to the International Organizaton for Migration — more than quadruple the 700 total during 2013. The victims include 500 migrants who died off Malta's coast in September when their vessel was apparently deliberately rammed by the smugglers they'd paid to sneak them into Europe. Italian prosecutors launched an investigation into whether the tragedy constituted mass murder.
The Mediterranean Sea and the Gulf of Mexico may be oceans apart, but the plight of people prepared to put their lives on the line to start over in Europe hit home with Catrambone.
"I know what it feels like to be a refugee," Catrambone told NBC News. "After Hurricane Katrina, I lost everything and was displaced, and began searching for a new home."
"Instead of buying a yacht for pleasure, we bought a yacht that saves lives"
Catrambone later relocated to Malta — which is located about 50 miles south of the Italian island of Sicily — and established a firm that specializes in conflict zone insurance.
"We wanted to celebrate the success of our company with a cruise to the most beautiful beaches in world," Catrambone recalled. "But halfway to the [Italian] island of Lampedusa we saw a jacket floating in the water."
It likely belonged to a migrant who drowned while attempting the dangerous crossing from North Africa to Italy or Malta — the gateways to Europe — aboard overcrowded vessels. About 130,000 migrants and asylum seekers have made such a journey this year, up from 80,000 during all of 2013, according to United Nations estimates.
"That really hit home with us," Catrambone said. "We thought, 'How can we go to have fun on these beautiful beaches when bodies of migrants are washing up ashore on them?'"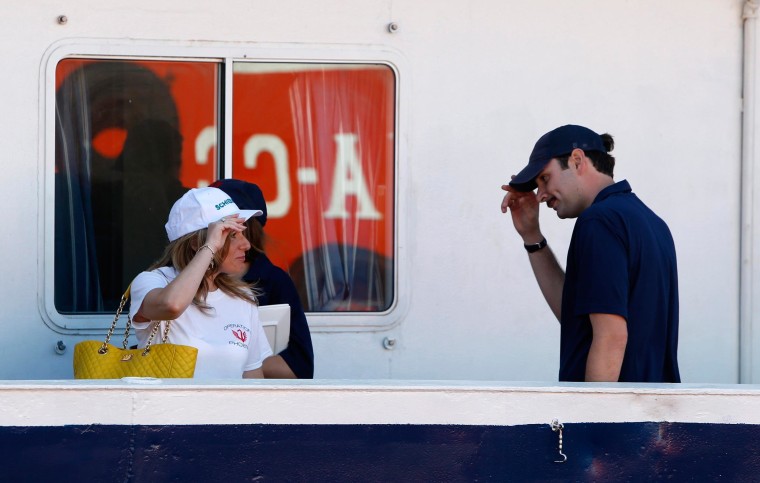 His wife Regina, who grew up in a staunchly Catholic family in Reggio Calabria, in the southern tip of Italy, says their idea to do something about it came during the visit by Pope Francis to Lampedusa in July 2013. "The pope went there to highlight the plight of the migrants," she said while holding a small Virgin Mary pendant. "He called for people not to be indifferent, and this is exactly what we did."
The Catrambones bought the Phoenix from a Virginia dockyard, sailed it across the Atlantic Ocean to Malta and fitted it with state-of-the-art technology and a fully equipped infirmary. Then they hired an experienced team of rescuers and paramedics, including the former head of Malta's armed forces, and packed it with food and first-aid kits.
They later christened the Phoenix with holy water, a fitting alternative to Champagne. In August, the Catrambones and their 18-year-old daughter Maria Luisa joined the maiden voyage of the Migrant Offshore Aid Station (MOAS).
"Instead of buying a yacht for pleasure, we bought a yacht that saves lives," Christopher Catrambone said. "Any investor will tell you that's a mistake, because there is no return. But maybe the return is knowing that we saved a person's life."
Before concluding their mission for the winter on Friday, MOAS had rescued 3,000 migrants. After locating boats or dinghies, the 18-strong crew of the Phoenix would offer life jackets, water, medical assistance and alert the Italian Navy.
"Believe it or not, the day of our first save was also the anniversary of Hurricane Katrina," Christopher Catrambone said. "Little did we know that our lives would change again when two boatloads of Syrian and Palestinian migrants came on our radar screen."
Ahead of a recent excursion, crates of canned food were loaded on the boat, the speedboats were prepared and life vests stashed.
"We can't take you with us," Regina Catrambone told NBC News. "Space on the Phoenix is limited and we need to fit in as many migrants as we can."
And there are plenty. More than 100,000 people have arrived by sea in nearby Italy this year. The country's previous record for an entire year stood at around 60,000 in 2011.
On Friday, Italian authorities confirmed that Operation Mare Nostrum — the country's search-and-rescue mission — was officially ending. It has been credited with saving 150,000 lives since October 2013. It will be replaced by the smaller-scale Operation Triton. "We won't patrol the Mediterranean all the way to the Libyan coast anymore and will remain within 30 miles of the coast, in Italian water," Interior Minister Angelino Alfano said. "But of course we will answer any distress call that we receive."
That reduction in resources is a worry for Catrambone and his colleagues.
"Whatever replaces Mare Nostrum must prioritize saving lives," said Martin Xuereb, Malta's former chief of defense who now serves as director of MOAS. "The people we have rescued are coming from war-torn countries including Syria and Gaza. These people feel they have no option but to flee and are risking their lives to find safety. We must not let them drown."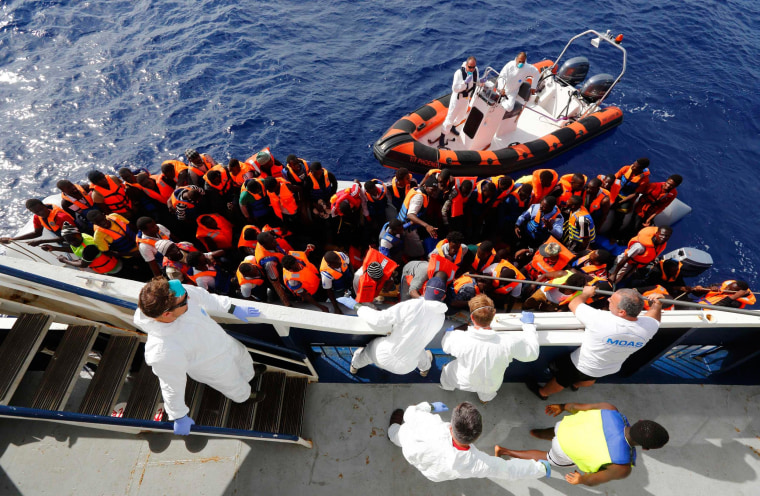 The Catrambones say they now need help to continue to help others. Running MOAS costs $450,000 a month and the Catrambones hope to raise enough money to keep search-and-rescue operation afloat.
"We pretty much spent all we had in our banks already, and asked ourselves: 'What are we going to do when it's all gone?'" Christopher Catrambone recalled from the captain's deck while looking at his wife. "I can tell you one thing: we are saving so many lives we will have many couches to sleep on."
ALSO IN THIS SERIES