LEIPZIG, Germany — More than one-third of Germans said their view of foreigners had worsened following a New Year's Eve spate of at least 200 alleged sex assaults carried out mostly by North African men in Cologne, according to a new survey.
The poll by the Forsa Institute highlighted a sudden negative shift in how Germans perceive people from abroad after their country last year emerged as an optimistic champion of migrants and refugees.
German leader Angela Merkel's open-door policy and slogan "We Can Do It" accompanied the arrival of some 1.1 million people into the country last year — including many Syrians fleeing war in the homeland.
Related: One Family's Journey From Hell to Happiness
However, Sunday's poll said 37 percent of Germans had a more negative outlook on foreigners following the alleged Cologne assaults, while 60 percent said their view remained unchanged. The poll also found that 57 percent feared refugee arrivals would trigger a rise in crime.
Authorities say groups of men roamed New Year's Eve crowds in the city of Cologne and groped women.
Officials in the city said by Sunday they had recorded over 500 complaints related to the events between Cologne's main train station and the city's famed cathedral.
Some 40 percent of these were related to allegations of sexual assault and at least two rapes. Other complaints also included pick-pocketing and battery.
In statements, police said the suspects were "mostly from North African countries" and "asylum-seekers and persons who are currently in Germany illegally."
The allegations have dominated headlines in Germany for days and sparked discussion on the influx of refugees.
Related: Right-Wing Protests in Germany Turn Violent After Assaults
Justice Minister Heiko Maas told "Bild" on Sunday that he believed the attacks were "coordinated and prepared," adding that this would "add another dimension [to the crimes]."
However, police objected to Maas' assessment and told Spiegel Online on Monday there was no evidence to suggest the incidents were pre-planned.
According to police, at least 20 suspects have been identified.
A 19-year-old male was arrested on Saturday night. He is allegedly connected to a cellphone that was stolen on New Year's Eve. Police did not specify if he was also wanted for sexual assault.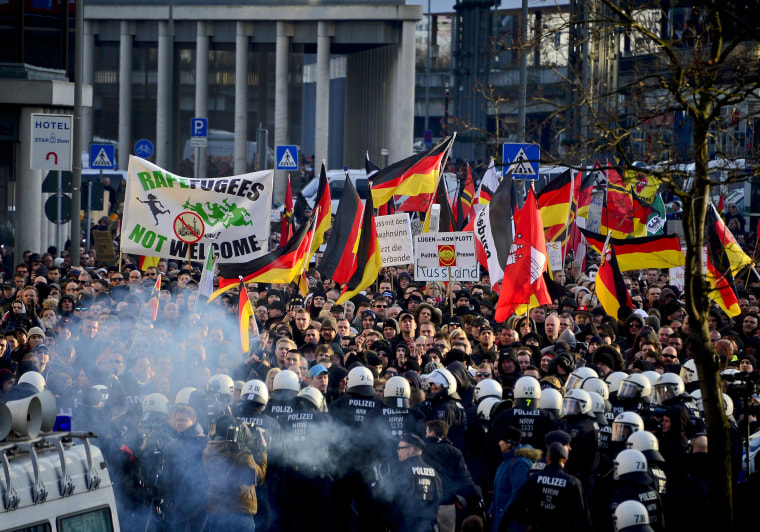 Police in Cologne have been criticized for a slow response after receiving the first reports of sexual assaults on New Year's Eve, and for not informing the public early on.
On New Year's Day, the force published a press release saying the atmosphere was festive and there were no major incidents. Cologne's police chief was later forced into retirement but the investigation into their handling of the matter is ongoing.
Related: Anti-Islam Protests Get 'Angrier' Amid Migrant Crisis
Despite the Cologne suspects' backgrounds, Interior Minister Thomas de Maiziere on Monday urged Germans to to not treat all refugees and migrants with suspicion.
"Such crimes ... and overstepping boundaries in such a way maybe were not totally new in Germany as a phenomenon," he said. "It is completely unacceptable and not to be tolerated."
Right-wing organizations have been trying to capitalize on the attacks. On Saturday, the anti-immigration and anti-Islam PEGIDA movement demonstrated in Cologne.
The protest was dispersed by police after members of the crowd threw firecrackers and beer bottles at officers.