At least 42 refugees and migrants — including 17 children — drowned off the coast of Greece early Friday in two separate tragedies that officials blamed on human traffickers using unsafe boats.
More than three dozen others survived after crossing the Aegean Sea from Turkey in crowded boats, coast guard officials told NBC News.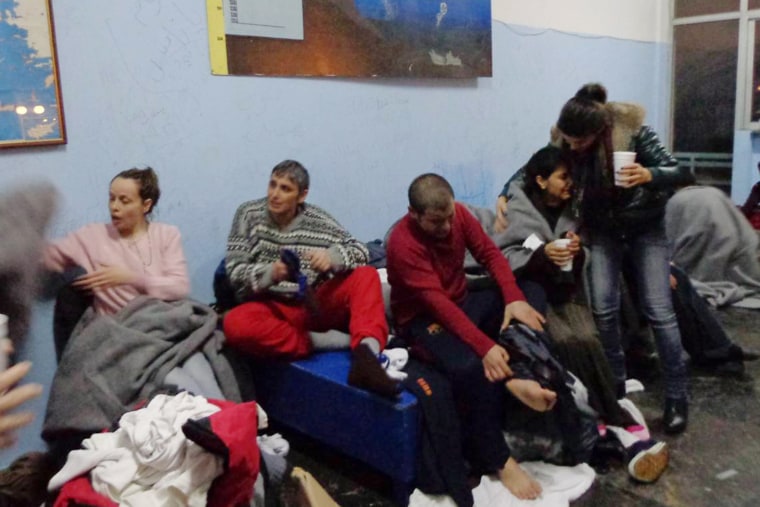 The deaths came as official figures showed 36,781 migrants arrived in Europe by land and sea so far this year. "Tragically, 181 [of those] are known to have drowned or are missing," the International Organization for Migration (IOM) said.
A record tide of people seeking better lives — mostly from the Middle East, North Africa and Afghanistan — crossed into Europe during 2015, plunging the continent into a humanitarian crisis.
"Since January 2015, 1,084,625 migrants, including asylum seekers are reported to have arrived to Europe by land and sea routes, of which 1,048,268 have arrived by sea," the IOM said.
A wooden boat with 49 people on board was spotted off the eastern Aegean island of Farmakonisi early Friday, coast guard officials said. Forty managed to make it to the shore, but the bodies of six children and two women were recovered.
Separately, military personnel spotted another wooden boat off the island of Kalolimnos. An air and sea rescue operation was launched, with coast guard vessels assisted by a Greek air force Super Puma helicopter and private boats. The bodies of 16 women, 7 men and 11 children were recovered and 26 others were rescued.
The search for other possible survivors was ongoing, the coast guard said. It blamed the deaths on smugglers who overload unsafe boats on Turkey's coast.