KIRCHHEIM UNTER TECK, Germany — From beds and mattresses to toiletries, the needs of Europe's historic influx of refugees and migrants are putting Germany's legendary efficiency to the test — and creating business opportunities.
Germany is expected to take in more than 1 million asylum seekers this year — and they all need somewhere to sleep. The state of Baden-Wuerttemberg alone has already taken in more than 100,000 migrants and refugees this year. In comparison, only 24,000 arrived during 2014.
"It's a logistical challenge," Bjoern Vetter, head of international relief and first aid programs at Red Cross in the southwestern state told NBC News. "We had to supply more than 20,000 sleeping bags and cots in the past four months, ran out of local supplies, and are now importing from the Far East."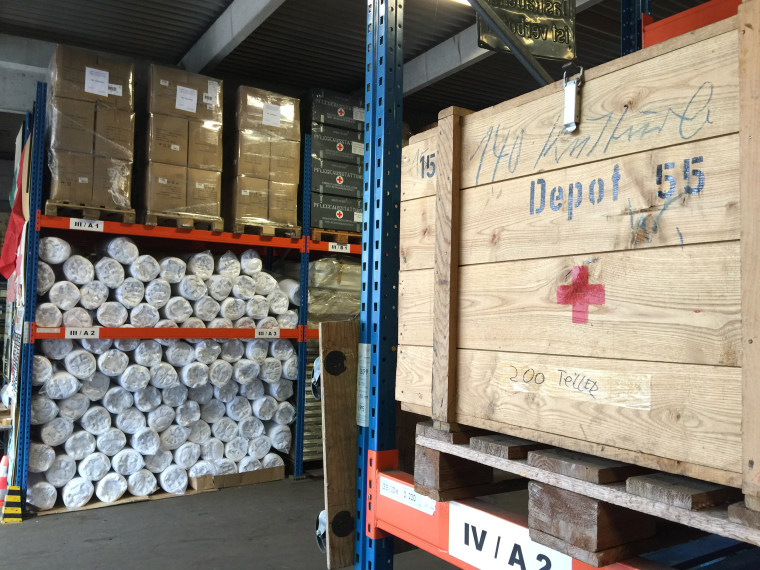 In recent weeks, the Red Cross in the United States and Canada a donated 25,000 field beds. Germany's Lufthansa Cargo transported one-third of the new supplies free of charge.
Some retailers are already experiencing an unexpected boost at the tills. Swedish chain IKEA has experienced "availability issues" at some of its Germany outlets for Svärta bunk beds and low-price mattresses since the crisis intensified.
"We have seen single orders of 200 to 500 beds at once, but quickly found solutions for re-supply," spokeswoman Isolde Debus-Spangenberg said.
While the company is profiting from the crisis, IKEA Germany has also made 1.5 million euros available "which will be provided as commodity donations for refugee projects that some of our employees are supporting as volunteers," Debus-Spangenberg added.
The Red Cross depot in Kirchheim just received a donation with several pellets of sanitary products and washing powder from the German branch of U.S. firm Procter & Gamble.
Private sector support is highly welcomed, as the crisis comes at a cost for Germany: Designated housing facilities — including former U.S. military installations — have to be refurbished, equipped with basic furniture and staffed with security personnel.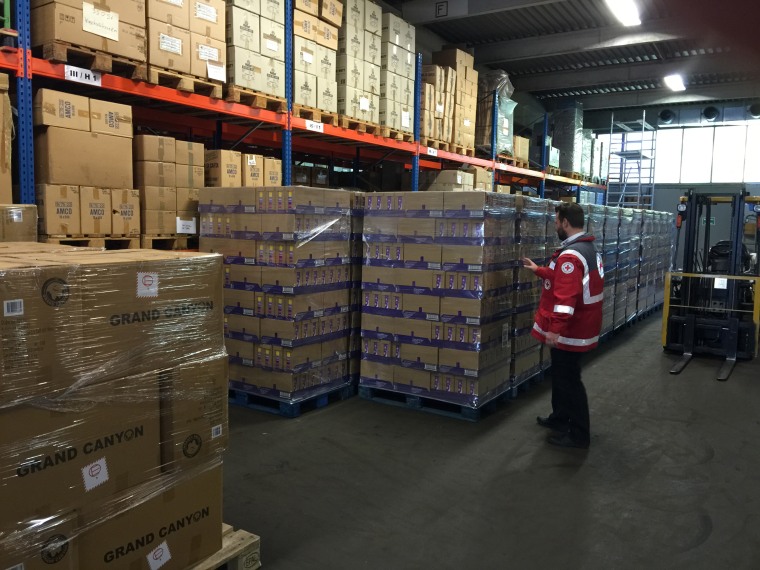 Guenter Joesch from the Federal Association of Construction Systems told NBC News that portable modular buildings are "more or less sold out" as migrants are often moved into them for housing.
"We are now facing delivery periods of up to six months," he added.
The furnished mobile containers, which feature approximately 200 square feet of living space, cost between $9,000 and $10,500 each.
The volume of contracts has also significantly increased for private security firms in Germany, which are often responsible for maintaining order at large refugee shelters.
"We estimate that approximately 8,000 people are presently securing refugee facilities across the country and expect this number to double within the next six months," said Silke Wollmann, a spokesperson for the Association of Germany's private security industry, BDSW.
The western German city of Hamm, which is located at the edge of Germany's industrial Ruhr area, currently hosts more than 2,000 migrants.
Several small hotels there have been "either rented or bought by the city to accommodate the refugees," city treasurer Markus Kreuz told NBC News.
"We have also been offered a number of houses and apartments that have not been vacated for years," Kreuz said, but added that the city of 180,000 people needs to be careful not to get stuck with "run-down" real estate.
Meanwhile, Germany's finance ministry adjusted its financial forecasts this week, saying the refugee crisis will turn a planned surplus into a "small German budget deficit" in 2016.
But despite higher bills for the accommodation and integration of refugees, economists believe that the migrant influx will also lead to "added value" for the economy. In a recent report issued by Germany's leading economic research institutes, analysts found that Germany will likely "face additional expenditures of 4 billion euros [$4.5 billion] in 2015 and 11 billion euros [$12.5 billion] next year."
"But these expenditures are also accompanied by revenues because consumption increases with migration," the report said, leading to higher returns from sales taxes.