DUNKIRK, France — It is synonymous with the largest military evacuation of allied forces in World War II, but Dunkirk is now facing a new human drama. This time there are few heroes.
In woodland barely a mile from the beaches depicted in Christopher Nolan's epic war movie, desperate families are among hundreds of migrants hiding in filthy camps in the hope of making their own escape across the English Channel to Britain.
They are a ripple from a record-setting wave of migration into Europe from war zones as far apart as west Africa and Afghanistan, and their presence illustrates the scale of the problem facing French authorities who have repeatedly cleared notorious camps only to watch them spring up elsewhere.
The government has bused thousands of migrants to resettlement centers across France, but some return to Paris and the northern ferry ports, joined by a stream of newcomers.
"The police make us move on all the time, but to where?" says Mardin Sokolom, holding his daughter Aya, 3. The 30-year-old Iraqi Kurd has traveled Europe for six months with his wife and child after fleeing the conflict with ISIS, hoping to join family already in the U.K.
"If they don't like you, they kill you"
Their journey included a six-day boat trip across the Mediterranean with around 100 other refugees, he says.
"We thought we would drown," he added.
More than 1,200 migrants were resettled in April when a makeshift camp in the Dunkirk suburb of Grande-Synthe caught fire, but Mardin and hundreds more have arrived to take their place in the hope of making one final illegal crossing, to England.
He has been living in woods for one month with at least five other families, cooking over fires and washing in a nearby lake.
"Two times they have arrested us and taken us to the police station but then they just put us back out in the street and we come here for shelter," he says. "The police ripped our tent so now the rain comes in … why would they do this to a child?"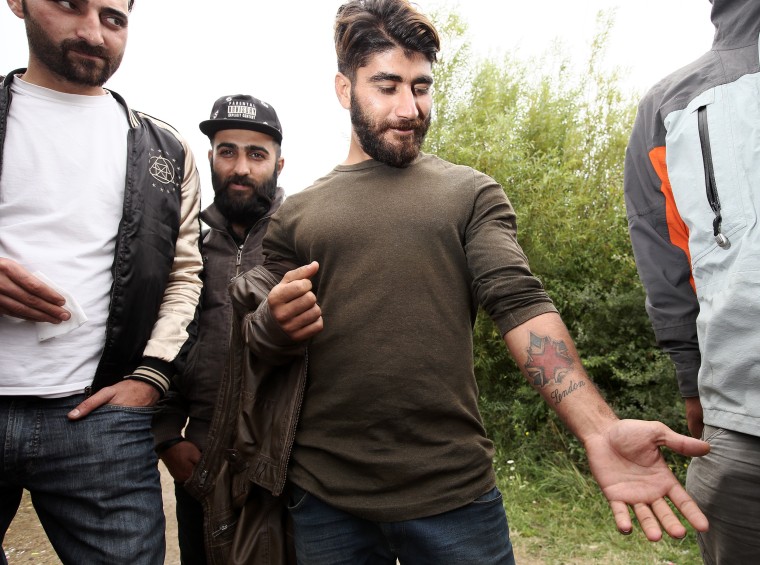 Migrants play a constant game of cat-and-mouse with authorities, trying to avoid being forcibly resettled away from the English Channel.
Luckier ones are taken to the nearest detention center, 50 miles away in Lille, from where they can easily return. "I have been there so many times they already know my name," jokes Ryan Salah Jabar, 24, a former bodybuilder who worked as a translator for the British army in Iraq and has "London" tattooed on his arm.
Jabar has been in the Dunkirk area for three months, attempting to reach Britain by clinging to the axles of trucks at the port. "Sometimes the police just let me go, sometimes they arrest me," he says.
Creeping across railroad tracks behind the wood is Ishmel Dishad, 34, an Iraqi Kurd who says he reached Dunkirk through Turkey, Macedonia, Serbia, Croatia, Slovenia, Austria and Germany.
"The police make it a problem for us," he says, adding: "But it is better than Kurdistan." He proudly shows an identification card indicating he was once a corporal in Iraq's army — a U.S. ally in the fight against ISIS — before slipping off into the trees.
At the trunk of a car, a crowd jostles for food from Robert Despré, a volunteer at the Bethlehem Association aid group who most days drives 50 miles round-trip from Saint-Omer, where he is pastor of the Assembly of God Church.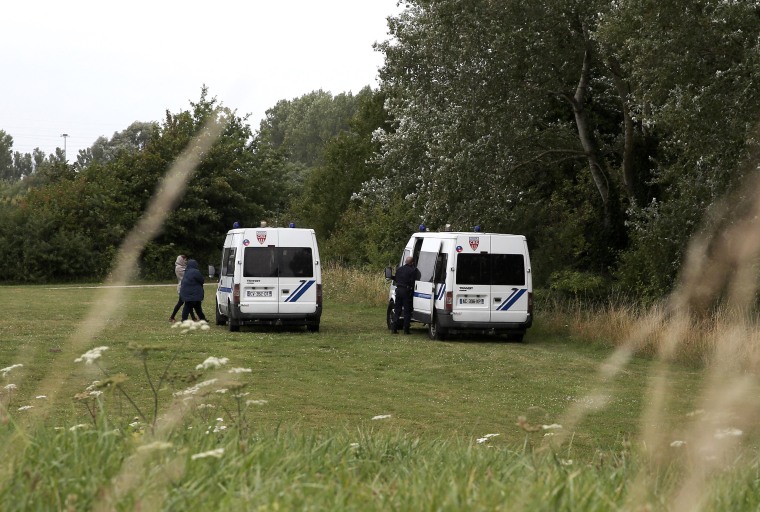 "I understand it because they are hungry," he says, explaining that a handful of voluntary groups is working together to bring daily meals and bedding for the growing camp. "It is shameful that there are women and children being allowed to sleep outside with no help. We do what we can, but it is never enough."
Many take desperate risks. Earlier this month, rescue services found 26 people, including a child suffering from hypothermia, inside a refrigerated truck at the ferry terminal.
The progressive mayor of Grande-Synthe, Damien Carême, wants proper facilities for migrants and has demanded more help from the French government but his counterparts in the much busier port of Calais, 35 miles along the coast, are taking a tougher approach.
The city's notorious "Jungle" camp, home to more than 10,000 migrants from dozens of countries, was razed last October — and officials don't want it back.
The city has pledged to pay fines rather than comply with a court order to install showers and toilets for its latest tide of migrants — an estimated 400 living in woods behind a business park.
"We have to dismantle any kind of camp, we do not accept any kind of camp," says Deputy Mayor Philippe Mignonet. "Why? Because if we allow a camp for 50 people one day, tomorrow there will be 200 people, next week there will be 1,000. It sounds tough but there are some facilities in France, and Calais is not a country — it is just one city in a country."
A particular problem for port cities is that migrants are avoiding official registration so that they can continue to attempt the crossing to Britain instead of being resettled elsewhere in France.
"It is a silly game. Some of these people must accept going to other places in France and if they refuse, they must leave or accept asylum," Mignonet says.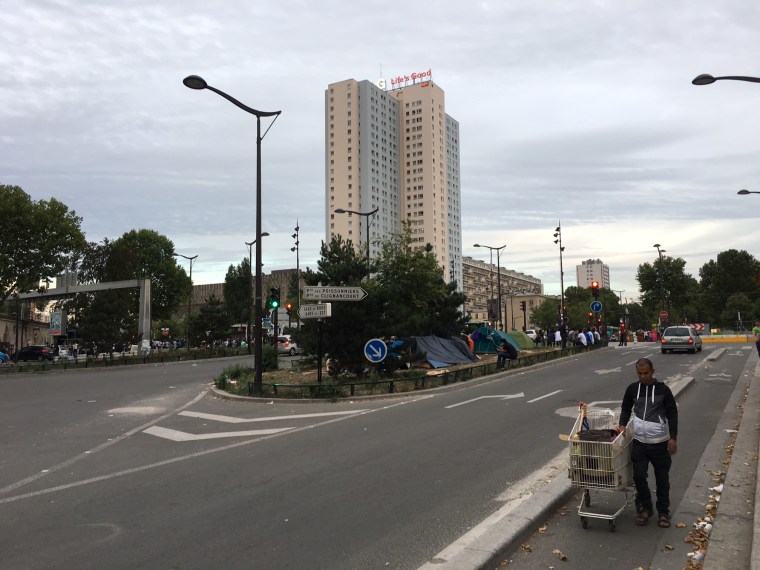 A Human Rights Watch report entitled "Like Living in Hell," published earlier this month, said police in Calais, including the riot-trained CRS, routinely use pepper spray on migrants while they are sleeping and confiscate sleeping bags, blankets, and clothing to force them to leave the area.
"Such acts violate the prohibition on inhuman and degrading treatment as well as international standards on police conduct," it said.
Mélusine Binder, a spokesman for the Interior Ministry, said police aimed "to prevent intrusions into building and trucks [and] to preserve public order and security, adding: "Migrants who wish to apply for asylum in France can do so and have access to accommodation, but within the law."
She added that there had been 17,867 attempts to breach port and tunnel security so far this year, and 12,349 attempts to stow away in trucks — one of which in June led to the death of a truck driver.
Nadine Finot, 51, who lives less than one mile from the latest emerging encampment, thinks the measures are proportionate. "It is important that they do not let it grow, which means they must be strong," she says. "It is not inhumanity."
It's not a view shared by volunteers with a local aid groups who provide drinking water and hundreds of fresh meals every day from small trucks.
"I don't know how [city officials] sleep at night," says Mallorie Verne, an organizer with migrant charity, SALAM. "They say they are doing it to protect Calais but I am from Calais and I don't need protecting, these people need protecting," she says, pointing at the crowds emerging from their tents and makeshift woodland shelters.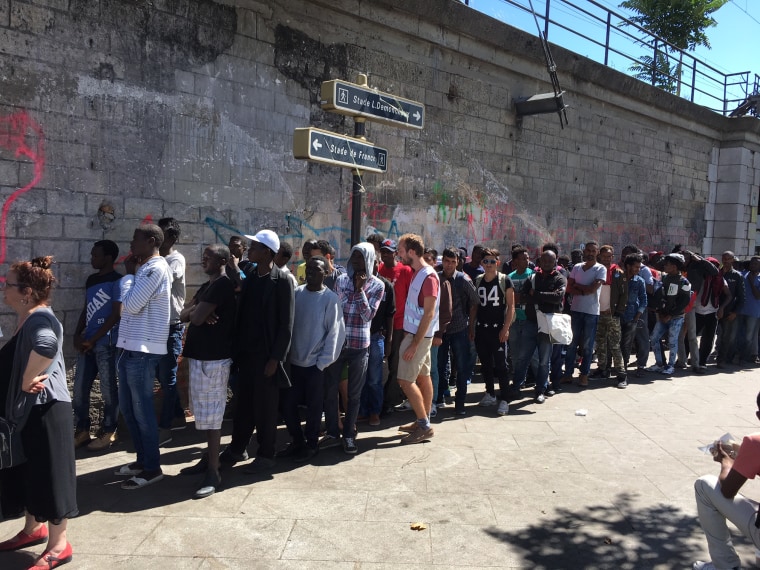 A chemical smell hangs over the air at the distribution point, sandwiched between the A16 highway and a vast chemical plant, and there is no fresh water. Some migrants wash in the city's canal.
"We need proper facilities," Verne says. "This is no place for humans."
Among those lining up for food is Simret Simret, a 16-year-old girl from Eritrea with good English who translates for her Ethiopian friends.
She has already been in the area for one month, and does not worry that she is outnumbered by young men. "There are more women now than when I came here," she shrugs, adding that she is trying to reach her older sister and mother who are already in London.
After their meal, the Africans play soccer while the Afghans arrange a game of cricket. The star batsman is Rehan Barakzai, also 16, from Kunduz who has fled worsening Taliban violence to attempt a new life in Britain.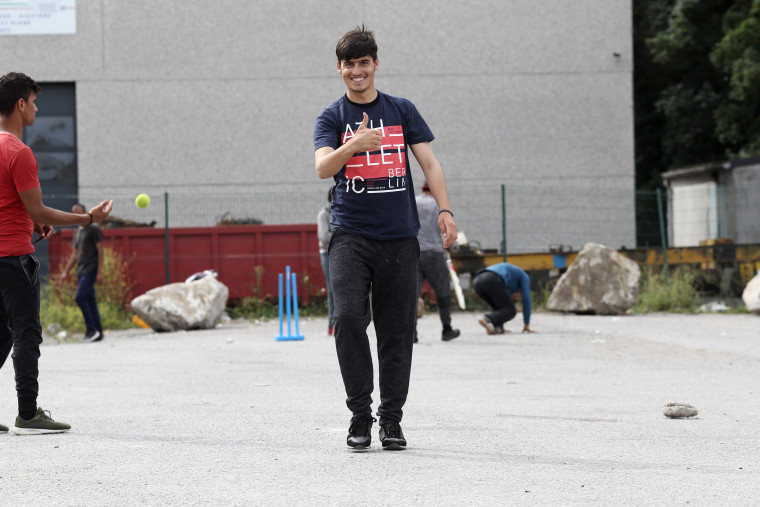 "If they don't like you, they kill you," he explains. Along his nine-month journey to Calais — including three months in a Bulgarian detention center where he was beaten by guards — he has learned English. "I will see you in the U.K.," he laughs.
More than 115,000 migrants have crossed into Europe so far this year according to the United Nations — a substantial decrease on 2016 but a record for some individual countries including Italy, which has taken 94,000. More than 2,370 people drowned trying to reach Italy in the first six months of 2017.
France's Interior Ministry has commissioned a private company to create thousands more places to accommodate asylum seekers, resulting in the purchase of 62 motels from budget brand HotelF1 for conversion into reception centers. It says the move will save money already spent accommodating migrants in hotels at commercial rates, but there is some anger. In the Pyrenees town of Séméac, locals built a wall around their local HotelF1 to keep migrants out, Liberation reported.
Existing facilities are overwhelmed. In Paris, a processing center in the northern suburb of Porte de la Chapelle is so oversubscribed that authorities have cleared the surrounding streets of encamped migrants 34 times since 2015 — most notably on July 7 when almost 3,000 were ordered to move. One month later, almost 1,000 are back.
"Today we're serving about 800 breakfasts," says Anne Marie Bredin, an American-born volunteer with Solidarité Migrants Wilson handing out bread and jam.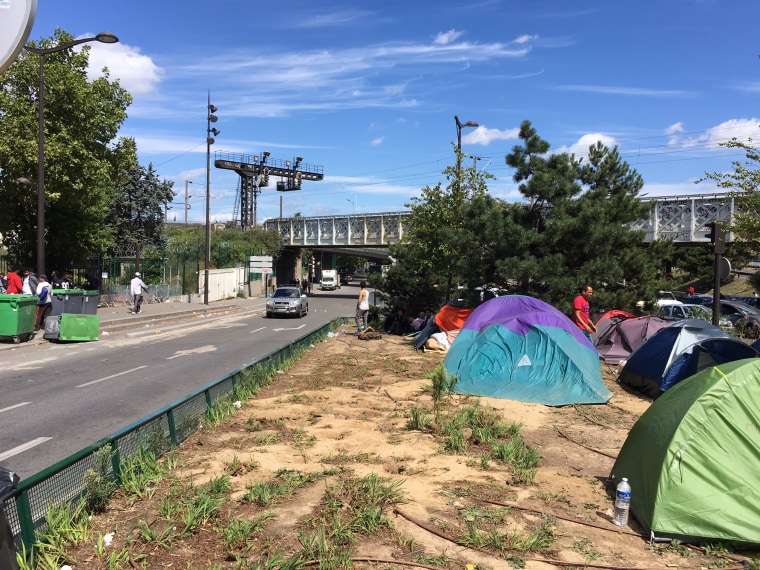 City officials have installed urinals and given aid groups space to distribute food, and the police presence is more benign than in Dunkirk or Calais, but food is paid for through donations.
Asylum applicants must make an appointment but waiting times can be weeks long and most sleep on nearby waste ground under the city's traffic-choked orbital highway, Boulevard Périphérique. A water pipe allowing them to wash has been set up next to the road, hidden by dumpsters in an attempt at privacy. Tents and mattresses line the exit ramps, overlooked by a tower topped by a neon sign advertising electronics giant LG and its slogan, "Life Is Good."
Abdilahi Abdi, a 21-year-old Somali master carpenter who fled the violence of Al Shabaab terrorism, says: "I was here one month then they gave me an appointment then they canceled it and said I had to come back after more weeks and I am still sleeping here."
"Life is not good here," he laughs, "but I still want to live in France, somewhere."