LONDON — Tens of thousands of refugees and migrants — including children — are at risk of frostbite and hypothermia from a deadly winter blast that has blanketed much of Europe under heavy snow, aid groups warned Tuesday.
Frigid temperatures and bitterly cold winds have created dangerous conditions across the continent, trapping families in ill-equipped camps and shelters from Greece to Hungary.
The extreme weather isolated communities, caused power and water outages, froze rivers and lakes, grounded flights and triggered accidents across more than a dozen countries.
Two men from Iraq and a Somali woman died from cold in the mountains of Bulgaria after crossing into Europe from Turkey, police said.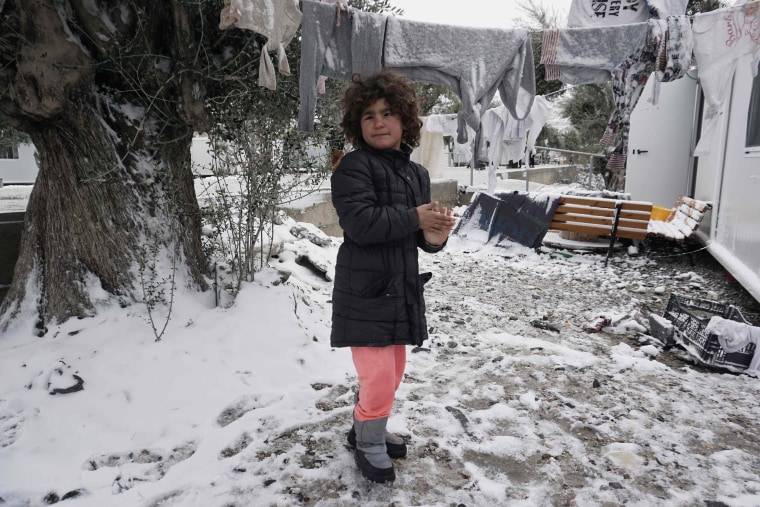 On the Greek summer vacation island of Lesbos, more than 4,000 migrants are living in overcrowded conditions in unheated containers or under tents at the Moria camp.
"Yesterday we had an enormous amount of snow on the island and very high winds," Daniel Barney, spokesman for aid group Medecins Sans Frontieres (MSF) — also known as Doctors Without Borders — told NBC News from the camp. "People have to go outside to get food and we have a wet and cold environment that makes it almost impossible to get warm. They do not have dry clothing or dry blankets and there is the risk of respiratory infections and hypothermia."
Another 1,000 migrants — all of them families with children — are being housed at another camp on the island at Kara Tepe.
"There are flat box houses and conditions are a little better but it definitely hasn't protected them completely from the cold," Barney said.
Most of the families have been stuck on Lesbos since the summer, waiting to be granted asylum and shipped to the Greek mainland or deported back to Turkey under the terms of an EU-Turkey deal.
The U.N. refugee agency (UNHCR) on Friday urged Greek authorities to accelerate the relocation of families during the cold snap. "We are worried," spokesman Adrian Edwards said.
In Serbia, where authorities have declared emergency measures in 11 municipalities paralyzed by snow, an estimated 7,000 migrants are stranded as they attempt the familiar "Balkan route" from the Mediterranean towards Germany and France.
Dozens of Asian, Afghan and Pakistani migrants, some with children, are camping out in makeshift tents in temperatures as low as 4 degrees below zero on Serbia's northern border, waiting their turn to try to enter Hungary.
Refugee camps are packed and only women and children are likely to be let into them, leaving the men to seek shelter where they can. Some have been treated for frostbite, MSF said.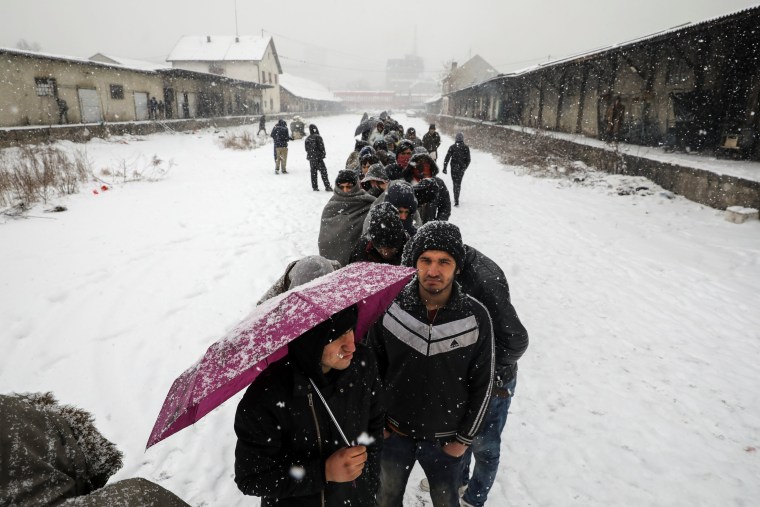 Their tents, lined with blankets, are heated only with campfire embers brought inside at nightfall. Many of the children who crawl outside at first light are wearing only thin sweaters and slippers.
Around 1,500 migrants are sheltering in abandoned warehouses in central Belgrade. In one, hundreds of men, mainly Afghans, sleep on the concrete floor, relying for warmth on burning plastic garbage that gives off choking black smoke.
"It's so, so cold — we need these fires," Salim Shinuari, 22, from Afghanistan, told Reuters. "Humanitarian workers give us food, but it's cold inside."
Hungary registered 30,000 asylum applications last year, according to the government, of which fewer than half were accepted. In addition, nearly 20,000 gave up on the tortuous official process and tried to enter illegally.
Burhan Zadran, 30, who is from Afghanistan, said most of the men in Belgrade travel to the border once or twice a week to try to cross. But getting into Hungary is not enough — anyone caught within five miles of the frontier is sent back.
"I crossed the border illegally, because the wait was too much in the Pancevo camp — five months," said Kashif Raza, a Pakistani national. "I was all alone without water, without food, in the countryside, for six days. After that I had to eat something ... I went to the road and surrendered to the police."
In southern Germany, a people-smuggler left 19 migrants, including five children, at a highway rest stop parking lot, police said Sunday. It was 4 degrees below zero when emergency services rescued the group near Brannenburg, just across the border from Austria.
The number of migrants entering Europe in 2016 plunged by almost two-thirds to 364,000 compared with the previous year, according to EU border agency, Frontex. The main reason has been the EU-Turkey deal under which many are deported back to Turkey.