CALAIS, France — One of the first signs something is not right are the clothes — they're everywhere. Worn and often tattered, they hang to dry on trees, fences, bushes, train tracks and any surface lining the otherwise normal road.
Stepping off that two-lane road into a seemingly impenetrable forest takes you straight out of France and into "The Jungle." It is here, in the port city of Calais, that hundreds who've fled war-torn circles of hell find themselves stuck in another.
Mohammed Fakhridein sat on the edge of his tent, waiting for night to fall so he can try — as he does every night — to conceal himself under a truck that will cross the English Channel and escape the trash-strewn encampment he's called home for three months.
"Everything in England is comfortable — not like Sudan," Fakhridein says of the country he fled. "The war destroyed everything for my family."
After making his way to Libya and undertaking a dangerous ocean crossing, Fakhridein is desperate to keep going.
"What is this," he said, pointing to the broken eggshells, discarded tins, battered shoes and crude fire before him. He said his small tent — made for one — often sleeps up to four fellow migrants. He often rummages through restaurant garbage bins for food.
"In France, we are suffering from staying in this forest," he said. "The weather is very cold — no water for shower, no water for toilet, no water for everything. We need to go to England."
****
The migrants in Calais are a patchwork of global turmoil: Syrians desperate to start new lives away from the bombs raining down on Damascus, refugees from Sudan's Darfur, Afghans fleeing their nation's decade-long conflict, political asylum-seekers from Eritrea and Ethiopia.
On a recent afternoon, about a dozen young men lined a small path leading down to a filthy, tire-strewn canal. They waited patiently for their turn to strip down to underwear and wash themselves with the help of broken plastic jugs then scrub their worn clothes.
"It is an international human tragedy ... These people are prepared to die to come to England"
This is the closest many come to a shower in Calais — part of a burgeoning crisis aid agencies warn is inhumane and unsustainable. The U.N. refugee agency in September sounded an alarm about the worsening humanitarian situation, noting that a record number of arrivals across the Mediterranean Sea over the past five months has "dramatically" increased the number of migrants taking shelter in the port city.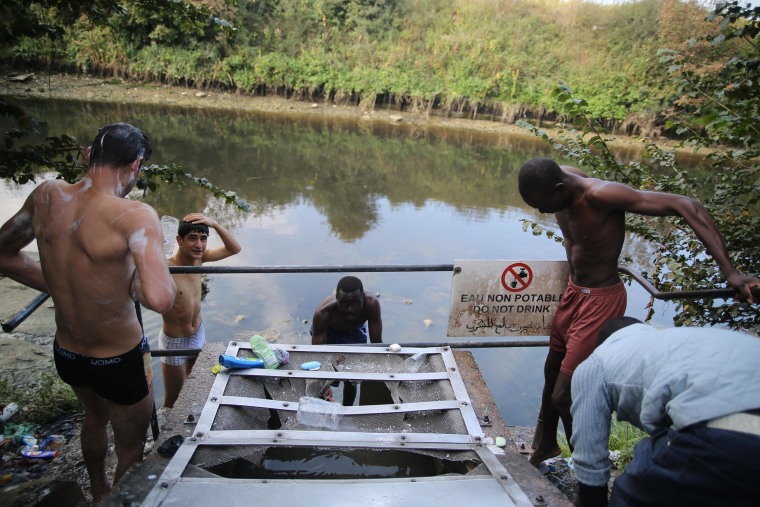 "The living conditions of the migrants are absolutely appalling and this is provoking increased tensions among different communities of migrants and also with the local population," said Philippe Leclerc, the UNHCR Representative in France.
The mayor of Calais has pleaded for urgent action, saying that the number of migrants in her city has reached 2,500 and the local population also is suffering.
"We need to do something now," Mayor Natacha Bouchart told a committee of British lawmakers last week. "It is an international human tragedy. It is also a human tragedy for the population of Calais who for 15 years have been suffering for others. We think that the problem is going to get worse anyway so we need to do something to contain it."
Bouchart also laid some blame on the U.K. for having an "attractive regime" that appeals to desperate migrants.
"These people are prepared to die to come to England," Bouchart added. "You really need to take your responsibility; if you have conditions that are attractive to migrants you need to think about changing those."
***
The locals in Calais view the migrants with suspicion or worse, according to a Syrian named Omar who said he walked the length of a continent before reaching the city.
"There are not relationships between us and the citizens of Calais," Omar said. "They look to us as strangers. 'Why are you here? What are you doing here.'"
The 33-year-old urologist insists he is not seeking handouts but a safe place to work. Omar said he left Syria nearly a year ago once he realized his options were to join the military or an Islamist group. First he went to Yemen, then to Turkey. From Turkey he traveled by sea to Greece — then set out on foot in order to avoid police and immigration controls.
"I walked from Greece," Omar said. "Macedonia, Serbia, Hungary, Austria, Italy then France."
After a journey marked by intense fatigue and thirst, Omar said what he found in Calais was only slightly improved from the war-torn nation he left behind.
"The big difference between here and Syria is the safety," Omar said. "Here — no bombs."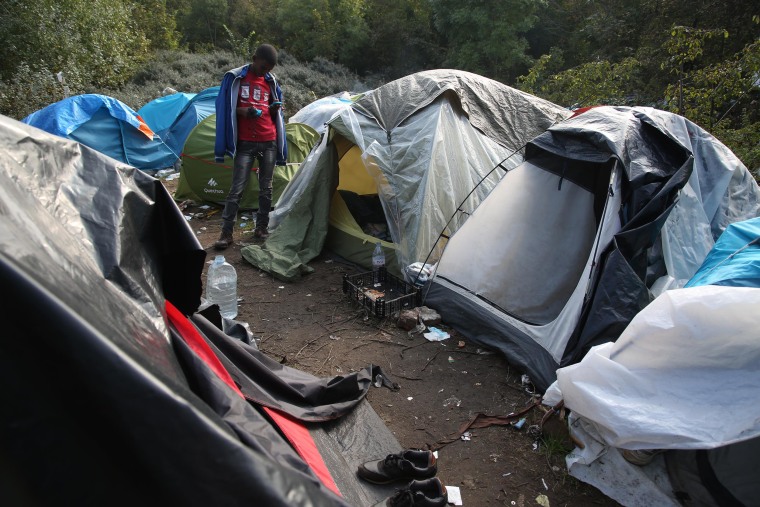 Life is "very hard" in Calais, he said. He eats just one meal a day —– handed out by a charitable organization near the port and sleeps without a blanket in a donated tent set up in a cement parking lot across town from The Jungle.
"When it's raining at night? Oof — the water drops inside the tent," he explained. "I have no blanket — the blanket is covering the ground. We sleep on the ground."
That's why hours earlier, he tried yet again to cross to England.
"I want to tell you a secret," Omar said, leaning in. "Yesterday at night I went to the sea. I tried swimming into the sea and jumping into a ship. It was very hard, very dangerous. It did not work."
When asked why he would risk it — the long voyage, the dangerous crossing, Omar simply shrugged."Give me another way," he sighed. The suggestion of staying put in France was met with a laugh.
"Stay here? For what!" he said. "I have family, family! They live under the bombs… We need to work to give money."
***
Like nearly all of the migrants dotting the landscape of Calais, Omar believes he has a better chance finding work in England than in France. For one, there is the language: he and many of the others already speak English. Learning French takes time — which many migrants feel they don't have.
"It's a prison here," said Haben, who had been in Calais for three months and two weeks and counts each passing day.
"France is not good," the 25-year-old Eritrean explained, in perfect English. "It's not like Europe, it's like Africa."
An electrician in Eritrea, Haben said he would work any job he could find in England. He had crossed the desert to Libya by car then paid $1700 for a place on a boat crossing the Mediterranean. The Italian navy had to rescue him and others after their boat's hull cracked and began to take on water, Haben said.
"The main reason we came here was to change our life, make a bright future to aid our family," he said, crouching in the dirt.
His encampment — tucked away in the trees, a few hundred yards from the main jungle — reeks of urine and rotten garbage, but there, Haben said, at least there is more of a community.
"We find people like us, we can find friends. It's like home," he explained. "It's difficult to manage and to survive — but that's the price we pay to get to England. We know life will be a bit harder for a while but we know we will win."
Most migrants in Calais also believe it will be quicker to get work papers in England. Just ask Karam Hassan Hassan.
"In England, once I go, it will be very easy for me, you know, to get my papers there," the 26-year-old told NBC News. "They will give me a house, a place to stay… This is not possible here in France. I have to stay outside, homeless."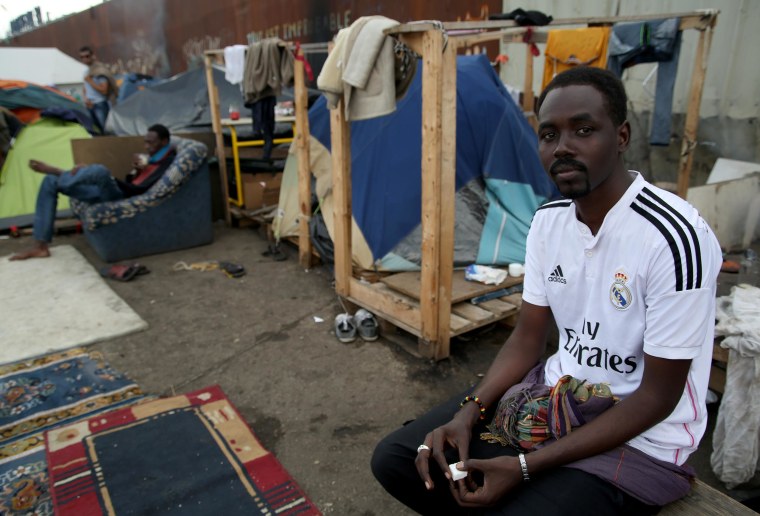 Like Omar's, his journey has been long. Hassan left Sudan in October 2009 and ended up in India to finish the design degree a war interrupted. When his degree was completed, he took off for Egypt, where he spent six months before heading off to Libya. Passage on the rickety boat he took from Libya to Italy cost $1200 — a dangerous journey his family begged him not to take.
"I didn't eat or drink for days," Hassan recalled. "I saw people were dying on other boats."
It cost at least another $400 to make it from Italy to France.
"My expectation was, before I come to Europe that once I come here I thought maybe everything will be OK," he said. "But as I see, Africa is better."
When asked if he regretted the trip, he nodded.
"People are suffering," he said. "We don't have a place to stay… We have one meal by day. There's no place, you know, to take a shower even… The situation is so, so, so bad."
Despite the conditions, returning home is not an option to Hassan.
"I can't go back," he said. "I'm crying inside, I don't know what to do… We need to get out from here really but we don't know what to do. "
Hassan said if he could send a message to the French or British governments it would be simple: Please, just help.
"We are human beings. We need our rights as human beings," he said. "Please just give us our basic things in life — a place to stay, you know, like, we need to live like humans. That's it. That's it."
***
There are a few volunteer groups in Calais who team up to provide a hot meal and distribute clothes and tents to the migrants — but their capabilities are stretched by a recent influx, volunteers say.
Francois Guennoc, who works with L'Auberge des Migrants, said the numbers coming to Calais had increased dramatically over the past four months. Whereas his organization would prepare around 250 meals a day in December, now it is serving around 800.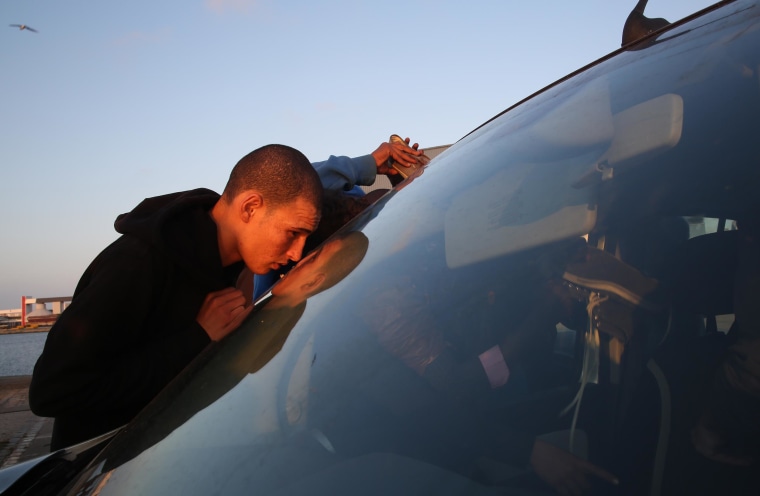 "There are so many people now that we have problems," he said. "We are in our limits for preparing food and giving clothes." Living conditions already are terrible for the migrants, he explained, and will get worse as the weather turns colder.
Equally important, he added, is that the migrants need "more dignity."
***
Dignity is in short supply in The Jungle and also in the Grotto, a separate encampment in Calais home to another cluster of migrants. Kneeling over a crude fire and skimming the foam off a pot of Lipton tea, Adam explained how he came to Europe for safety — not money, not success — and only found despair.
"There's not enough food," he said, admitting that he and his friends often scooped expired milk out of cans for a meal.
While he first told NBC News that he was 22 years old, Adam later admitted he was just 16 and had come to Europe alone, from Darfur.
"I came for a better life. I came for safety," he said. "Is this life?" he asked, gesturing around at the crude encampment laid out over a cement lot, littered with shoes, clothing and trash. "No shelter, no good food, no anything."
"I came to Europe to see a better life and to save my life, but it's not good"
Like those around him, Adam said he took a "very difficult" journey by boat from Libya and that danger was all around him.
"I saw the dead," he said softly. "It scared me."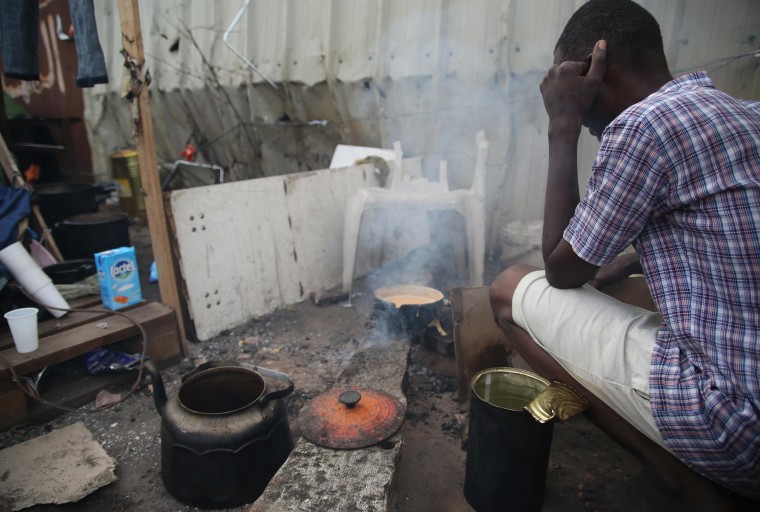 In Paris, he slept on the streets for days without food. In Calais, it's much the same, he said.
"I can't tell you what I feel because I don't have the words. It's difficult," Adam said, admitting that he's tried many times to get to England with no success.
"I keep trying, I'll keep trying," he said. "I keep trying to see a better life than this." The journey is one he regrets, Adam admitted.
"I came to Europe to see a better life and to save my life, but it's not good," Adam said. "In my country there is war. It's not better here, but what can I do? Go back to my country? There is war. Or jail."
Adam said he has spoken to his family to let them know he made it to France. But he has not let on about the conditions he faces.
"They think I have a better life," he explained. "I won't tell them I don't. I can't tell them I don't."
***
As night fell, fires burned and migrants layered up, adding sweaters and hats against the chill. On the road outside — just beyond the fence — police began taking up position, ready for another night of attempts to make it across the border.
ALSO IN THIS SERIES