Some of the thousands of migrants evicted from the sprawling "Jungle" camp on the northeastern coast of France have set off for the streets of Paris, creating a headache for authorities.
Tents have appeared on boulevards and squares across the French capital, including areas frequented by tourists such Place de la Republique and the banks of the River Seine.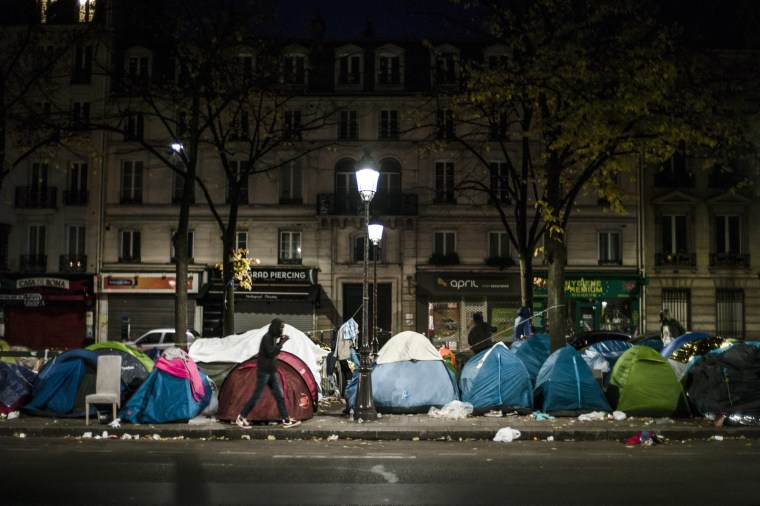 Riot police broke up part of a makeshift in the city's 19th arrondissement Monday, sparking a brief standoff as municipal workers tried to clear trash, blankets and mattresses trash from an area close to the Stalingrad subway station which up to 2,500 refugees had made their home.
Around 900 migrants are being housed at a disused high school in the area, according to a non-profit support group, Bureau d'Accueil et d'Accompagnement des Migrants (BAAM).
A local store owner told Le Figaro newspaper that residents were no longer buying groceries locally because the area had become "unhealthy" and said his business could become unviable.
Paris now joins a list of European capitals, including Belgrade, Serbia and Budapest, Hungary where migrants from countries ranging from Sudan to Syria and Eritrea to Afghanistan have become a familiar sight on the streets.
Paris Mayor Anne Hidalgo last week asked French interior minister Bernard Cazeneuve to shut down the Stalingrad Metro station camp on humanitarian and sanitary grounds, but the numbers keep swelling.
City officials say the numbers sleeping in the area have swollen by about a third since the Oct. 25 demolition of Calais' Jungle, where more than 6,500 refugees were camped in the hope of sneaking aboard trucks and trains traveling through the tunnel under the English Channel to Britain. Most have been resettled in shelters around the country.
Related: This Castle Will House Migrants from French Jungle
Colombe Brossel, deputy mayor of Paris, said that while the presence of migrants there is not new, it had grown substantially since the Jungle was cleared.
"We have seen a big increase," she told Reuters Monday, adding that there were now up to 750 tents in the Stalingrad subway location, which is close to the Gare du Nord train station. "It's not a huge explosion in numbers but there is a clear increase. Some of them come from Calais, others from other places."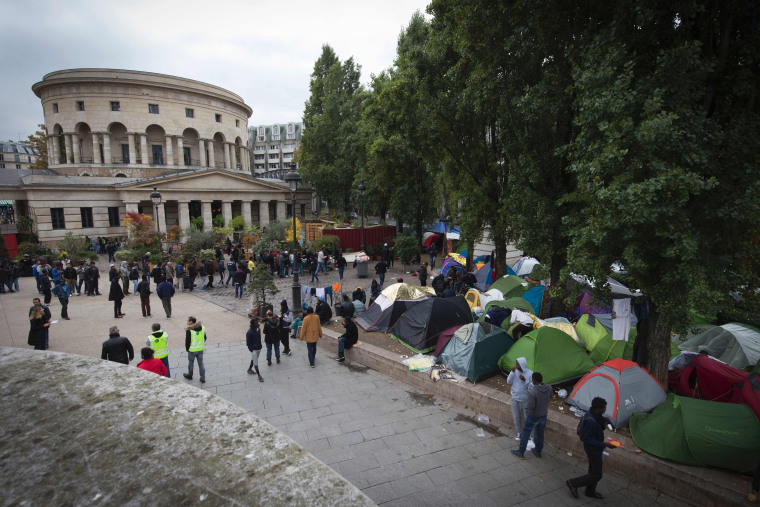 Azlan, a 26-year-old Afghan, told Le Figaro newspaper he had gone to the camp from Calais with two friends, ignoring offers from French authorities to be resettled at one of thousands of temporary reception centers throughout France.
Paris offers more opportunities for further attempts to sneak across the border into Britain, unlike provincial villages around France, he told the newspaper which has compiled a list of the city's temporary camps.
Related: Thousands of Migrants Are Forced to Leave 'The Jungle'
Tourism officials in the city did not respond to a request for comment from NBC News.
Paris has plans to open two migrant centers but they would only have a total capacity of fewer than 1,000 beds.
Brossel said it was up to the central government, and not city authorities, to act. "These people must be sheltered," she told Reuters.