Three Syrian refugee families flew to the Vatican with Pope Francis on Saturday following the pontiff's brief but provocative visit to a Greek island at the center of the European migrant crisis.
"The Pope has desired to make a gesture of welcome regarding refugees, accompanying on his plane to Rome three families of refugees from Syria, 12 people in all, including six children," the Vatican said in a statement after the pope's plane took off from Lesbos, Greece.
His trip to Lesbos was aimed at thanking the Greek people for welcoming refugees and to meet with migrants as the European Union implements a controversial plan to deport them back to Turkey.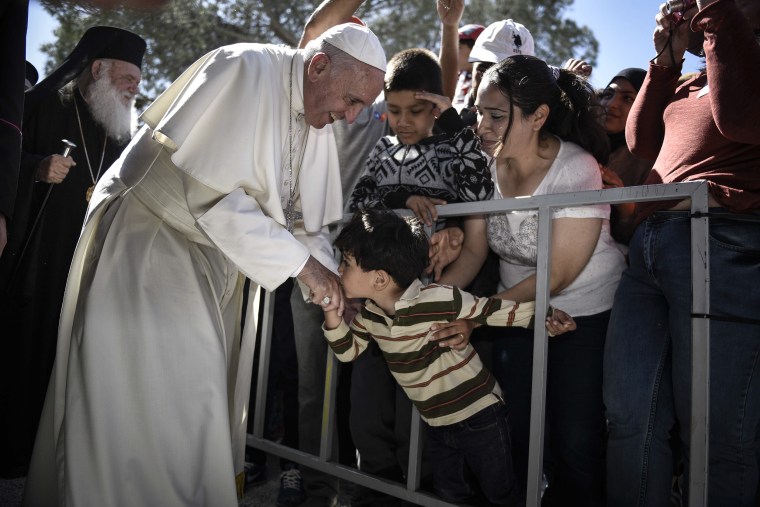 As Francis arrived at the detention complex on the Aegean island, migrants — both adults and children — wept and kissed his hand, begging for help from behind metal barriers. The pontiff shook hands with hundreds of them.
"I want to tell you, you are not alone," Francis said in a scripted speech. "As people of faith, we wish to join our voices to speak out on your behalf. Do not lose hope!"
The 12 refugees brought to Rome will initially be hosted by the Comunità Sant'Egidio (Saint Egidio Community), a Catholic group of laypeople.
Among the refugees are a married couple from Damascus, both engineers, named Hasan and Nour, who traveled to Rome with their 2-year-old son, the group told NBC News. They fled to Turkey, then traveled on a dinghy to get to Lesbos.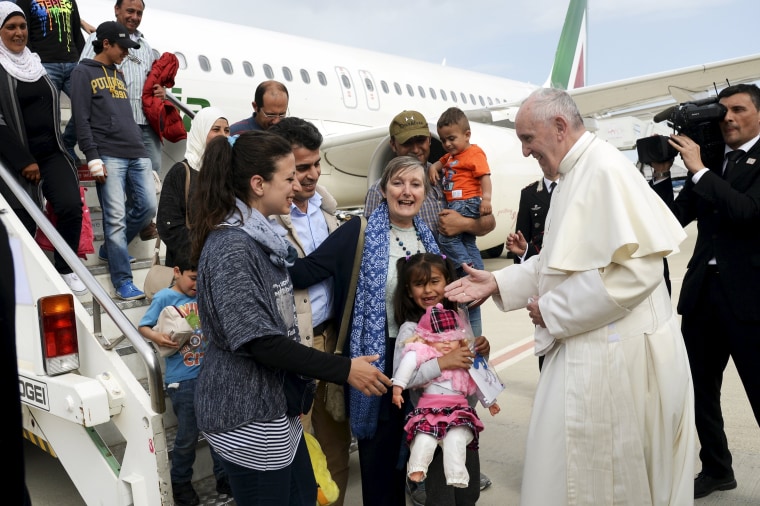 Another couple, Ramy and Suhila, are from Deir Ez-Zor, an ISIS-controlled city in Syria. They ran away with their three children after their house was destroyed and arrived in Greece in February through Turkey, the group said.
The third couple, Osama and Wafa, have two children. They lived in the Damascus suburb of Zamalka before their home was bombed. Their youngest son wakes up every night and stopped speaking for a period of time, Wafa said, according to Comunità Sant'Egidio.
The decision to bring the three families back to Rome was "last-minute," the pope told reporters on the flight from Lesbos to Rome.
"Everything was arranged according to the rules. They have their documents. The Holy See, the Greek government and the Italian government have checked everything," he said. "They have been welcomed by the Vatican and with the collaboration of the Saint Egidio community they will be searching for work."
The families, who are all Muslim, were chosen not because they were Muslim over Christian, but because they had their papers in order, he added.
Hundreds of people have died in the past year crossing from Turkey to Lesbos.
"This is what is in my heart as I make this trip," Francis told reporters before he got to Lesbos.
During his meeting with refugees, a small girl with pigtails bowed at his feet and a man broke down in tears.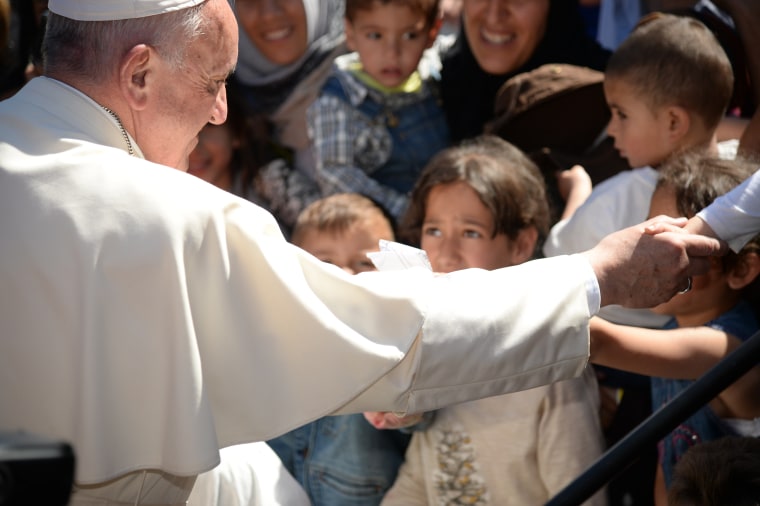 Francis' Alitalia charter touched down at the Lesbos airport shortly after 10 a.m. local time, some 20 minutes ahead of schedule. Greek Prime Minister Alexis Tsipras met him on the tarmac, along with the spiritual leader of the world's Orthodox Christians and the archbishop of Athens, who is the head of the Church of Greece.
After arriving in Lesbos, Francis thanked Tsipras for the "generosity" shown by the Greek people in welcoming in foreigners despite their own economic troubles and called for a response to the migration crisis that respects European and international law, the Vatican said.
Tsipras, for his part, said he was proud of Greece's response "at a time when some of our partners — even in the name of Christian Europe — were erecting walls and fences to prevent defenseless people from seeking a better life."
Francis and the two Orthodox leaders, officially divided over a 1,000-year schism, then traveled to the main detention center on Lesbos to greet the 3,000 or so refugees stuck there.
The religious leaders had lunch with eight refugees to hear their stories of fleeing war, conflict and poverty and their hopes for a better life in Europe. Then they prayed together, tossing a floral wreath into the sea in memory of those who didn't make it.
The pope vowed to continue helping refugees.
"Refugees are not numbers, they are people who have faces, names, stories, and need to be treated as such," he tweeted Saturday.
It's not unprecedented for the pope to bring back refugees: The Vatican is already hosting two refugee families.