European leaders were gathering early Monday to discuss the still-spiraling migrant crisis as thousands camped out in Greece desperate to cross a blocked border.
The summit in Brussels was convened to press Turkey to address flows of refugees from war-torn countries such as Syria and ramping up assistance to Greece, which has been inundated with migrants.
Closing the so-called Balkans route is also on the agenda, a move which has provoked condemnation from aid and human-rights organizations.
Between 10,000 and 13,000 refugees and migrants are currently camped out in Greece hoping to cross the border into Macedonia as the EU leaders meet, according to UNHCR spokesman Babar Baloch. He said the majority are women and children.
"They are living in just horrible conditions," he told NBC News. "Everywhere you look around there are children."
While the capacity of the camp at Idomeni was around 2,000, Baloch said it has "been overstretched beyond limits" — with hygiene a "big issue" given a lack of sanitation and toilets.
"It is indeed a very clear humanitarian crisis here at the border point and things can only get worse if no solution is found for these people," he said. "These conditions are not livable at all."
The thousands in Idomeni have been effectively stranded amid the debate over how and when to close borders.
European Council President Donald Tusk said ending the "wave-through policy" of migrants "will not solve the crisis" but "is a necessary pre-condition" to building consensus on migration — with closing the Balkans route seen as a first step.
Around 128,000 migrants entered Europe via the Balkans route in the first two months of 2016, he said in a statement ahead of Monday's summit.
Hungary's Prime Minister Viktor Orban told that "nothing should be done without the closing of the borders" as he arrived in Brussels for the summit.
But inside the EU headquarters, German Chancellor Angela Merkel has been lobbying against closing the Balkan route, according to the Associated Press. She told her counterparts in Brussels Monday that the answer lies not in "closing something, but about finding a sustainable solution, the AP reported.
The Balkans route effectively begins in Idomeni, the main point for crossing into Macedonia and then onwards to Serbia, Hungary and beyond.
Tensions have erupted at the border with Macedonia, with police firing tear gas as desperate refugees and migrants have attempted to storm the gate after authorities there slowed crossings to a handful a day.
Macedonia is among several European nations to clamp down on refugee flows. The country — along with Serbia and Croatia — has been restricting passage across its borders since at least November.
The restrictions have gained steam, with Austria capping asylum applications in late February. Slovenia, Croatia, Serbia and Macedonia soon followed suit.
Police chiefs from all five countries agreed in February on joint measures to limit movement, including strict requirements to prove nationality, according to Human Rights Watch.
Some countries have allowed only asylum seekers from Syria and Iraq to cross, stranding desperate Afghans and other nationals.
Human Rights Watch called the situation "unconscionable" in a statement last week condemning the European Union's "utter failure" to respond to the refugee flows.
Blocking someone from lodging an asylum claim based on their nationality violations international law, according to Human Rights Watch.
The U.N. refugee agency's Baloch said crossings in Idomeni over the weekend had involved border officials enforcing restrictions based on nationality, such as refusing to let Syrians through.
The restrictions have created a tense and anxious atmosphere among the refugees and migrants camped out in Idomeni, Baloch said.
"They're living in uncertainty, they have no information in terms of whats going to happen to them — whether they'll be allowed to move on or not," Baloch said. "There are a lot of rumors going around and that just increases the level of anxiety and desperation."
Related: Tear Gas, Clashes as Migrant Anger Boils Over
So far this year 138,280 migrants and refugees have arrived in Europe by sea with the majority landing in Greece, according to the latest figures from the U.N. refugee agency. At least 410 have died attempting to make the perilous crossing.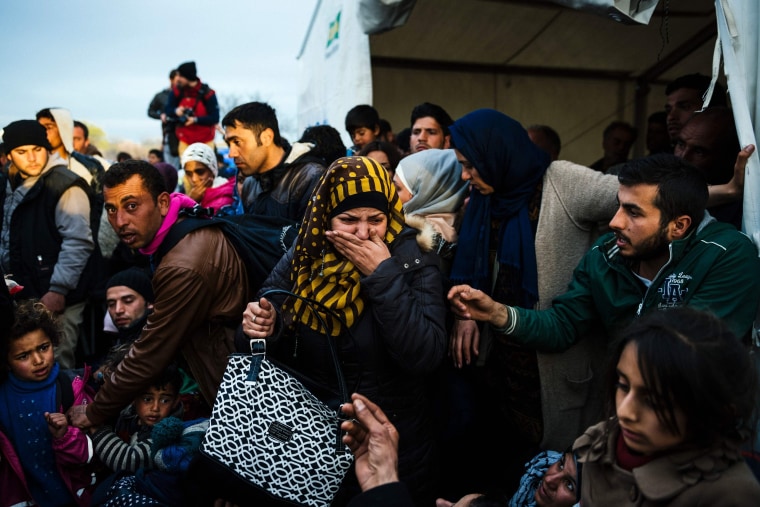 Greek Prime Minister Alexis Tsipras said Monday the EU must speed up the process of relocating registered asylum seekers from his country — as was promised last September. So far EU member nations have taken in just a few hundred of the 160,000 pledged.
"Rules are for all, and everybody has to implement our common decisions," he told reporters in Brussels. "If there are agreements that are not implemented there are not agreements at all."
Baloch said without that those measures the situation will deteriorate further, adding his voice to a chorus calling for more assistance to Greece.
"Greece cannot cope — it has publicly asked for support from the EU and that support needs to come quickly, otherwise we fear the worst," he said.
Closing the Balkans route would only increase pressure on already-overburdened Greece, said Gianluca Rocco, the International Organization for Migration's Western Balkans coordinator.
"To close borders in general is not the solution. It is not the solution," Rocco added.
Amnesty International said Europe needs to "make the bold decision" to fast-track resettlement and stop expecting Turkey to take the lead in stemming migrant flows.
"European leaders' attempts to use Turkey as their border guard to stop refugees and asylum-seekers heading to the EU is a dangerous and deliberate ploy to shirk their responsibilities to people fleeing war and persecution," the rights organization said in a statement.