It didn't matter where she was standing — in the dirt, in the dark, in a heaving crowd of sweaty bodies pushing forward through a checkpoint. Most of the time Salma didn't know or care. All that mattered was the destination, however she was getting there.
This is the story of how she did.
A Single Goal
It's nearly 100 degrees in Idomeni, and the thousands of refugees waiting in this Greek border town have nowhere to escape the blazing sun.
They were waiting for their numbers to be called — each part of a group of 50 waiting to cross into Macedonia.
There were men, women, children and one-month-old babies on the dusty tracks. Most were originally from Syria: when asked why they had left their homes some pointed to the sky: "Boom."
They carried only essentials — an old woman held medicine packets, water-stained from when the sea splashed into her boat on the journey from Turkey. A 13-year-old diabetic carried insulin in a coffee pot — just two more days' worth. Most had just the clothes on their backs and just one goal in mind: Germany.
There were more than 280 groups assigned numbers — and Salma's was 210, though she wasn't sure what would happen when it was called.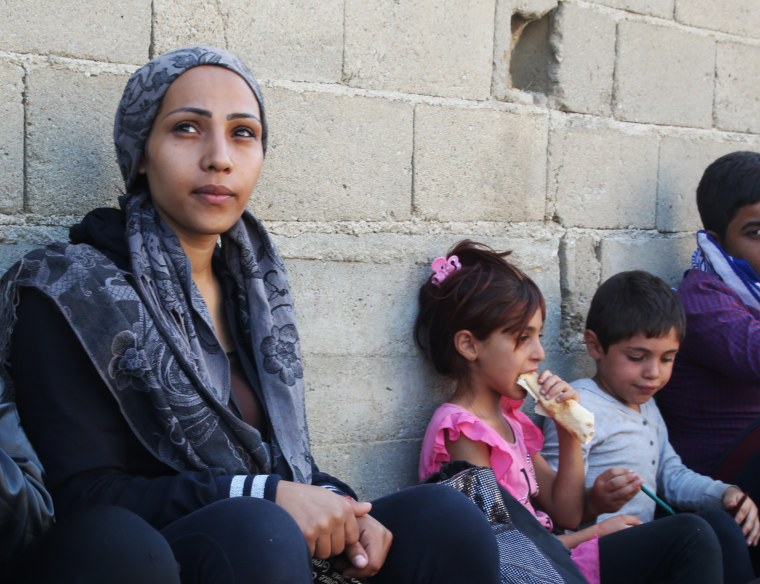 "Right now we don't know," Salma said. "They tell us that we will walk a little bit."
And from there?
"Greece, Macedonia, then Serbia, then Hungaria then we don't know," she said. "We don't know if they let us go to Germany."
Germany, though, is what she wants — and the target she is determined to reach.
"They said that it's the best choice for us," Salma said. "I'm ready."
'We lost everything in Syria'
They've been traveling for a month, this group: 29-year-old Salma, her husband Tarek, their two children — aged five and two — her niece Jana, mother, and best friend Nour. There are a few other friends and neighbors bringing their number to around 10.
Salma and Tarek have taken Jana in like a daughter; her father is still in Syria and wanted the seven-year-old to have a better life.
They left their homeland when they became trapped between competing sides of the war — President Bashar Assad's forces and militant groups like ISIS and the al Qaeda-aligned Nusra Front.
"They attack us with gun, with helicopter, with everything," she said. "They attack us, they destroy our house... we didn't have anything. We lost everything in Syria."
Salma studied English at the University of Damascus and worked at the Four Seasons until she had her first child; Tarek was a salesman. They lived in Yarmouk — a refugee camp — where life was beautiful for many years.
Now, though, thousands there are trapped between warring factions without access to food. Salma's brother-in law-was one of many to die from hunger.
"It's like hell in Damascus," she said. "We saw a lot of people die."
Salma said she tried to stay there but it became too difficult to escape the dangers; one year ago a plan was hatched to leave.
"We try to survive with our children and come here maybe we will find a new life, maybe, we don't know," she said, holding her son's hand. "But there's so difficult things happen to us through our running from Syria."
The Black Flag of ISIS
That run out of Syria began on a Thursday in August.
A taxi driver brought them out of Damascus to another trafficker with a bus. Salma knew getting out would be dangerous — they would be passing through both government-held and ISIS territory and needed to plan accordingly.
Salma put on extra make-up and took off her headscarf through the government-held areas — she said she wanted to appear "free" and "normal" so as not to arouse suspicion.
When they approached rebel-held territory, she and Nour had to make a quick change. ISIS and other extremist fighters in the area like the Nusra Front ascribe to a severe interpretation of Islamic law — women must be covered.
They deleted all photos from their phones, wiped the makeup off their faces and put on the full black coverings — niqabs.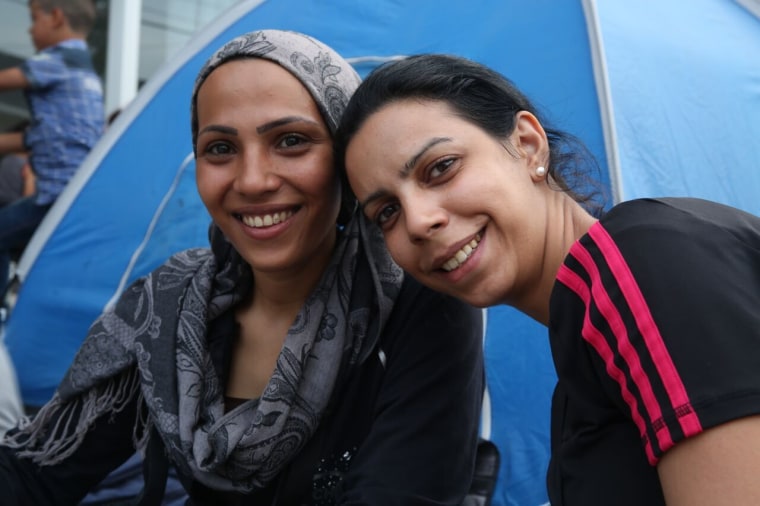 "We put on so they don't kill us," Salma explained. "If they see a woman without a cover or her face is showing maybe they kill her husband."
Their bus was stopped by Nusra fighters who questioned all of the men — and made sure that Salma and Nour were accompanied.
"They didn't let us talk because we are women — so they talk to the men," Salma said.
Their first encounter with ISIS came later, after passing Hama.
"We know them from the flag … a black flag," she explained. "They look scary."
They found her mother's cellphone — which luckily had been wiped. Tarek told them he was studying; the fighters asked him to come join their ranks when he was finished, Salma said.
The bus continued north through Halab and to near Khirbet Al-Joz, an area along the Turkish border under rebel control. The group waited there for nearly seven hours before setting off on foot. It took three hours —Salma holding Mohammad's hand, her mother carrying Adam, Tarek with the bags — to reach the first village in Turkey.
While they were initially relieved to enter Turkey, that feeling was short-lived. The family ended up in a refugee camp — "like a prison" — and had to pay their way out, along with a few others who joined them for the rest of the journey.
After that, they made their way to the coast and on to Greece by boat — a "hard, hard journey."
The vessel — like most making the perilous from Turkey — was too small for the 58 people it carried. Water started coming in the boat before they made it to Greece, striking fear in Salma's heart.
"We don't know if we will live after that or we die," she recalled. "But we try to survive with our children."
Just the Clothes on Their Backs
Her children are her everything — the driving force behind this difficult journey.
"When I see them I feel that I'm strong," she said one afternoon as Mohammad rested his head on her shoulder. "They make me laugh, they make me happy, we get strong from them."
Salma had a daughter once, before the two boys. The baby girl lived for just one day — her name meant the vein that makes the heart beat — and now Mohammad and Adam are her lifeblood.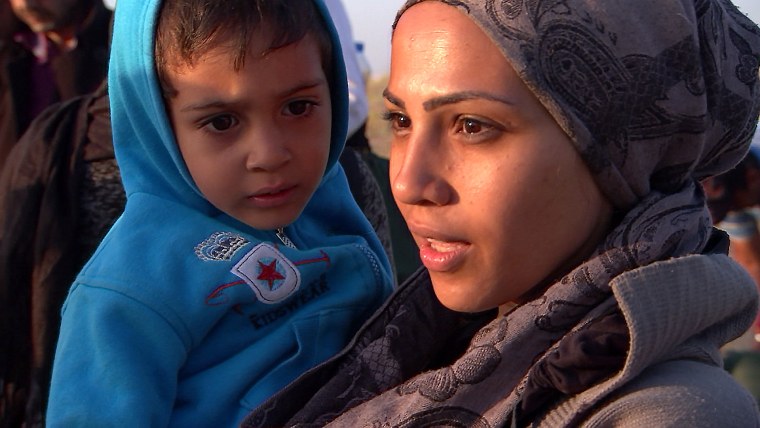 Mohammad, 5, is shy but curious. Two-year-old Adam is a little devil, independent and strong-willed.
Every day the kids ask her "This is Germany? This is Germany? When are we going to Germany?" Salma says. She tells them it might be three or four more days — but that they will definitely make it.
She and her husband have only the clothes they are wearing — their bags are filled with items for the children like warm clothes and diapers.
"I have my family," Salma explained. "That's all ... I care about."
'We Don't Have a Map'
After their small boat from Turkey landed on the Greek island of Samos, Salma's group made it to Athens and then onwards to Idomeni.
That's where NBC News found Salma sitting in the dirt with her children, and joined her journey.
The group hadn't slept in two days but had no intention of stopping.
"Here? We can't live here," she said, gesturing at the expanse of tired bodies crowding the garbage-filled tracks. "There is nothing here… nothing here to live."
That's why she's determined to press on — resolve and determination etched plainly across her face despite a lack of information about where to go and how.
"We don't have a map," Salma said. "I don't know what to do."
Barbed-Wire
It's dark when Greek police call out the number 210 — it's finally Salma's turn. The kids are asleep in the packed holding area at the border with Macedonia.
Adam could be carried, but Mohammad was lifted gently onto his feet. Salma held one of his arms, his grandmother the other, as they helped his drowsy legs down the dusty path to the border.
They were held in a line at the next checkpoint for just a few minutes — the children quickly dozed off again — until a flashlight signaled they could proceed.
"We are going to Macedonia right now then to Serbia, maybe, then to Hungary," Salma said, uttering one of many maybes that would shape this journey.
A thin line of barbed-wire marked the border with Macedonia, with soldiers on the other side. Salma and her family crossed quickly and continued walking into the dark.
They needed to reach a train that would take them through Macedonia quickly to the next border: Serbia.
"It's very late — we are afraid we will see bad people," Salma said. "Pray, pray for us."
Serbia in Sight
It's after 3 a.m. when Salma's packed train pulls into the station. The journey was not comfortable — though the men let women and children have the seats.
Her train was one of many: in just five hours, the small depot had received more than 1,500 migrants and refugees.
Locals on hand were trying to hawk blankets and jackets for 10 euros ($11.30) to the latest arrivals as the train conductor checked each carriage with a flashlight. When refugees would approach him, he would point down the tracks and say: "Serbia, three kilometers."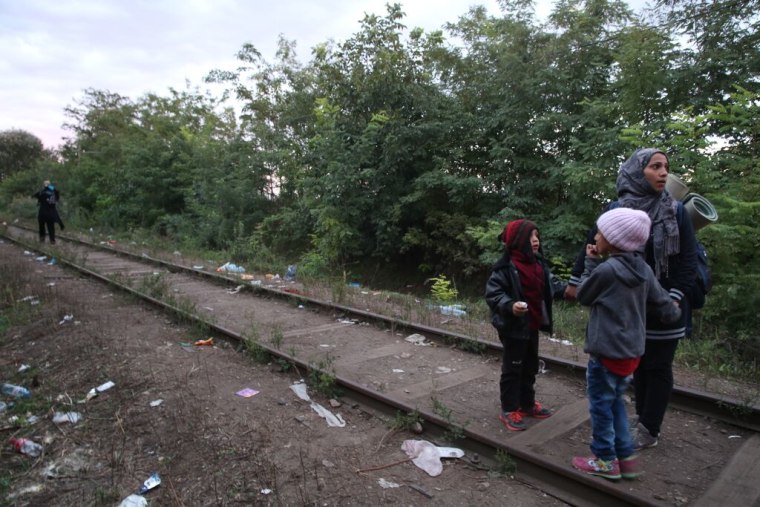 Sitting on a slab of concrete at the station with her group, Salma said she felt like the countries she was passing through were "playing" with the Syrian refugees — not helping.
Each country was telling them to go to another, she said. And at each stop, they paid more money.
"We don't want anything we just want to survive," Salma said. "They take everything from us."
After resting for about 30 minutes the family set off again, walking along the train tracks in the dark until the prick of a flashlight emerged on the left. It was a humanitarian volunteer, who helped haul them up a steep embankment and pointed them to a spot in the darkness: Serbia was in sight.
Smiling Kids
The family made it to a Serbian camp for refugees before dawn, settling down on a patch of dirt to catch a few hours of sleep amidst thousands of others on the same journey.
Police had told the refugees they would later be moved to a formal processing center in nearby Presevo — but a group of several hundred didn't want to wait and made a run for it.
Salma and her family didn't join the melee — they were just waking up.
"We can't feel with our legs," Salma said with a tired laugh. "For a month we are walking."
You'd never know it from looking at Adam and Mohammad, though — they haven't stopped smiling or playing.
"The kids don't feel what's happened," Salma said. "They are strong kids."
'We Are Innocent People'
Despite their age, the children were aware of the horrors around them in Syria, Salma says. Mohammad would run to his bedroom every time he heard a plane — he knew they dropped bombs.
"They are kids but they have a big brain," Salma said. "They seen a lot so we have to take them to peace, to new life."
While Salma's resolve is unwavering, her nerves have started to fray here in Serbia.
"I'm trying to keep the hope in my heart to give my children safe, to survive," she says as her voice breaks. "We get tired, we get so tired."
She dissolves into tears describing the future she hopes for her children — "her soul."
"It's so hard what's happened to us," she says, crying. "We are innocent people. We don't want anything from anyone."
All she wants is peace for her family.
"I know we will find it," she says, as if to reassure herself. "I'm getting closer. That's enough."
A Mom Left Behind
When Salma cries, Nour steps in to comfort her. They've known each other since they were 15.
"She is not my best friend, she is like my sister," Salma says.
And it was Nour who urged Salma to leave for Europe with her one year ago.
"I get tired of war," Nour explained. "I lost everything. We lost everything in Syria … So I can't stay there."
The war "killed our souls," she said. "We missed happiness, we missed safety, we missed everything beautiful in life."
Nour had to leave her mother behind in Syria but doesn't feel alone on this journey because she has Salma. They lean on each other.
"When she get tired I give her strong … When I get tired or sad, she make me strong," Salma explains. "We strong each other."
Exhaustion
When it's time to move again, Salma packs up as her mother shows the children how to carefully warm their hands around a fire.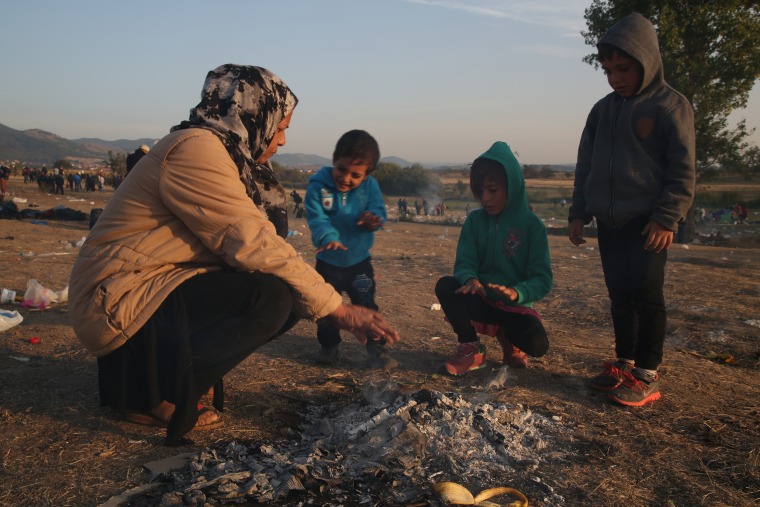 The group is discussing their next destination; Salma hopes it's Belgrade.
"We don't know," she said. "We hope."
Salma says she is so, so tired — but her kids are keeping her going.
Not making it is out of the question.
"Of course I will make it," she said. "We are going to Germany ... We are going."
Rumors of Violence
They set off on the 5 1/2-mile walk to the next camp — joining a river of refugees.
About an hour in they stop to rest on a sidewalk and give the kids snacks.
There's been bad news: a friend has sent a message saying Hungary looks bad. Nour says she's heard they'll face three years in prison if caught there — and there are reports of violence by local police circulating among those gathered on the side of the road.
"They helping us from Syria," Salma said. "Our friends help us."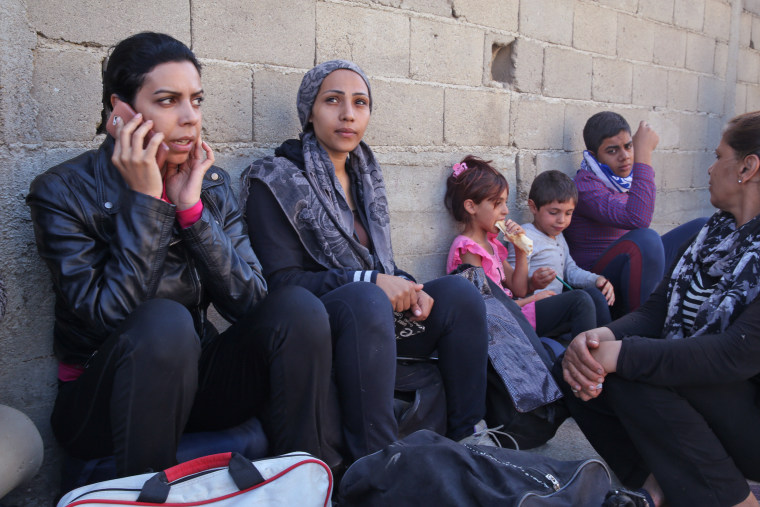 Everyone looks strained — until Adam's childlike glee over passing cows punctures the mood. He points and moos at the animals — a happy and pure moment in the midst of so much uncertainty.
Nour studies her cell phone, looking for updates from her brother in Dubai who's been offering information and advice on their journey.
When asked what the group will do now, Salma echoed a now-familiar refrain.
"What will happen, we don't know."
$600 Left
They still have to get through Serbia, but Hungary weighs heavily on their minds.
Some people say a train can take them from Hungary to Germany. There are traffickers who can take groups across the Hungarian border but Salma isn't sure they have the money.
They've already spent thousands — about $2,000 to get from Syria to Turkey, then $2,000 per person for the boat from Turkey to Greece. The kids, though, were a two-for-$2,000 package.
Salma says that now she has just $600 left.
After sitting and resting on the sidewalk, they continue on. A passing tractor offers a ride to Salma, Nour and the children — and soon they are outside an immigration processing center in the town of Presevo.
'It's the Worst Day'
Salma, Nour and the kids find a place to sit on the ground amidst thousands of other refugees waiting for travel documents — a backpack holds their place in line because it's baking hot here now, at least 95 degrees.
The kids fall asleep on the filthy sidewalk. Salma tries to swat flies off her younger son, then gives up. Adam doesn't sleep for long — soon he's up and restless, "so bored."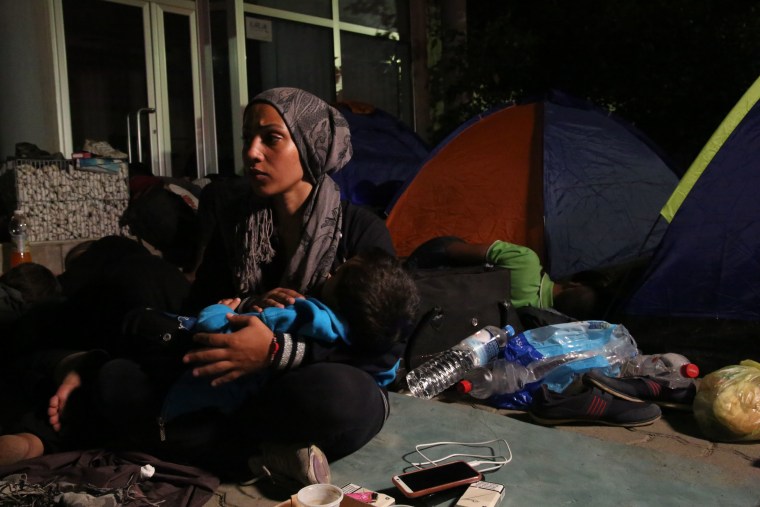 "It's a bad day… It's the worst day," Salma said with fatigue etched on her face.
They are determined to get out of Serbia as soon as possible — even if it means a risky move through Hungary.
"We will do anything to arrive to our target," Nour said.
Few Answers
Salma admits she doesn't know much about that target, Germany. She's heard it's nice and her kids can get an education there — "the most important thing."
She's not sure what city they should live in. The weather? They'll manage. If the food's not good, maybe they'll open an Arabian restaurant, she laughs, unfazed.
"It will be a new life for us," she says with a smile. "It's a challenge — but we will meet it ... We have the faith and the hope."
Memories of Home
Emotions run high after 12 hours of waiting in Presevo. Nour gets tearful on a phone call with her mother in Syria.
"I miss her very much," she says, eyes welling up. "I can't live without her."
They would do everything together — shopping, go for coffee, share secrets. Now, though, Nour isn't telling her everything.
"She'd be sad when she hear that ... I am in the street, I don't have a place to take a shower, to use toilet, anything," Nour said. "I don't show her that I'm sad — I don't like her to be sad or afraid about me… But in my heart I'm very sad."
She flips through photos of her mother's birthday that she'd added to her new phone, then stops on a smiling picture from happier times. It's her, Salma and another friend dolled up for a night in Damascus.
"That is us when we were pretty … When we were clean," Salma says. "Now we don't think of makeup … We just want to go, go, go."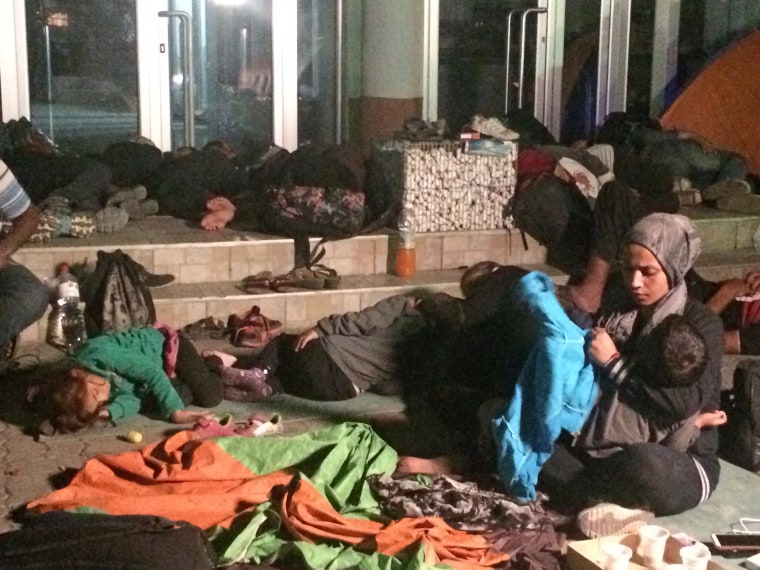 The lack of clean has started to upset Salma and Nour — they haven't showered in days.
"Where can we take a shower — in the street?" Nour asked. "We are not OK today. We are waiting for go."
When Salma gets a call from her father, her voice starts off strong but then catches in her throat.
"He told me that it's going to be OK — you will be tired but it will be OK," she says, breaking down in tears after hanging up. "He said the worst is gone and the best will be waiting us."
When Salma gets despondent, Nour steps in to bring her back from the ledge. She tells Salma they need to be patient — that everything will be OK in a few days and soon they'll be "pretty and clean."
'I'm Thinking of Rebirth'
That hope has carried them across the Mediterranean and to here — a journey on which thousands of others have lost their lives.
"When you think of surviving, you can do everything," Salma says. While she was aware of the countless other refugees who had died while trying to reach Europe, Salma was confident that would not be her story.
"On this journey we are not thinking of dying — we know that we will make it," Salma said. "I'm not thinking of dying — I'm thinking of rebirth … A new life."
A rare rest
After a 20-hour wait at the processing center in Presevo, there's a flurry of activity at 2:30 a.m. The family's place in line was near the front and soon Salma and the group are moving through the camp's gate.
They soon emerge with a stack of travel documents and huddle to plot their next move.
Within minutes of emerging from the camp, the group has found a bus to Belgrade and pay 20 euros ($22.60) each to clamber on board. As other vehicles fill up around them, the one carrying Salma's group pulls out in the dark at around 3:45 a.m — and the ride gives Salma and her family a much-needed chance to sleep.
Border crackdown?
Stepping off the bus in the morning light Salma is unsure of where she is.
"They tell us that we are in Belgrade," she said. "We don't know."
Once she's confirmed that, yes, this is Belgrade, Salma says she wants to find a place to rest.
"I want to find a flat at least to relax, take a shower, change our clothes but they tell me that there is not much time for us," Salma says.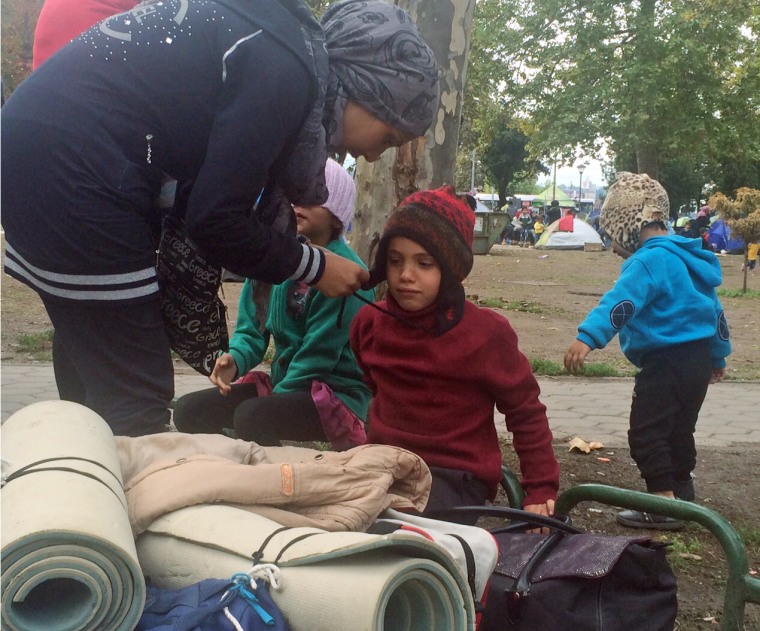 That's because rumors are rampant that Hungary might close its borders further — and Salma's group doesn't want to risk getting stuck.
"We don't know anything right now — what happened, what they do to people, what they can do to us. We don't know — we are like the blind right now."
Some in the group want to head straight for the border, but Nour's brother has sent a message urging them to rest first — he says the Hungarian border will be the "most difficult" stage of their journey.
Only Option
Every stage of their journey thus far has been billed as the most difficult, according to Salma. In Syria, they said Turkey would be the hardest part. In Turkey, the group was told the trip to Greece would be the worst. And in Greece, Salma said, they were told it would be Serbia.
"Everything — difficult, difficult," she said. "We don't know what's the most difficult thing that will happen but I think Hungary — it's the most difficult. Difficulter than the sea."
But crossing through is the only way to reach Germany, Salma says.
"We can't go back so we have to continue," she adds.
'I'm So Confused'
Tensions are rising and divisions in the group have emerged outside the Belgrade bus station. Some of the men they are traveling with want to immediately continue on — against Salma's wishes.
Some people have told them that to cross into Hungary they must walk along a river; others have said to walk through the fields to the Hungarian border.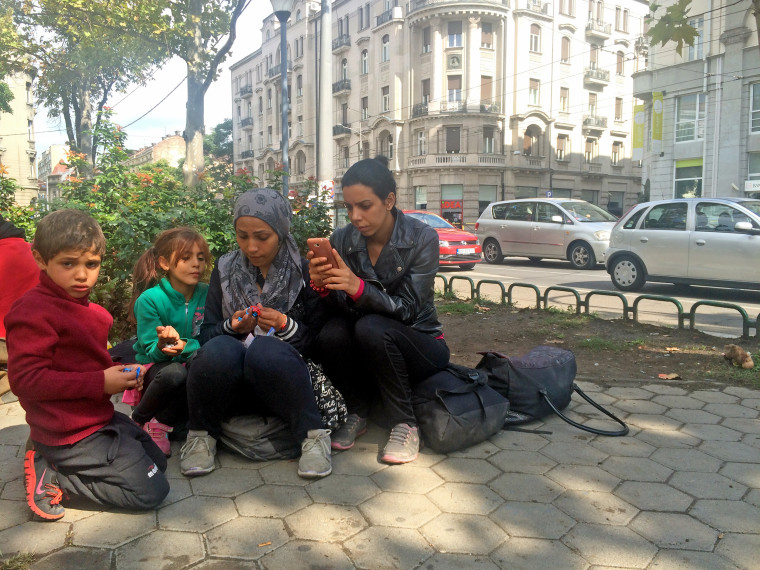 They board a bus and drive for about two hours north, through rolling cornfields under a disarmingly blue sky. When Salma steps off it, there are hordes of people milling around and what looks like a refugee camp in front of her.
"There is a tree but for me I see it like a desert," she says quietly.
This desert is Kanjiza — a town not far from the Serbian border. There's a processing camp similar to the one in Presevo.
Salma doesn't want to go into the camp and is angry the group came in the first place instead of staying in Belgrade as she suggested.
"They want everything fast, fast, fast," she said. "They didn't listen to me … That's wrong."
The group again is debating what to do and how but all Salma wants them to do is stop and think.
"I don't know what to do right now," she says.
People told her to walk along a river — but she doesn't see one. All she sees is garbage. And people. Everywhere.
"I'm not comfortable right now — I'm so confused," she says. "I didn't lose the hope but I think they are not thinking."
When they first set off from Syria, everything was planned.
"Right now, nothing is planned," Salma said. "I don't know, so I will follow my heart."
Tense Talk
Exhausted after so many days on the move, Salma is worried about a long walk.
"We have no legs right now — even if we need them," she says, suggesting that maybe they will find a trafficker to help them get to Budapest in Hungary.
It's starting to sound like the safest way — a trafficker would "know what he's doing," she explains.
Still, there's the issue of money. Salma says there's not much left — and she's not sure what a trafficker would cost for the whole family.
Tarek and the men have gone off to gather intel about the journey; when Tarek comes back there is a tense conversation. Both he and Salma look frustrated and drawn.
Train Tracks
Half an half hour later, it's like a switch has flipped.
Word has come through that Hungary is letting refugees through the border — and Salma's faith has been restored.
"I have hope again," Salma says. "The news is great."
They'll take a minibus closer to the border, where train tracks lead into Hungary. As Salma and the others load in their bags, the driver lets small Adam play with the steering wheel.
Minutes later they have arrived at tracks: Ground Zero for crossing into Hungary, with a line of refugees walking for as far as the eye can see.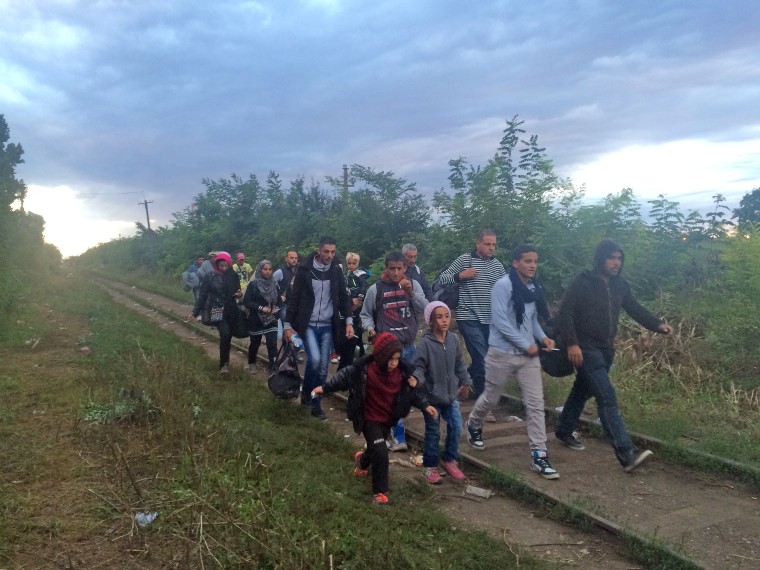 Salma's group quickly gathers their things and sets off.
"We are going right now and we don't know what will happen, but we will see," Salma says. "We depend on God and our luck right now."
As they walk and walk, Salma's breathing gets heavier as she helps her son Mohammad along the tracks.
"We must walk fast," she says. "They tell us that, so we listen to them."
Fingerprint Fears
For most of the walk crunching gravel is the only sound. Salma's mother has been carrying Adam for most of the way; he peers over her shoulder at the line of refugees behind them.
Suddenly, they stop — people around them say Hungarian police are ahead. Salma's group is worried they'll take fingerprints — that would jeopardize an asylum claim in Germany.
They decide to keep walking — Adam and Mohammad are transfixed by the red ball in the sky. Salma stops to explain how it means the day is ending. Tomorrow, she says, she hopes to be in Budapest.
"Everything will be OK after we will cross the line," she says with her typical resolve. "Everything."
A Profound Photo
They walked for a long time in the dark then encountered police. They ran, hiding in the trees and the fields until 3 a.m. when they came across a trafficker. For $200, the trafficker brought them to Budapest.
They boarded a train there at 6 a.m. — destination unknown. When that train stopped in Vienna, Salma's group posed for a smiling picture on the platform before getting ushered onto another train.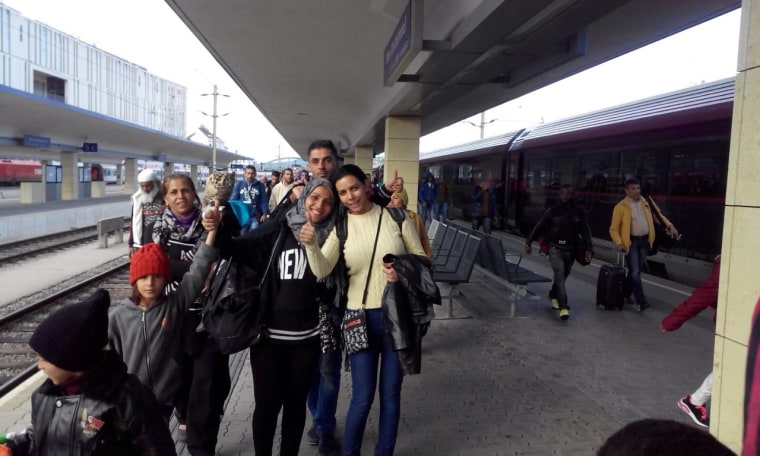 They didn't know what city it was going to — only that the next stop was Germany.
'We Did It'
FINALLY.
That's what Salma said when she walked out of the Munich train station. Finally.
"We are here," she said through tears. "Finally we are here."
"We did it," Nour said with a thumbs up. "I was very afraid... Now very happy."
Bursts of applause and cries of "Welcome to Germany" greeted them upon arrival. A crowd had gathered to give them a hero's welcome — one they said they would never forget.
Before getting onto another bus, destination unknown, Salma asked Mohammad where he was.
"Allemagne," he said with a sheepish smile. "Germany."
Dancing With Joy
After days on the move, Salma has finally gotten a good night's sleep at the Munich Fairgrounds. The reality that she is in Germany has yet to sink in — but she's enjoying what she's seen so far.
She was offered tons of clothing, toiletries and toys for the kids. There was even a bed — not a big one, she laughed, but good enough.
"My children is safe," she said while sitting in the sun outside the fairgrounds. "We feel so excited and happy ... I can't explain my feelings."
Nour's mom is happy too — she told her daughter she was dancing with joy in Syria.
"There is nothing impossible," Nour said, twirling a pretty new purple scarf. "We want to go to Germany, now we are here in Germany … That tells me I am strong and can do anything I want … When I think about a target, I can do it."
A 1,500-Mile Trek
Salma hopes that in one month her son will be in school and learning German. She wants a lot from this new life — but getting her children an education is most important.
"Then I will think of myself," she said.
The shoes she wore for more than 1,500 miles through Syria, Turkey, Greece, Macedonia, Serbia, Hungary, Austria and Germany have been traded in for a fashionable pair of black boots — symbolic, almost.
"Everything that happened to us will put behind us. This is a new life for my children and for me," Salma says.
She admits that she didn't expect the journey to be so hard — but already her view of the voyage has shifted.
"Now that we are here we are laughing about what's happening to us in this journey," she said. "It was so hard but when you look at it, it's like a memory... It will still stay with us but we can tell our children about it and laugh about it."
When it's time for Salma and her family to get on the move again — laden with new toys and clothes — she asks where this next bus will take them. No one can tell her.
Right now, as before, Salma doesn't know. This time, though, it's finally OK.