ROTHWESTEN, Germany — While the wave of German generosity for incoming refugees might be unabated, it's starting to coming up against a swell of angst and unease.
Nearly all the chairs in the sports hall of this small rural town were occupied one recent evening by locals keen to air their concerns over a refugee processing center due to open there in an abandoned military installation.
"We need your understanding and support for the foreigners, who are coming to us in need of help," Stefanie Ross-Stabernack, head of the community council, told the packed hall in her opening remarks.
But with politicians expecting up to one million asylum-seekers this year and reports of overcrowded refugee shelters elsewhere, several residents expressed fear instead of empathy.
"How is this supposed to continue?" asked Herbert Gross, 70. "We are taking in more and more and more people. Many of them get better housing than a poor worker in Germany," he added, to applause.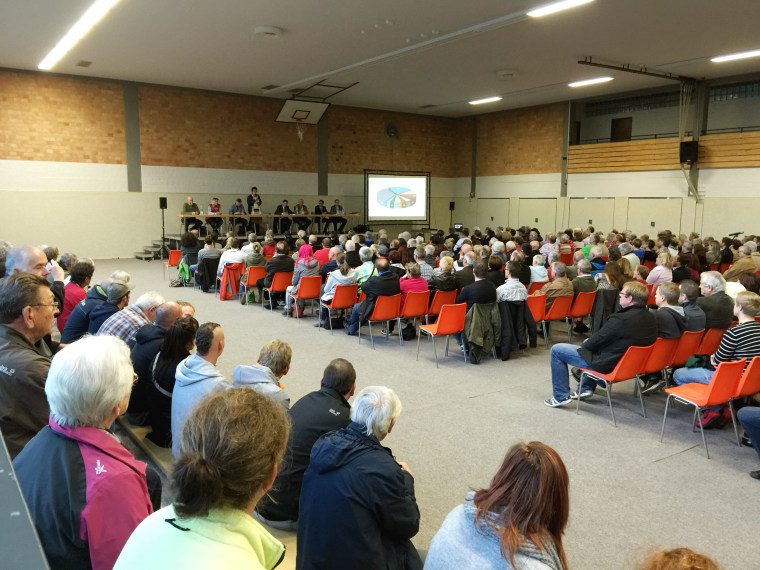 The town of 1,900 residents in central Germany will host a temporary housing facility for up to 900 refugees and migrants in that former military installation. The site was designated by the local state of Hessia amid broader efforts to find winter-proof housing for Germany's unprecedented influx of refugees and migrants.
Housing in the former Fritz-Erler barracks will be far from luxurious: local mayor Karsten Schreiber said the buildings will receive only basic repairs. Many rooms lack doors or windows and most of the sinks have been smashed by thieves, meaning bathrooms and showers will need to be set up outside on former parade grounds.
"The rooms will not have flower wallpaper," said Schreiber. "What we are presently doing is emergency management."
While Schreiber admitted he too is concerned that the "dynamic situation" could become overwhelming — Hessia state has been taking in more than 7,000 refugees a week — he tried to reassure the residents at Rothwesten's meeting about their new neighbors by saying security and a fence will be in place at the housing compound.
That didn't do much to ease the fears of 56-year-old Lutz Schneckenburg, who bought a building in the former barracks in 2010 and turned it into a freshly-renovated home complete with a small, well-kept garden.
"Who is going to protect my property when all these refugees arrive?" he asked at the meeting.
Schneckenburg told NBC News that he had invested all his money to buy the real estate on the compound, which was used by the U.S. Air Force after World War II and later became a German military installation until being finally closed in 2008.
He was told when he bought property the empty buildings would soon become an industrial park. Now, though, Afghans, Syrians and other foreign migrants are due to move in across the street.
"My property will be worth nothing once the refugees arrive," said Schneckenburg, who himself was a refugee when he fled from communist East Germany to West Germany via Hungary in 1989.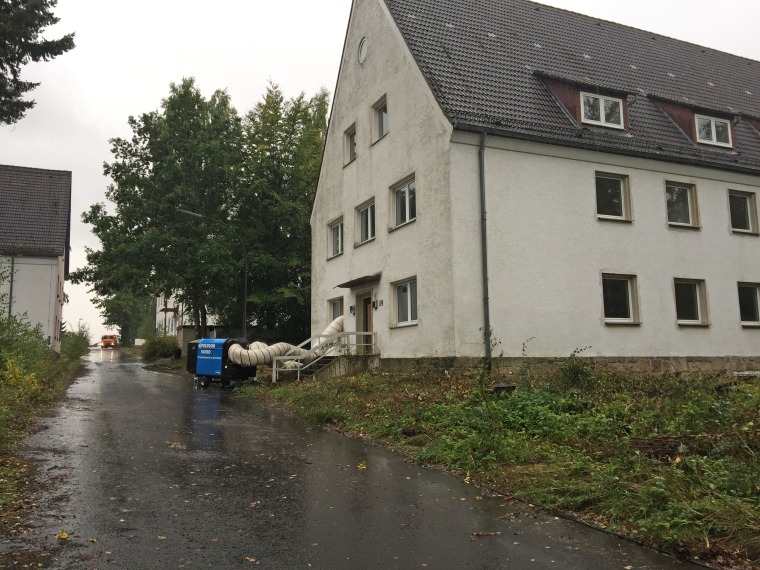 The uncertainty heard at Rothwesten's recent meeting appears to be echoing elsewhere. Even as donations for refugees continue to pour in, dissenting voices have been growing louder and questioning whether the much-heralded welcoming attitude can be sustained.
"There have […] been signs that the initial elation is fading," Der Spiegel weekly wrote in a lead article this week. "Germany is struggling to maintain its composure and to ward off panic."
A potential backlash could be further fueled by latest cost estimates for the crisis.
The Munich-based IFO economic research institute said that an initial cost estimate of $11.1 billion for the crisis is "conservative" and could be higher because it does not take into consideration additional family members who might come later and the pressure on the education system.
Officials in Germany also are worried that growing anti-refugee sentiment could result in support for the country's far-right groups. German Federal Police have already registered more than 300 right-wing motivated assaults on refugee- and asylum seeker homes in 2015 and said in a statement that it is seeing a "new quantity and quality of the crimes."
Raed Saleh, a Berlin politician with the center-left Social Democratic Party, said he fears that the initial "euphoria" around the refugee crisis "cannot be preserved for very long," but warned against writing off public criticism as a far-right problem.
"The fears of the people need to be taken seriously and we should not immediately brand them as right wing radicals," Saleh said, stressing the importance of implementing strong integration schemes for refugees and migrants.
Experts also warn that without those strong programs, refugees and migrants — especially unaccompanied minors — could become recruitment targets for radical Islamists in Germany.
"We are very concerned that Islamists in Germany are trying, under the cover of humanitarian assistance, to exploit the situation of the refugees for their own ends and to proselytize and recruit among asylum-seekers," Hans-Georg Maassen, the head of Germany's domestic intelligence service, said in a statement this week.
Back in Rothwesten, Mayor Schreiber was quick to offer plans to combat "walling-off and ghettoization" of refugees.
"We can set up coffee meetings with women from the shelter, organize football tournaments for the children and even teach the refugees how we recycle waste," Schreiber suggested.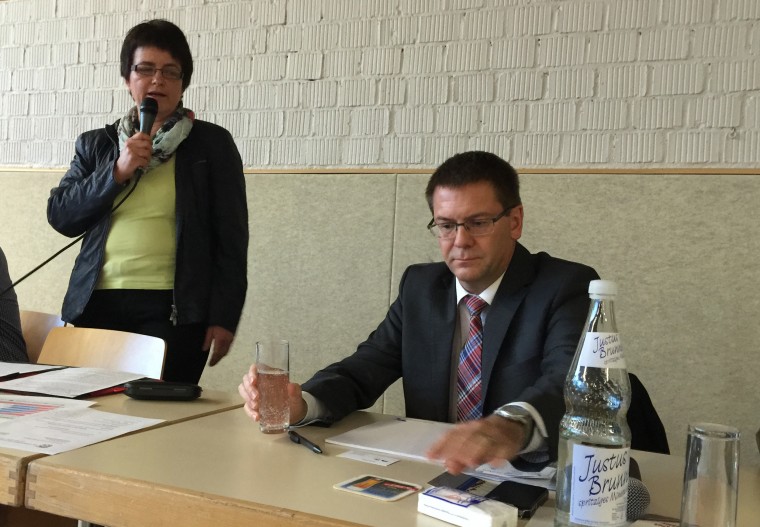 He pointed to how more than 200 refugees already have been integrated into the community — noting that five migrants from Eritrea were taking part in a city work program.
"These people laid the carpet and set up the chairs in this hall today," he said. "Look how properly they lined them up."
One meeting attendee was quick to volunteer his services to help: 43-year old Gholem Raban Huseini, who fled from Afghanistan in 1990, stood up to offer his services as a translator and liaison.
"I have been living in this town for five years, have been integrated, and want to offer my help," he told the meeting.
By the end of the evening, more than two dozen other residents had signed up for volunteer work. For now, the chance to help appeared to outweigh fears of potential harm to the community — with history invoked to rally support.
"In 1945, we were also seen as the bad people in Germany," 82-year old Horst Polikowski told the audience, explaining how he'd been part of a refugee exodus from the East at the end of World War II and offering up two apartments he owns for refugees. "We integrated here, we made it, the world will not come to an end with these refugees."