LONDON — A rumored crackdown on people-smuggling has triggered an unexpected spike in sea rescues as refugees make desperate bids to reach Europe despite winter weather.
The number of rescues has soared in recent weeks after word spread that Libya's coast guard is being trained to stop illicit boats setting sail for Italy, a key gateway for migrants into Europe.
"These smugglers have very effective information campaigns — marketing, if you like"
A total of 27,000 migrants were plucked from the Mediterranean Sea in October according to the inter-governmental International Organization for Migration (IOM) — three times the number in the same month last year.
Another 10,000 have been rescued so far in November, a time of year when the number of people risking dangerous trips normally slows to a trickle.
"Conditions were terrible in the last week, very harsh and that's why there were so many shipwrecks," IOM's Italy spokesman Flavio Di Giacomo told NBC News. "We were quite surprised that so many boats had launched but when we interviewed the people afterwards they said smugglers had told them the EU was giving training to the Libyan coast guard and that in future they wouldn't be rescued by European vessels but by Libyan ships and taken back to Libya."
The development comes during a record-setting year as Europe grapples with an ongoing refugee crisis.
The U.N. agency UNHCR announced last month that 2016 is the deadliest-ever for migrants in the Mediterranean Sea, with the death toll surging past least 3,800.
The number of refugees rescued off Italy is also on course to break records, Di Giacomo said.
That figure stood at 168,579 as of this week, he said — just short of the all-year 2014 total of 170,000.
Some 1,400 were rescued from at least 11 overcrowded boats on Tuesday, Italy's coast guard said. Rescuers also recovered eight bodies.
The rescue ship Vos Hestia, run by the international charity Save the Children, was among those involved in those rescues. It picked up more than 400 people from a wooden boat on Nov. 21, the organization said.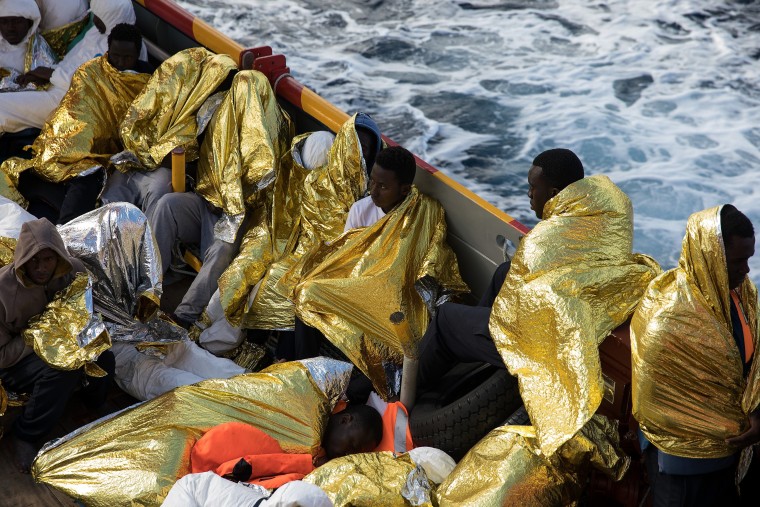 Those that don't drown are often sickened by disease or toxic poisoning from the engines of overcrowded, unsafe ships.
Italy has faced the brunt of new arrivals since the implementation in March of an agreement between the European Union and Turkey to curb the flow of migrants sailing for Greece.
Di Giacomo said the winter spike was unlikely to ease because smugglers were exploiting fears that the popular Libya-to-Italy route would be closed off by the new patrols.
"These smugglers have very effective information campaigns — marketing, if you like — and they take advantage of this information to get more customers and to get more money," he said.
Gallery: 10,000 Saved in Two Days While Trying to Reach Europe
Despite its reputation as a lawless war zone, Libya is a magnet for desperate migrants from other African countries because it still provides opportunities for employment.
"However, they told us that when they get over the border they are often beaten with sticks or not paid for the work they have done," Di Giacomo said. "Eventually they think that their only escape is to Europe. In fact, when we rescued people from one shipwreck where many had died, some people said they were still more shocked by their treatment in Libya than by their ordeal at sea."
Across the whole Mediterranean, 368,928 migrants have arrived in Europe so far in 2016, according to the IOM — including 345,676 by sea and 23,252 by land.