BRUSSELS, Belgium — The European Union faces collapse if the bloc cannot agree on a plan to confront the sudden influx of refugees through the Balkans, Slovenia's premier warned on Sunday as leaders bickered over who was to blame for the crisis.
Nine days after Hungary's move to seal its southern border drove unprecedented migrant flows into tiny Slovenia, Prime Minister Miro Cerar sent out a dramatic call to fellow central and eastern leaders in Brussels for emergency talks.
"If we don't find a solution today, if we don't do everything we can today, then it is the end of the European Union as such," Cerar said.
"If we don't deliver concrete action, I believe Europe will start falling apart," he told reporters.
Fleeing war and oppression to seek a new life in Germany and northern Europe, refugees have continued to come through the western Balkans and have shifted west into Slovenia after Hungary's border fencing was completed. Since Oct. 17, more than 62,000 migrants have arrived in Slovenia, with some 14,000 still passing through the country on Sunday.
Hungarian Prime Minister Viktor Orban was unrepentant, describing his country as an "observer" in the crisis since the border closures and that he had no advice to give other leaders.
But such apparent detachment was not shared by many at the meeting. Macedonian President Gjorge Ivanov quoted U.S. independence hero Benjamin Franklin saying: "If we don't stick together we will hang separately."
With winter approaching, Jean-Claude Juncker, the EU's chief executive, called the leaders of Austria, Bulgaria, Croatia, Macedonia, Germany, Greece, Hungary, Romania, Serbia and Slovenia to Brussels to seek a common approach.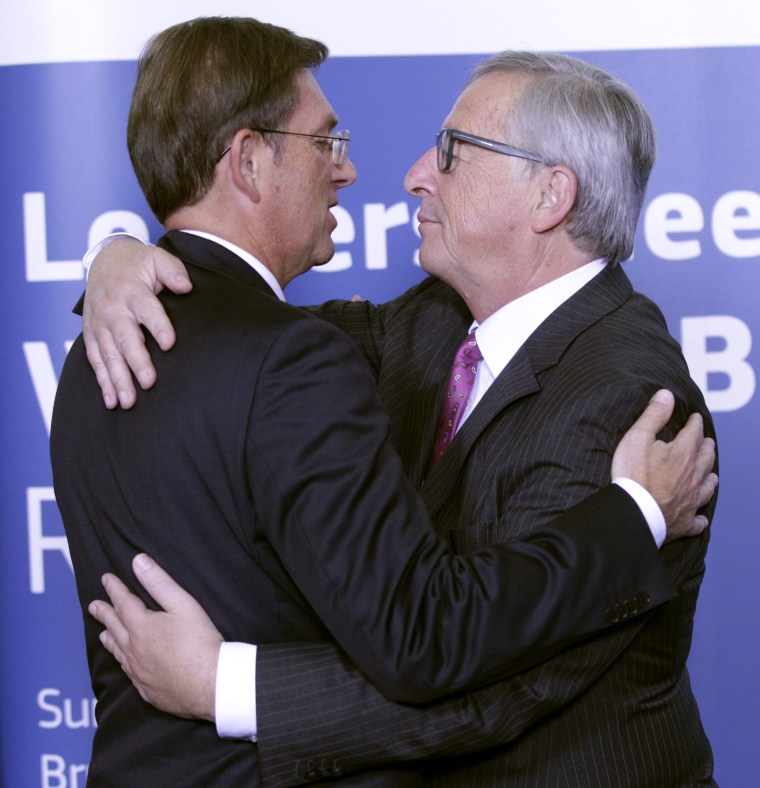 More than 680,000 migrants and refugees have crossed to Europe by sea so far this year from the Middle East, Africa and Asia, according to the International Organization for Migration.
Following years of economic crisis, Europe's governments are struggling to cope with an influx of people from countries including Syria, where Russia's intervention has complicated efforts to end nearly five years of civil war.
Despite an agreed framework to relocate some migrants already in Europe, a broader common policy is still embryonic, with this latest meeting trying to heal a rift over whether to welcome more migrants or toughen up the EU's external borders.
In a 16-point plan seen by Reuters, leaders will try to balance their approach, likely agreeing to send 400 border guards to the western Balkan border if the EU's frontier states drop their policy of giving arrivals passage to other countries.
Cerar said Croatia, which has already seen some 230,000 migrants pass through since mid-September, was still waiving migrants through into Slovenia without alerting Slovenia authorities.
In the draft statement, the leaders seek to speed up repatriations of people from South Asia, namely Afghanistan and Pakistan, whose asylum requests are rejected because they are simply seeking a better life and not fleeing war or oppression.
Germany, which has troops in Afghanistan helping to stabilize the country under a NATO mission, wants the European Commission to negotiate an agreement on returning people to Afghanistan whose asylum applications have been rejected.
"We commit to immediately increase our efforts to manage our borders," the draft said, which, if formalized, would also mean more ships off Greece to deter people traffickers, more land border checks in Macedonia and more money for border control.
Even with agreement on the 16-point plan, German Chancellor Angela Merkel cautioned that there would be no solution without Turkey, which was not invited to the meeting.
"We will not solve the refugee problem completely, we need, among other things, further talks with Turkey for that," Merkel said. "Only with Turkey we can switch illegality to legality. It is very important that the (European) Commission discusses further the migration agenda with Turkey," she said.
Brussels has presented Ankara with a so-called action plan in which Turkey receives EU funding to absorb more migrants fleeing Syria in return for easier travel rules to Europe and a broadening of long-running talks on eventual Turkish membership of the bloc.
That could mean the European Union sending some 3 billion euros ($3.31 billion) in aid.