Embracing its role as a defender of those in need, Germany welcomed at least 10,000 more asylum seekers into the country Saturday. As officials worked to give all a firm roof over their weary heads, a packed stadium cheered some of the littlest newcomers, who walked in hand-in-hand with top soccer players.
Germany over the past week has taken in more than 40,000 people fleeing war and poverty in the Middle East, Asia and Africa — and a poll has suggested broad support for the government's course.
Still, Vice Chancellor Sigmar Gabriel said the sheer speed of arrivals was outpacing Germany's ability to provide emergency housing. He said Germany needed its European Union partners to agree to host some of the newcomers at a meeting Monday in Brussels. Several Eastern European nations have insisted they won't accept any EU quotas on taking asylum seekers.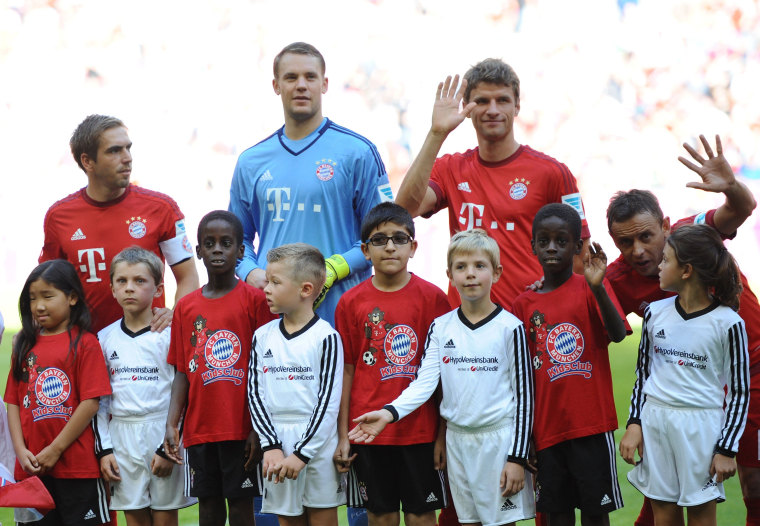 "Because of the speed at which large numbers of people are coming in, Germany is approaching a situation where we are reaching our limits," Gabriel said.
Front-line aid workers said Germany was determined to meet the challenge and provide as warm a welcome as possible. The country's biggest soccer club, Bayern Munich, took the field Saturday with each player holding a newly arrived child by the hand. Some 75,000 fans roared their approval as many of the kids waved shyly back.
"Munich is doing the right thing. We have to help them," said Johann Hoerterer, a bus driver waiting at the city's central train station to ferry newcomers to refugee shelters across Bavaria.
"It is a positive experience for me. It's not fun for anyone, but they've fled war and bombs. If it were me, I'd do the same — get away to security," said Hoerterer, standing before a new row of tents at the station providing medical care, food, clothes and other support.
"But these people need to be taken in by the whole of Europe, not just here in Germany," he added.
Some 450,000 migrants have arrived in Germany this year. The country is expecting at least 800,000 in 2015 — by far the most in the 28-nation EU.
Chancellor Angela Merkel is facing some criticism from Bavaria's governing party, the Christian Social Union, the sister party to Merkel's own conservative Christian Democrats.
Bavaria's governor, Christian Social Union leader Horst Seehofer, was quoted as telling the weekly Der Spiegel that Germany's Sept. 5 decision to open its borders to migrants stuck in Hungary was "a mistake that will occupy us for a long time." Seehofer said he sees "no possibility of getting the cap back on the bottle."
Merkel on Saturday countered that her coalition government "made a decision last week in an emergency situation ... and I am convinced that it was right."