The Syrian migrant who was tripped by a Hungarian camerawoman as he held his son Zaid said the boy suffered a concussion when he hit his head on the ground.
"We are better now thank God," Osama Abdul Mohsen told NBC News. "I fell on him but I put my hand under him so he would not get hurt.''
With the seven-year-old in his arms, Abdul Mohsen was trying to cross the Serbian border with Hungary when he was tripped by Petra Laszlo on September 8.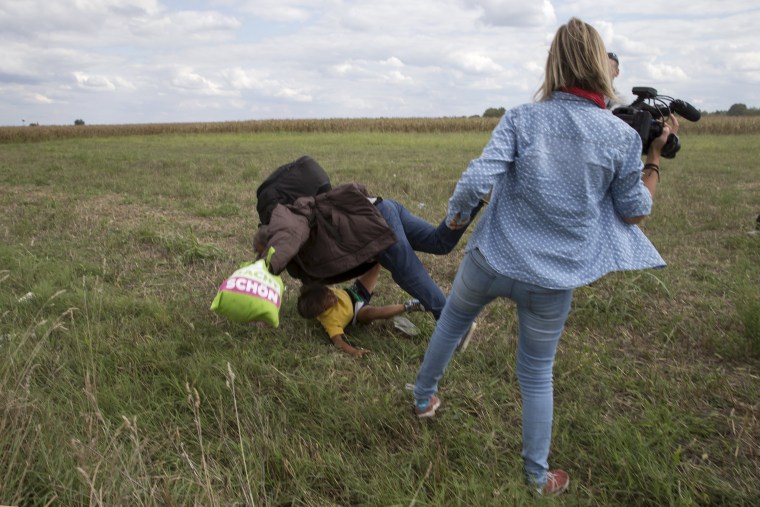 "I cannot understand how she had the audacity to do such a thing," he said. "I actually thought it was a policeman who tripped me." Zaid has had made a full recovery, he added.
Laszlo, who was fired by Hungary's N1TV station following the incident, "did not care," he said. "She meant to hurt us and get in our way.''
The 41-year-old denied she was a "heartless, child-kicking racist cameraperson" last week, claiming in a letter published in Hungary's Magyar Nemzet newspaper last week that she had "panicked" when the migrants charged.
For the 52-year-old father of three sons, Mohammad, 16, Almuhannad, 18, Zaid and a 13-year-old daughter called Doua'a, the main focus now was reuniting his family.
While he is currently staying at a hotel in Munich, Germany with Mohammad and Zaid, his wife Muntaha, 38, and the rest of the family are still in Mersin, Turkey, where the family fled to from Syria in 2012.
Prior to that, he had a job supervising sports teachers in his hometown of Deir el-Zor where he coached at the Al-Fotuwa Soccer club.
While he praised Turkey for taking in so many Syrians, he said the country was "exhausted" by the sheer weight of numbers.
"There is no work," he said. "Nothing to ensure your survival or continuity ... No one can pay rent, living costs are too high, no electricity, no water. No one can stand living like that."
The only way to manage in Turkey was if you had money to invest, he said. He added that he had coached a soccer team called Al Amal during his time there, but it had disbanded when most of the players emigrated.
With the family's financial situation in dire straits Abdul Mohsen took the decision to try and travel with his sons Mohammad and Zaid to Germany.
Zaid's education was starting to suffer in Turkey, he said. So he thought it best to bring the boy with him on the journey in the hope he could start school somewhere.
Unlike many, he did not have to pay for his passage onto a boat in Turkey. The journey claimed the lives of Syrian refugee Aylan Kurdi, three, his brother Galip, five, and mother Rehan, but the pair survived the perilous crossing to a Greek island. He was unsure of the name.
After paying for a boat trip to Athens, the pair traveled by bus to Macedonia where they provided free trains to the Serbian border. From the Serbian capital Belgrade, they took a bus to the Hungarian border.
There Abdul Mohsen joined more than 190,000 migrants and refugees fleeing poverty and war in the Middle East, Africa and Asia that have been recorded entering from Serbia this year, according to Hungarian police estimates.