DEVENTER, The Netherlands — Standing in a drab, postwar housing block, Adel Saflou might be the happiest man to ever receive a utilities bill.
For the 24-year-old Syrian refugee, this mundane white envelope represents the end of a grueling journey of heartbreaking goodbyes, physical hardship, and death.
It represents the chance at a new life, a distant prospect for many of the 2.7 million migrants and refugees who have sought asylum in Europe since the beginning of 2015.
"I'm feeling pumped up — pumped up as hell!" Saflou says, making zero effort to keep a lid on his fizzing euphoria.
With his homeland torn apart by a devastating, six-year civil war, Saflou was forced to flee Syria, making the arduous journey across Europe and eventually gaining asylum in the Netherlands.
He was placed in Deventer, a quaint yet unglamourous city of less than 100,000 people that's around 90 minutes drive east of Amsterdam.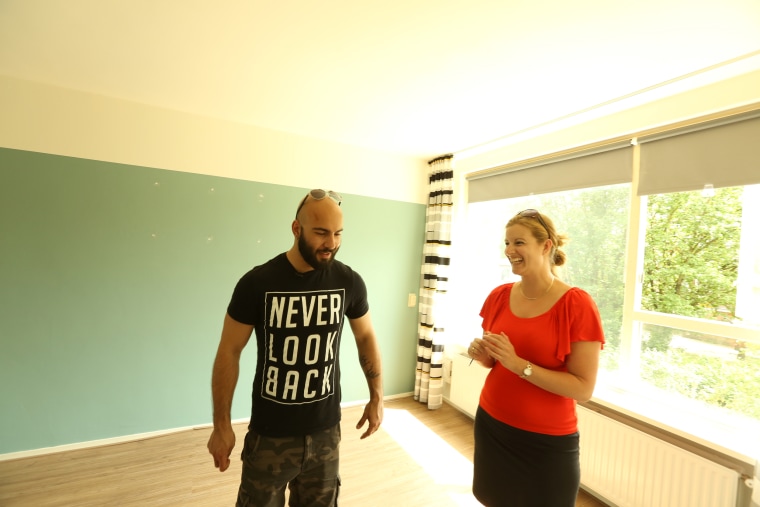 It is here that NBC News recently documented the symbolic moment that concludes his odyssey.
Standing in that brick-walled stairwell, Saflou is handed the keys to his own apartment, and with them, his first utilities bill.
"Here it is!" he says, excitedly pointing to his new home in leafy suburban part of town. "There, a beautiful place of mine."
Saflou's is a rare success story among the 700,000 people who fled the chaos of Syria and into Europe over the past two-and-a-half years.
He is a student and an aspiring musician, and was once part of the heavy-metal scene in Aleppo. Although hard to imagine now, before war turned it into a bombed-out hellscape, the Syrian city did have a thriving subculture that included heavy metal.
He left university and fled the Middle East in 2015. He tells NBC News he almost died when his boat full of migrants sank, endured humiliating roughhousing from border officials, and spent time in no less than nine different migrant camps and refugee centers.
Now, standing in his new apartment that he rents through a government-backed scheme, all of that's over.
His new place is a basic one-bedroom with all the scuffs and aging appliances common in public housing. But that doesn't seem to bother him.
His elation is such that his near-perfect grasp of English momentarily leaves him, replaced instead by a stream of consciousness: "Amazing, amazing. Heart pumping, heart rushing ... It's my house, it's my neighborhood."
And even in this landmark moment, his mind soon turns to other, more basic freedoms. "I can be naked in it all day long," he adds with a smile.
A Syrian with a nose ring
International focus has centered on Syrian extremists, the brutal regime of President Bashar al-Assad, and impoverished refugees.
By contrast, Saflou wouldn't look out of place in a bar in Brooklyn or Portland.
He has rings in his ears and nose, and his left forearm features a self-designed tattoo. His luxuriant beard is the inverse of his shiny, bald head. A pair of Aviator-style sunglasses complete the look.
With the thermometer hovering around 90 degrees in Deventer, he wears green, camo shorts, gray sneakers and white ankle socks. His black T-shirt reads: "NEVER LOOK BACK."
He is the embodiment of the secular Syrian society that once thrived but has been pushed to the peripheries by war. He drinks beer, smokes, plays heavy metal, and enjoys the liberal mores afforded to him by his adopted country.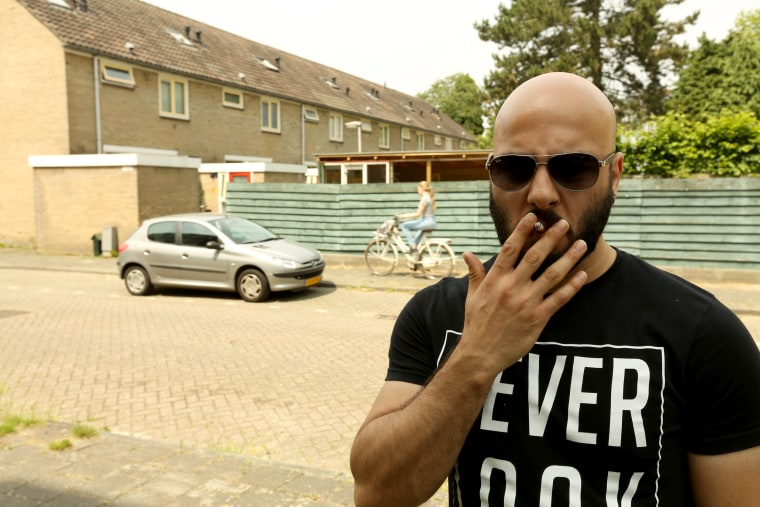 The contrast between this scene and the TV pictures beamed back from Syria couldn't be more stark.
His new hometown of Deventer was established as a river port some 1,200 years ago, and is replete with medieval buildings, cobbled streets and grassy walkways along the IJssel river.
"I love it down here. It's my favorite spot in the city," he says during a stroll along the riverbank. Around him, couples lounge with bottles of wine and small boats chug toward the amber sunset.
But Saflou admits his new life has been a struggle. For one thing, some Dutch people have been far from welcoming.
"You come here as a stranger, an alien in a strange country," he says.
He has suffered bouts of depression and calls it "the hardest times I've had in my life," something that has improved with counseling. "You have no social status, you know? You're starting from zero."
Again, he returns to the one thing that's remained constant during his chaotic life: "I've turned to music and it's always made me feel so much better."
For Saflou, music is less of a passion and more of an obsession, and he plans to build a home studio in his new apartment.
"I can record music very seriously, study, be clear minded all the time," he says.
He supports himself through state benefits and gets occasional support from his family, though he hasn't seen them in years. He hopes to soon return to university to study marketing.
He's recently started dating a local woman, he says, but, worried his comments might jeopardize their fledgling romance, he remains determinedly coy on the details.
Metal in the Middle East
Saflou was born in England, but after his parents divorced he moved with his mother to the Syrian city of Idlib when he was just 3 years old.
"We only had Arabic music in Idlib, music shops that sold Arabic music and some really silly English music," he says. "But I wanted something heavier, you know?"
When he was 13, he heard his cousins playing heavy metal songs that they had downloaded onto their computers. Saflou was immediately hooked.
"I went to the guy in the shop and I was like, 'Can I have the loudest record you have?' He gave me 'Bon Jovi — Have a Nice Day.' I played that like 6,000 times."
From there, he gorged on bands like Metallica and Swedish heavy metal group Opeth, and started learning guitar with an English teacher who taught him chords and riffs during after-school classes.
He's adamant that music has saved his life on several occasions. The first came when he was diagnosed with cancer at 16.
He beat the disease in two years with the help of modern medicine. But spiritually, he says, "metal helped me get through."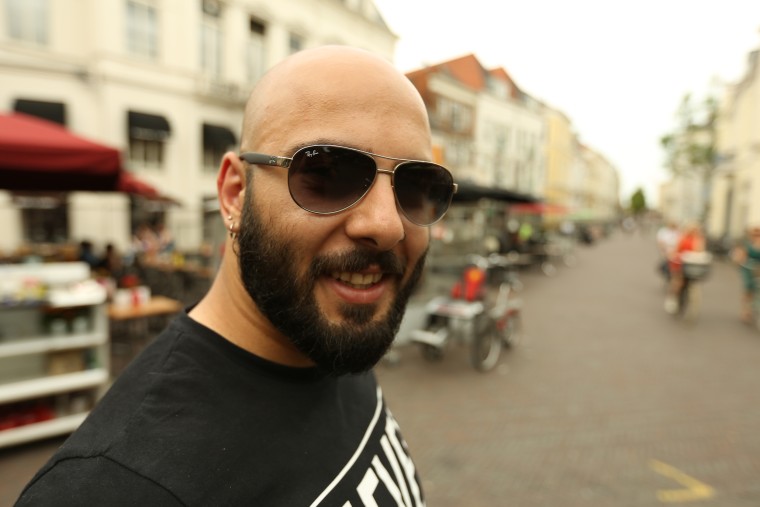 By this time he had moved to Aleppo, about 30 miles northeast of Idlib, where he went to high school and became involved in the metal scene.
But, like in many other Middle Eastern countries, this subculture was under constant threat from authorities and other community leaders, who accused them of being devil-worshippers.
The wild allegations from religious-conservative hardliners included claims that metal fans "drink cat's blood" and performed "weird sexual activities in concerts," according to Saflou.
The truth was far more mundane: "People head-bang and that's it; some dudes get drunk."
Government agents regularly attended concerts, he says, forcing Saflou and his friends to describe the music as the more-palatable genre of "rock" rather "heavy metal" on posters. He says they even resorted to bribes.
"It was not without risks of course," he says. Even his family disapproved.
"My family were like, 'Stop this devil worshiping stuff,'" he recalls. But "now they see ... I'm persisting at it and I'm very passionate about it. They love that."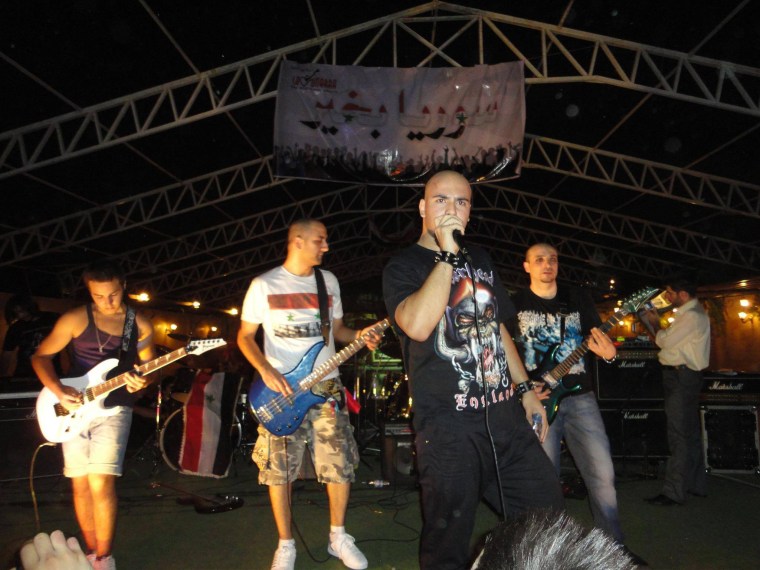 His family was "financially very comfortable" while in Syria. His father has dual British citizenship and lives in the U.K., but Saflou says a complication with paperwork meant this nationality was not transferred to him.
Although their once-fraught relationship has improved, the father-son pair haven't seen each other in five years. He gets along better with his mother, who currently lives in Turkey.
Saflou's love for heavy metal has caused problems for his relatives.
After war broke out in Syria, he left in 2012 to study at a university in neighboring Lebanon. While he was gone, Islamist militants stormed his family home and found some of his heavy-metal posters.
The militants briefly detained his uncle and left him with a stern warning. "We want his head," the militants said, according to Saflou. "If I was there, I would've died. I would've literally been decapitated."
Even in Lebanon, he found it difficult to cope, living in a country struggling to deal with more than 1 million Syrian refugees. In 2015, he set off in search of a new life in Europe — a decision that broke his heart.
"There was a lot of nice food in Syria, a lot of kind people, so many kind people, so many good friends," he says. "We had so many different religions there. So many different ethnicities and different people getting along."
A modern Odyssey
Saflou's first step was reaching the Mediterranean Sea, which separates Europe from the Middle East and North Africa.
He took a flight from the Lebanese capital of Beirut to the Turkish city of Adana. From there, accompanied by 15 family members, he began his journey to the coast.
He traveled mostly by bus but also had to walk some of the way, a route that even involved climbing some mountains, he says, before eventually meeting people-smugglers whom he paid $1,500 to get him into Europe.
"I knew the dangers involved," he remembers. "I knew I might die if I go on that boat but I had nothing to lose."
At around midnight, a vessel packed with 55 people set off from the Turkish coastal city of Izmir for the Greek island of Samos, the landing point for thousands of refugees attempting similar journeys.
Just two hours later, amid the pitch darkness and high waves, Saflou described how their perilously overcrowded craft broke apart and began to sink. Amid the panic, Saflou says he was the only person who managed to grab a cell phone and call the Greek coastguard.
It was the second time in his life that he turned to music as he prepared for death.
"I knew I was going to die and I just started to sing Opeth," he says. "It helped keep me strong."
After eight hours struggling to keep their heads above the cold, inky water, most of the group was rescued by helicopter and put on a boat.
One 5-year-old boy drowned, he says.
"You know that if you die, no one's gonna give a s---," he says. "No one's going to know your name, you're just like a number."
"You know you're going to be a blimp on news, 'Oh, a boat drowned.'" he adds. "And, like, 55 lives, with all the decisions they've made, everything they've been through, and everything they will go through ... is finished."
In 2015, 3,771 migrants and refugees died crossing the Mediterranean. That figure is already 2,169 this year.
He traveled by bus from the Greek capital of Athens to the border of Serbia and Macedonia, where he says authorities "treated us like sheep."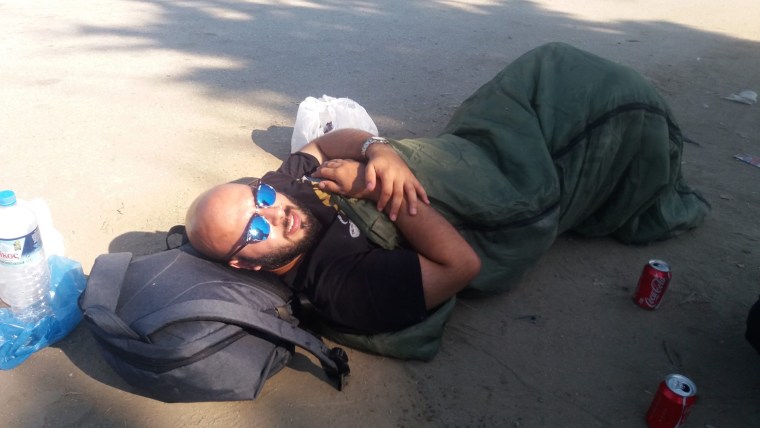 "They were very aggressive and I felt like I'm in a concentration camp," he says. "I didn't feel like I'm a refugee fleeing from war, you know? It was the worst thing … it was just as bad as [almost] drowning."
He was then forced to stand for 12 hours on a train packed full of other migrants, he says, before walking along train tracks and sleeping in makeshift camps.
This desperate existence continued until the Austrian capital of Vienna, but after that it was easier, he says, traveling first to Germany and then the Netherlands, which he chose because he wanted to learn English.
While NBC News was unable to verify Saflou's account, similar experiences of refugees in Europe have been well documented.
The search for a home
Saflou started off playing heavy metal in Syria, but his sound has since mellowed dramatically.
With no technical training, he has become an accomplished guitarist, singer and songwriter, and his soaring voice glides between baritone and falsetto as it paints his bittersweet melodies.
His experiences are a well from which he's been able to draw inspiration. Nods to his past can be heard in the lyrics "I've been stranded here for so long" and "the coldest winter, we escaped."
Another of his songs, "Drift Apart," is "about the philosophical concept of home," he explains.
"What is home? What is the search of a home?" he asks, half-rhetorically. "Is it a place, or is it inside of you? I think it's inside of you."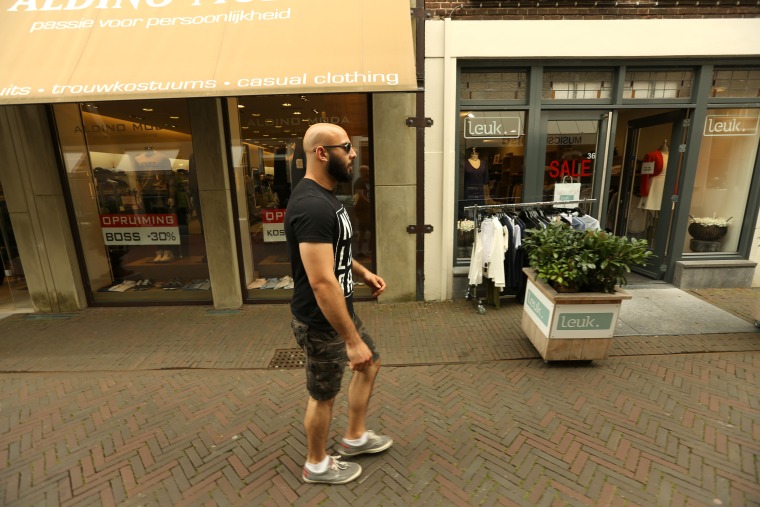 He calls himself "a traveler, and a musician, and an alien," but to him, "music is everything. Music drives your emotions," he says. "It makes reality timeless."
Ultimately, he wants to use his talent to help others.
"When you create music ... and people listen to it and can relate to it, and cope with something that they've gone through in their lives from your music, that's priceless for me," he says.
On day, he'd like to put this into practice and return to Syria to set up a music school.
"I really hope it gets better. I really hope people stop suffering and dying," he says. "If it's not dangerous for me, I will go back, sure. If it is, I will have to wait it out."