Thousands of refugees and migrants streamed into Germany on Sunday, many traveling through Austria from Hungary where they had been stranded against their will for days, while European Union governments argue over how to respond.
A convoy of around 140 cars and vans filled with food and water left Vienna to collect exhausted migrants, many from Syria, who had set out to walk the 110-mile stretch through the rain from Hungary's capital Budapest to the Austrian border, from where many would continue onto Germany.
Onlookers clapped and chanted: "Say it loud, say it clear, refugees are welcome here," as volunteers loaded their vehicles with food, water and soft toys.
However, the EU is deeply divided over how to cope with the influx of people from the Middle East, Africa and Asia, making the 28-nation bloc look ineffective as member states blame each other, fueling political populism and anti-Muslim sentiment.
Related: Pope Francis Calls on Parishes to House Refugee Families, Says Vatican Will Do Same
Germany has said it expects 800,000 refugees and migrants this year and urged other EU members to open their doors. But others say the focus should be on tackling the violence in the Middle East that has caused them to flee their homes.
"When rich Europe argues and tears itself apart over whether to accept 1000, 10,000, 42,000 or 100,000 refugees, when Turkey already has 2 million, it is clear that we have a problem of perspective and identity," EU foreign policy chief Federica Mogherini told Italian newspaper Corriere della Sera.
"This crisis can help us come out with a stronger vision of what it means to be the European Union."
Austria and Germany have thrown open their borders to the wave of refugees making their way north and west from the Middle East, Africa and elsewhere. Hungary has been letting the human tide move on after holding it up for days.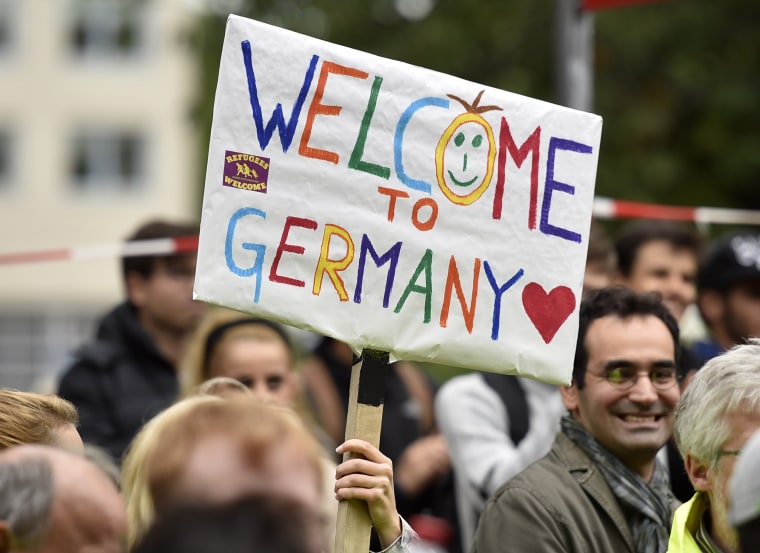 Migrants and refugees who were still in Serbia over the weekend rushed to cross into Hungary after hearing that Germany and Austria would accept people coming from the nation.
After relatively easy travels through Greece and Macedonia into Serbia, traversing Hungary was rattling the nerves of many refugees.
Many told NBC News they had heard they would face prison if caught by Hungarian authorities, while a few said they thought they would be shot. Others simply said they did not want to get sent back to Serbia if caught by Hungarians.
Those fears were driving the human flood of thousands to move as quickly as possible from southern Serbia to the north.
In the southern Serbian town of Preševo, a refugee processing center was overwhelmed on Saturday with an estimated 7,000 people waiting to get inside, according to an official there.
The refugees were mostly Syrians who had come through Macedonia, and many waited for more than 14 hours to get a piece of paper that would allow them to travel north.
The line continued to snake endlessly through the middle of the night. Those who were processed overnight jumped onto waiting buses heading north to Belgrade, refusing to stay the night and instead, opting to keep moving despite their fatigue and the hour.
In Belgrade they did not stop going — refugees were everywhere, crowding buses to the northern border.
Along the northern border in the town of Kanjiža was a similar refugee center, but this one had Wi-Fi and showers.
Buses rolled in every 15-30 minutes packed with migrants hurrying to disembark as Serbian police looked on — and pointed them down the railroad tracks to the border.
The groups would stop at points and huddle, questioning whether police were waiting ahead to fingerprint them. As the sun set, the groups kept walking; some lit small fires on the sides of tracks to warm up, others pressed on.
The camp processed 2,500 migrants and refugees on Saturday, but only 400 slept the night. Another 1,130 people were processed as of Sunday 6 p.m. local time (12 p.m. ET).
But hundreds more waited outside the gates reluctant to enter the camp, meaning the true number headed for Hungary was much higher.
Many of the refugees were in groups and traded information on how to reach the border and where to cross. Some speculated whether or not they would get caught.
A total of 6,800 people entered Germany on Saturday with another 5,000 expected on Sunday, Bavarian state officials said.
A dozen or so well-wishers offering chocolate and bananas greeted between 600 and 700 people, mostly from Syria, arriving on two early morning trains in Munich, the state capital of Bavaria.
German Chancellor Angela Merkel's decision to allow the influx caused a rift in her conservative bloc on Sunday with her Bavarian allies accusing her of having pushed forward without asking the federal states dealing with the influx.
Related: Germany's Angela Merkel to Hold Crisis Talks as Migrants, Refugees Stream In
The numbers in Europe are small compared to several million refugees in Syria's neighbors Lebanon, Turkey and Jordan and Pope Francis called on Sunday for every European parish and religious community to take in one migrant family each.
But a poll in French newspaper Aujourd 'hui en France showed 55 percent of French people opposed to softening rules on granting refugee status.