GAZA CITY, Gaza — Rockets slamming into Manar Abu Zariefah's home were the last straw. His family's brush with death made a tough decision easier: He would risk everything to flee the war-ravaged Gaza Strip and smuggle his wife and two kids to Europe.
"I started thinking that I could lose my children, but I could not bear the thought of losing them ... I couldn't imagine my children dead," the 37-year-old doctor of social sciences said, recounting his near-miss during last summer's war between Hamas militants and Israel. "We saw death everywhere, following us while walking, sleeping or hiding. How can anyone continue to live under siege, constantly in war, when there is no life?"
While Abu Zariefah was not at home when the attack occurred, he says it has left him thinking about escaping Gaza every hour of the day.
However, a happy ending is far from guaranteed for migrants who are willing to put their lives on the line to negotiate with unscrupulous smugglers and then travel thousands of miles aboard rickety boats in search of safety, opportunity and prosperity. While the exodus north from Mexico and Central America to the U.S. makes constant headlines, Europe is facing a border crisis of its own.
In September, hundreds of Abu Zariefah's fellow Gazans drowned off the coast of Malta after their immigrant ship was rammed, allegedly by the people who were paid to sneak them into Europe. It was the deadliest migrant boat disaster in the continent's history.
The statistics are stark.
Morethan 130,000 migrants and asylum seekers have made the perilous sea journey and arrived in Europe this year, up from 80,000 during all of 2013, according to United Nations estimates.
The International Organization for Migration (IOM) estimates that a record-breaking 3,200 people have died trying to cross the Mediterranean Sea during 2014 — double the death toll at the height of the Arab Spring uprisings and more than quadruple last year's 700 total.
Some 22,000 people have died while crossing the Mediterranean since 2000, the IOM reports. That compares to 6,000 migrant deaths along the U.S.-Mexico border during the same period.
Those who have perished while trying to illegally reach Europe leave behind heartbroken and often angry families.
"I don't know if my son is dead or alive, I am hysterical," said Samir Asfour, 57, shortly after hearing that the ship believed to be carrying his child Ahmad had gone down off of Malta.
Asfour has still not buried his 24-year-old son's body, but he is certain Ahmad drowned just a few miles from Europe along with three cousins.
Asfour's sadness stems from his inability to convince Ahmad, who suffered from diabetes and had been injured in a 2009 Israeli airstrike, that there was something to live for in his birthplace.
"The prospects for young people are closed to them, there is no work, no jobs," he said. "The last war crushed all hopes for the young, blocked all their hopes."
Palestinian survivors of the so-called "Malta Shipwreck" — which is believed to have claimed the lives of Ahmad and around 500 others — said they had arranged their journey at what they called a "travel office" in Gaza. They told the IOM that they paid $2,000 in advance. Some used grants from the U.N. and Hamas that were meant to rebuild homes damaged during the Israeli offensive that killed more than 2,000 people, and flattened hospitals, schools and mosques.
The conflict shattered an already-fragile economy. More than 4,200 Palestinians have arrived by sea in Italy alone this year.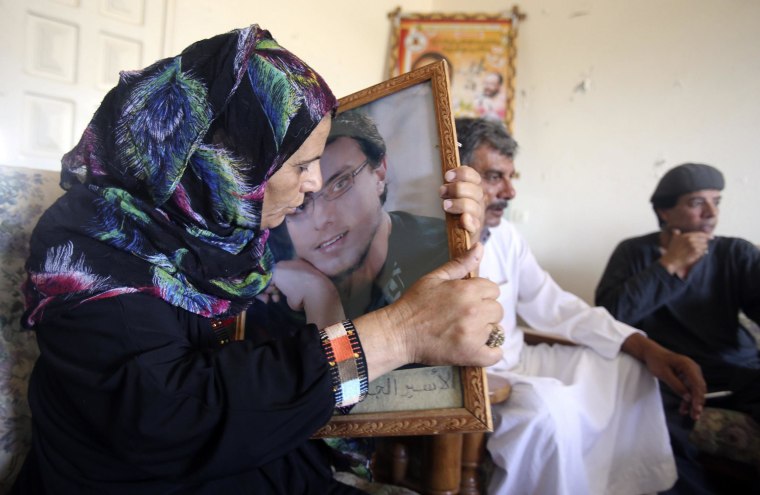 Infighting between Palestinian factions, Israel's economic blockade and three military operations since 2008 have left many Gaza residents without hope, according to the director of the Palestinian Non-Governmental Organizations' Network.
Mohsen Abu Ramadan cited "the hatred culture, the absence of forgiveness and acceptance" as among the factors which create "despair" among Palestinian youths. The unemployment rate for those aged 18 to 35 is running at almost 60 percent, according to Ramadan.
"[Israel] has destroyed the infrastructure ... and the production sectors like agriculture, industry, tourism and private business sector," he added. "Every year, there are 18,000 university graduates in the Gaza Strip. All those are added to the army of the unemployed. So the society in Gaza depends on aid and is waiting for the food basket from the UNRWA relief agency."
Governing Hamas denies that Gaza has any real problems when it comes to immigration. Ehab al Ghussein, a spokesman for Hamas' Information Ministry, insisted that "not a huge number" of Gazans were leaving. He added the Hamas government was "arresting everyone who is even related to a smuggler."
Al Ghussein's assurances are unlikely to provide any comfort to Muna Zuarub, whose 27-year-old son Hamada fled in September. She has heard that Hamada arrived safely in Sweden and is learning the language, but has had no direct contact with him.
Until the family gets some help from abroad, Muna Zuarub must find a way to feed 14 family members, including Hamada's wife and three children — the youngest of whom was born at the beginning of September.
"Usually I don't go to the market because I don't have money to buy vegetables, fruit, meat — anything," the 50-year-old said. "I don't let my children go out of the house most of the time, I don't want them to see other children eating or buying what kids like to buy."
Sometimes Zuarub begs to feed her family, which is crammed into a two-room apartment.
"Most of the time we don't talk to each other. We are silent. There is nothing to talk about," she said. "If we have a can of meat, it will be for everyone. Everyone knows to eat a few bites and that's all."
Zuarub wishes that her oldest son stayed with her in Gaza.
"He could bring us some food at least. He could buy us tomatoes," she said. "When he decided to leave, he told me that it will be better. He explained to me that I have to be patient. I will be patient like he asked me to."
But Abu Zariefah's patience is running out. Even the horrific death toll of the "Malta Shipwreck" has not convinced him to change his plans — only to delay them. But he is determined to find "a safer way" to escape Gaza with his wife Manar, six-year-old daughter Omnia and seven-month-old son Ammar.
"Everyone is thinking about leaving," he added. "Everyone is aware it will be difficult at the beginning and that they will struggle, but at the end they will find something and they will work, and will die old, from natural causes."
ALSO IN THIS SERIES