SIRACUSA, Italy - A dramatic increase in the number of people fleeing war-torn Syria means Italy is on course to take in a record-breaking 100,000 refugees and asylum seekers by the end of the year.
The sea crossing from Libya to Italy has been a major migration route for a decade as people fleeing unrest or seeking a better life try to enter Europe. But the so-called "boat season," as summer is known in Sicily, started early this year. Italy's migration centers are able to host only about 10,000 people, and the country is struggling to cope.
Sign up for breaking news alerts from NBC News
The number of refugees prepared to make the potentially deadly voyage has skyrocketed to almost 60,000 since the start of 2014.
Many of their overcrowded and ramshackle vessels do not make it: According to the United Nations almost 7,000 people have died off Sicily's coast in the past 10 years.
On World Refugee Day, NBC News spoke to survivors of the terrifying journey.
Salua Habdallah, a Palestinian woman raised in Libya, said she was happy to be alive given what she experienced on their way to Italy.
"A group of us traveled on the boat's bridge for three days," she recalled. "Then on the second day a group of Nigerian men emerged from the lower deck. We got scared and retreated at the back of the boat, which started tilting on its side. I was afraid we would capsize."
Capsizing is a very real threat for the refugees, and one of the worst tragedies came in October last year. More than 300 people died when their boat's motor stopped working and sank an agonizing 800 meters off the coast, near the Sicilian town of Lampedusa.
Those who survive their journeys are either picked up by the Italian navy or land ashore and are taken in at centers on the coast, such as the Centre for First Aid and Reception in the town of Pozzallo.
Pozzallo has seen 12,000 migrants disembark there since the start of this year, a staggering number for a town of 19,000. The center is currently operating at at twice its capacity of 180, with scores of men and women from Syria, Eritrea and Nigeria forced to sleep next to each other on a floor carpeted by mattresses.
"We are all crammed here, there's too many of us," a Nigerian man who did not want to give his name told NBC News.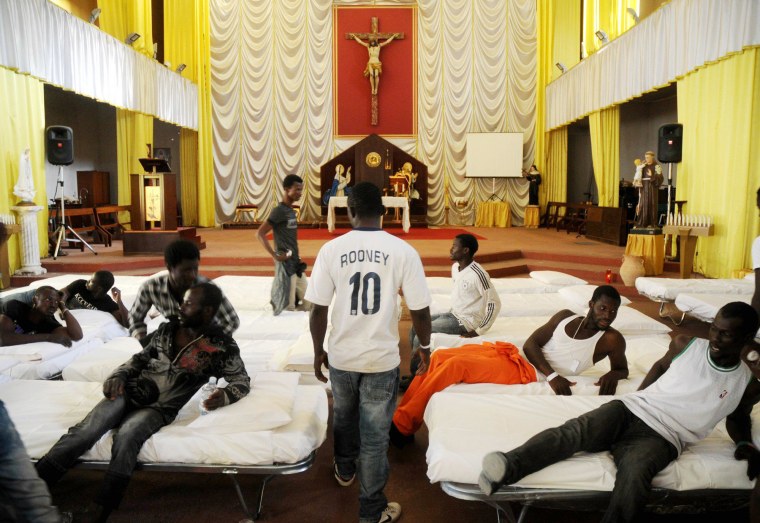 According to a report published on Thursday by charity Save The Children, 58,000 migrants were rescued off the coast of Italy from January to June, already more than twice the total during all of 2013 and close to the record number of arrivals in 2011 during the war in Libya.
At the current rate, 100,000 refugees may reach Italy's shores by the end of the year.
Migrants held in reception centers like Pozzallo not only want to leave the building, they want to leave Italy as a whole. According to Save the Children, most plan to travel to Sweden, Norway, Germany or Switzerland to reunite with relatives there.
But with the EU forcing migrants to apply for asylum in the country of first entry, Italy is left bearing the brunt of the biggest migration from Africa and the Middle East into Europe in years.
In-Depth
Social
Alexander Smith of NBC News contributed to this report.