Part One in a Series
NBC News Digital recently examined how a series of attacks had forced authorities across Europe to re-assess their approaches to tackling terrorism.
In the wake of Wednesday's terrorist attack near the U.K. Parliament, here is a look at how police operate in London.
LONDON — Seconds after his police radio crackles into life, Inspector James Beattie kicks the squad car into gear, triggers its siren and roars the wrong way down a busy road.
Beattie and his partner, Constable Jill Simpson, are wearing stab-proof vests and carrying batons, canisters of mace and handcuffs. But like the vast majority of London cops, neither of them has a gun.
"I've never, ever felt the need to have a firearm," Beattie said while on patrol last week. "Our prime tool for defusing any situation or conflict is always talking to someone. If I deal with any confrontation, I'm not reaching for my belt. I'm talking to them to see if I can disengage the situation."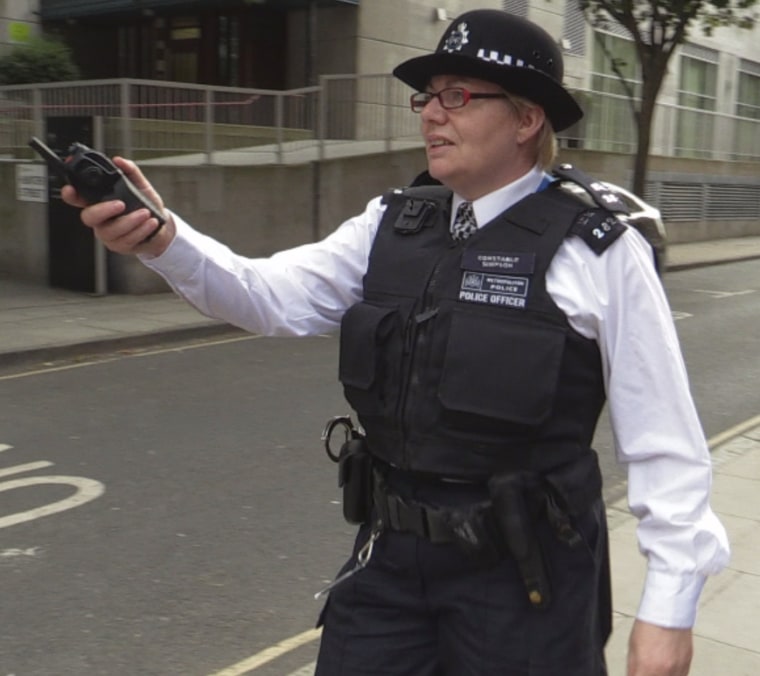 Arriving at their destination, they discovered reports of a disturbance at a medical center were nothing more than an irate patient. But even during their most challenging calls-outs, their relaxed attitude about being unarmed is the norm for London cops.
While America's police have become increasingly militarized, the British tradition of unarmed "bobbies-on-the-beat" has endured.
Despite top officials warning that a terrorist attack in the U.K. is "highly likely," more than 90 percent of the Metropolitan Police officers tasked with protecting the city's 8.5 million residents do not carry guns.
"The British policing way … is that we're part of the public," the force's Commissioner Sir Bernard Hogan-Howe told NBC News. "A firearm ... puts a barrier between people and the police."
A recent string of attacks — in cities including Paris, Brussels, Nice and Istanbul — has forced authorities across Europe to re-assess their approaches to tackling terrorism.
But while police forces on the continent and in the U.S. routinely arm their officers, London's so-called "Met" has largely avoided that.
Even with a recently announced boost in officers carrying guns on the U.K. capital's streets by the end of this year — from 2,200 to 2,800 — they will make up just 8.8 percent of the force.
According to Brian Dillon, former head of the Met's firearms command who now runs the counterterrorism consultancy Rubicon Resilience, the force's "unique policing model" can't be found anywhere else in the world.
The statistics surrounding police shootings in the U.K. are startling when compared to the U.S.
Officers in England and Wales fired just seven bullets between March 2015 and this March. (Not including accidental shots, shooting out tires, or putting down dangerous or injured animals.)

During that period, just five people were shot dead by police in England and Wales, according to British charity Inquest, which helps families after police-related deaths.

Police Scotland — tasked with guarding 5.3 million people in an area the size of Maine — reports only one officer-involved shooting since the national force was created in 2013.
In London, the Metropolitan Police has fatally shot just 10 people in the past 10 years.
U.S. law enforcement officials have this year killed 693 people and counting, according to figures compiled by The Guardian.
Simpson, the police constable, said that in her decade-and-a-half with the Met she has never had a gun pointed at her and never seen shots fired during active duty.
"I've used my [mace] spray twice and I think I've used my baton twice — in 15 years," she said.
The Dunblane Effect
This chasm between the U.S. and U.K. comes with the caveat that American cops are far more likely to encounter armed criminals.
Around one-third of Americans own a firearm or live with someone who does, and there are more than 30,000 gun-related deaths in the U.S. every year, according to GunPolicy.org, a project run by Australia's University of Sydney. By contrast, just 144 people were killed by guns in Britain in 2013, the most recent year the site holds records for Britain.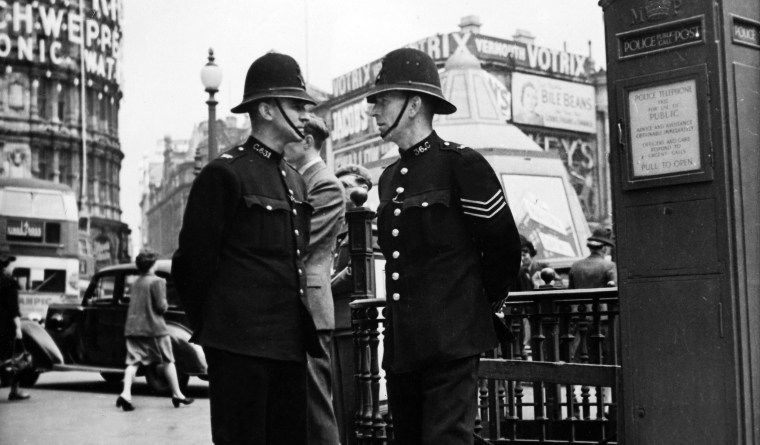 That's not to say British police don't put themselves in harm's way. Simpson recounts once being struck over the head with her own handcuffs and pulled to the ground by her hair while attempting to arrest a man who had beaten his girlfriend. The constable said she chased the suspect and was only able to detain him after spraying him with mace.
Did she ever feel like she needed a gun?
"Not really. When he pulled me to the ground, obviously there is fear there," said Simpson, 48. "But for me the ... [mace] worked and did what it was supposed to do."
Gun laws in the U.K. are among the toughest in the world.
Brits who apply for a licence are subject to extensive background checks, and police can interview their friends, family and even their doctors when assessing their applications.
Handguns and assault rifles — or any weapon capable of automatic fire — are banned outright.
The stringent controls were imposed after Scotland's Dunblane massacre of March 1996, when former Scout leader Thomas Hamilton entered a school and fatally shot 16 children and a teacher.
The killings — carried out with four handguns that were legal at the time — shocked politicians into action in a way America's mass shootings have not.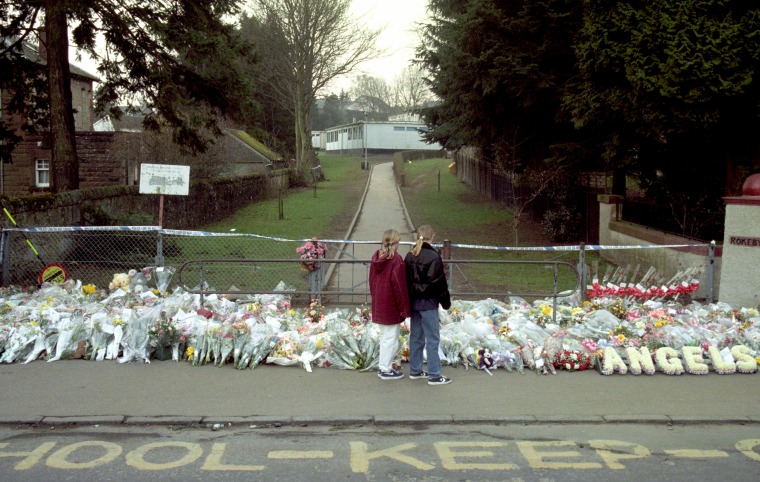 The U.K. has another advantage in that it's a relatively small island — not even the size of Michigan — with no land borders. That makes it difficult to smuggle illegal guns into the country.
Most of the recent high-profile attacks in London have involved assailants using bladed weapons.
In May 2013, two radicalized Muslim converts armed with knives and a meat cleaver hacked a British soldier to death on a south London street. In Dec. 2015, a man with a history of mental illness cut a stranger's throat at a London subway station.
And earlier this month, a Norwegian national allegedly killed 64-year-old American Darlene Horton during a knife rampage in busy Russell Square.
In the latter two incidents, no shots were fired. Police instead chose to use stun guns to subdue the suspects.
The last large-scale attack in London came on July 7, 2005, when four coordinated suicide bombers killed 52 people and injured more than 700 others on the city's transport network.
Despite this attack — plus three decades of threats and bombings by Irish republicans — the Met's principles have shifted little in its 187-year history.
In 1829, British Home Secretary Sir Robert Peel founded the Met on the principle of "policing by consent."
He was keen to avoid any suggestion the Met was a military force. Most new recruits didn't carry guns and they were instructed to "preserve public favor ... by constantly demonstrating absolute impartial service to law."
In recent years, the British capital has so far been spared the ISIS-linked violence that traumatized Paris and Brussels. But many Londoners fear they may be next.
The U.K.'s national threat level has been considered "severe" since 2014. The government says "an attack is highly likely" and Commissioner Hogan-Howe admitted last month "it is a case of when, not if" London is hit.
British intelligence services worry about the 800-or-so Brits who traveled to join ISIS or other extremist groups in Iraq and Syria.
Around half of these so-called "foreign fighters" have returned to Britain, and officials say some of them pose a security threat.
This year's boost to the number of armed police on London's streets is an attempt to counter this perceived danger. More cops wielding long rifles are being posted to potential targets such as busy tourist attractions.
"We're not trying to militarize London," one counterterrorism officer told NBC News, speaking on condition of anonymity due to the sensitive nature of his work. "What we are trying to say is there is an effective and fast response to any criminal or terrorism attack."
Metropolitan Police officers are only given guns if they volunteer, and even then "they still have to go through quite a rigorous selection process," according to Chief Superintendent Martin Hendy.
'Living in a War Zone'
This approach is not without its critics. Calls to arm Britain's police peaked in 2012 when two unarmed officers, Nicola Hughes and Fiona Bone, were killed in a gun-and-grenade attack in Manchester.
"The romantic image of the unarmed police service should be consigned to the history books," according to Norman Brennan, who served for 31 years with the British Transport Police and now campaigns to arm his former colleagues. "We are now living in a war zone where terrorists have infiltrated Europe … the least we can do to give our police the tools they need."
Brennan claimed officers without guns are "sitting ducks" when facing armed criminals and terrorists.
Despite the increase in London, the number of armed officers across England and Wales has actually plummeted by 1,267 since 2009 to just 5,639 this year.
Some are reluctant to volunteer for firearms duties because they fear they will be "hung out to dry" if they have to use their weapons, according to the Police Federation — which represents officers.
Many point to Anthony Long, an ex-Met officer only cleared in 2015 after fatally shooting a suspected armed robber a decade earlier. Long told the BBC this month that the U.K.'s police watchdog "seems to be treating officers as criminals."
A poll by the federation this year said that 40 percent of officers fear being attacked at work — but just half that number were willing to be armed.
"By time people start hitting you, it's too late to defend yourself"
Members of the public are evenly split on the issue, according to figures published earlier this month by pollster BMG Research. Only 26 percent believe police are prepared for a terrorist attack. But just 42 percent were in favor of arming all officers — down from 48 percent in December.
British officials point out that police with guns haven't prevented terrorists from striking other countries. In most of the recent incidents across the U.S. and Europe, bodies were already on the ground when officers arrived.
"We saw the terrible attack of Charlie Hebdo, where an officer arrived with a handgun and was outgunned, and therefore hadn't got a reasonable response," said Hogan-Howe, referring to the Paris shooting in which two al-Qaeda gunmen killed 11 people, including a Muslim cop.
The Met says it's well-equipped to stop attackers getting past the planning stage because of what it describes as a world-class intelligence setup. But this approach has also attracted controversy.
Its "Prevent" strategy, with an annual budget of around $52 million, focuses on gathering information about potential plotters.
"Our strategy has always been that good intelligence allows you to prevent the attack in the first place," Hogan-Howe told a press conference last month. "By time people start hitting you, it's too late to defend yourself."
The Met says its close relationship with Britain's domestic and foreign intelligence services helped foil eight terror plots in the past year. Between April 2015 and this March, 325 people were arrested and 48 people convicted on terrorism charges. Many more await trial.
The force encourages anyone worried a family or a friend may be drawn toward extremism to call its confidential anti-terror hotline. Around 60 to 70 people every month have been "drawn back" from "the pathway to radicalization" — 10 percent from tip-offs, according to a Met spokesman.
But critics say this approach has sown a deep mistrust of police, especially among members of Muslim communities.
Former Metropolitan Police Chief Superintendent Dal Babu told the BBC last year that the strategy had become a "toxic brand."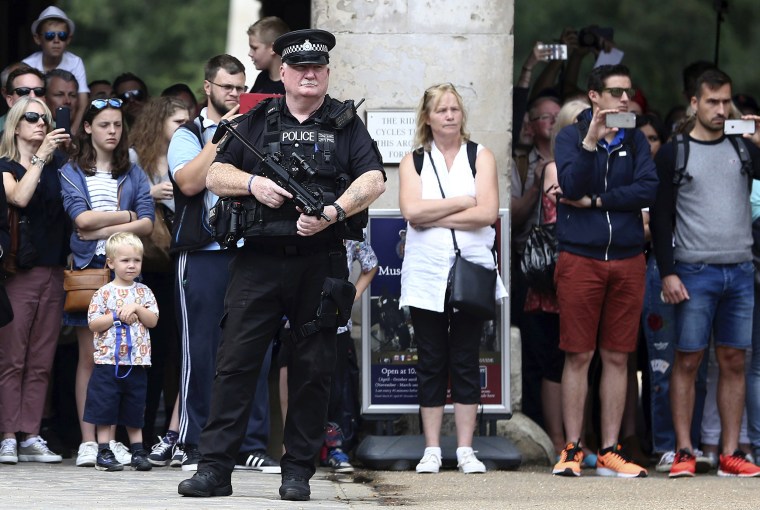 And east London's Waltham Forest Council of Mosques said the policy was used to "spy and denigrate the Muslim community and cause mistrust." These misgivings prompted the U.K.'s terror watchdog to call for a review of the strategy.
Hogan-Howe says that while the strategy "has its faults, I'm not sure I've seen a better system around the world."
Nevertheless, there appears to be little chance authorities in Britain will ditch their current methods and arm every officer like in the U.S.
"I think there'd be a lot of police officers that might consider leaving the service or wouldn't have wanted to join ... had carrying a firearm been part of our routine work," Beattie said.
"There's no gun envy," he added.