Part Two in a Series
NEAR DIJON, FRANCE — The assault team advanced in a line, stacked up behind the point man.
He was carrying a 60-pound shield capable of stopping rounds from a Kalashnikov-style assault rifle, equipped with a sophisticated infrared camera and viewscreen.
Behind him was a line of men with weapons at the ready, raindrops glistening on the barrels of their customized assault rifles.
Despite their heavy body armor, the officers were taking no risks. Lining up behind the shield allowed the team to expose as little of themselves as possible: a bulletproof python bristling with automatic weapons, lights and sensors.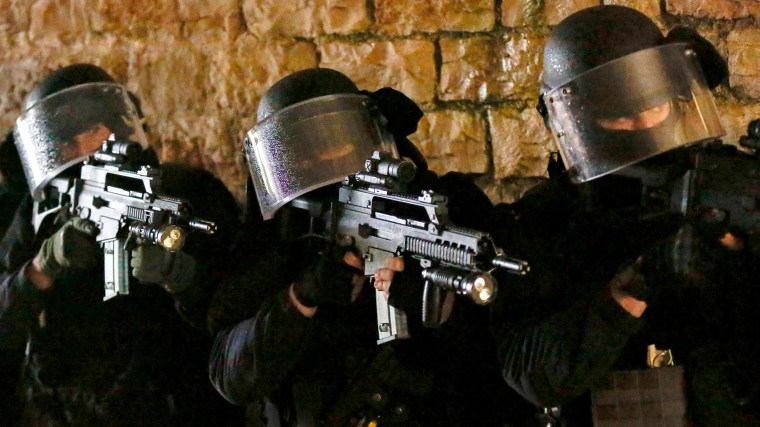 There was no shouting of commands, no furious rush of the door. The python moved forward silently and smoothly, inexorably advancing.
Inside, an unknown number of terrorists had attacked a building crowded with civilians. These men had one mission: stop the slaughter; neutralize the terrorists.
They slid down a narrow corridor, pausing at a corner. The lead man used the shield to peer around the corner with his camera. A single armed suspect was visible.
BANG! The python's path was clear. It continued forward.
This was an exercise carried out by members of the Groupe d'intervention de la Gendarmerie nationale (GIGN), one of France's premier counterterror special forces.
Something between a SWAT team and the Delta Force, the GIGN plays a key role in France's strategy to respond to massacres like the one that took place on Nov. 13 at the Bataclan in Paris, or in June at a gay nightclub in Orlando.
Faced with a sporadic threat from ISIS-linked terrorists, France has been in a state of emergency — now extended to until early 2017 — since November's attacks targeting Paris.
In addition to performing the "theater of security" — symbolic gestures intended to reassure the public, such as mobilizing soldiers to patrol the grounds of the Eiffel Tower — the government of President Francois Hollande is pursuing a number of meaningful reforms to the way it fights terror.
The question that hangs over the changes is: Will it be enough?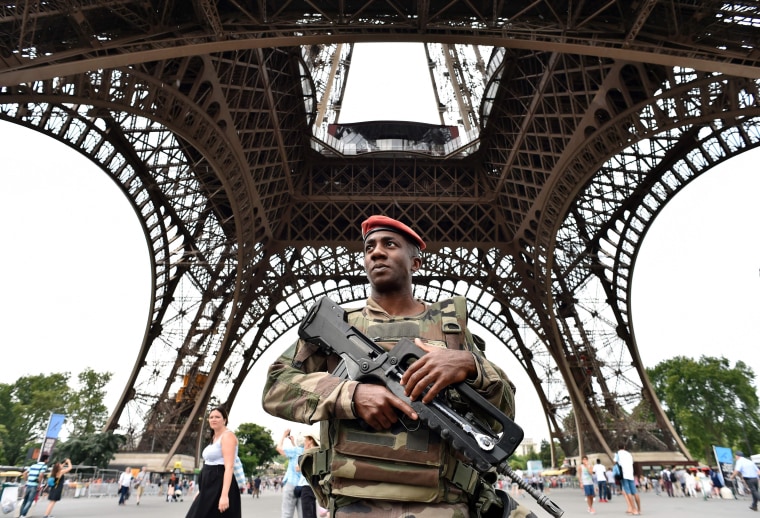 In the past, units like the GIGN were trained extensively in securing a scene and negotiating with hostage-takers. Their mission in responding to a terror incident now is more direct: get access to the scene as quickly as possible, in order to kill or capture attackers before they can inflict more carnage.
"The threat has evolved," said Capt. Nicolas, the unit's commander, who for security reasons can only be identified by his rank and first name. "We must evolve with it."
Foreign experts consider French special operations units like the GIGN "among the most effective anti-terror forces in Europe, if not the world," as Col. Tim Collins, a former British SAS officer who specializes in counterinsurgency and security, wrote in an opinion piece in The Telegraph after the Paris attacks.
Also in This Series: Cops Without Guns Protect London Amid Terror Fears
But there are limits to what can be accomplished through sheer force of arms. "Right now, the major difference between our two countries is luck," Collins added, referring to the U.K.
Among France's more than 240,000 police personnel, a few specialized units with several hundred members focus on responding to a terror attack, or "intervention": the Police Nationale's elite RAID (a backronym for Recherche, Assistance, Intervention, Dissuasion) unit, and their GIGN counterparts in the gendarmes.
France has also activated tens of thousands of military personnel to support law enforcement at sensitive and popular locations, like government buildings or tourist hot spots.
The goal of all this highly visible activity is to settle nerves — and provide additional firepower if necessary.
"We are totally mobilized, totally engaged with the security of our country," Gen. Philippe Guimbert told NBC News from the Paris headquarters of the gendarmes.
The competitiveness of the different French law enforcement organizations has long been the subject of popular films and television shows. There is some truth to this legendary territoriality.
One of the first shifts undertaken by France's government in the wake of last year's terror attacks was to create a unified response plan incorporating the nation's premier counterterror units: the GIGN and RAID, and also the lesser known units and agencies that make up an alphabet soup of French security services (BRI, CRS and DGSI, to name a few).
"We train to be out the door, fully equipped and ready to go within 15 minutes of getting the call," Capt. Nicolas, the GIGN commander, said. "Obviously how long it takes us to arrive will depend on how close the nearest RAID or GIGN unit is to the incident."
This package of structural reforms was accompanied by increased budgets for training and equipment.
A key to interoperability is to have standardized equipment and operating procedures. Before last year, for instance, the Police Nationale and the Gendarmes used different radio frequencies for emergency communications.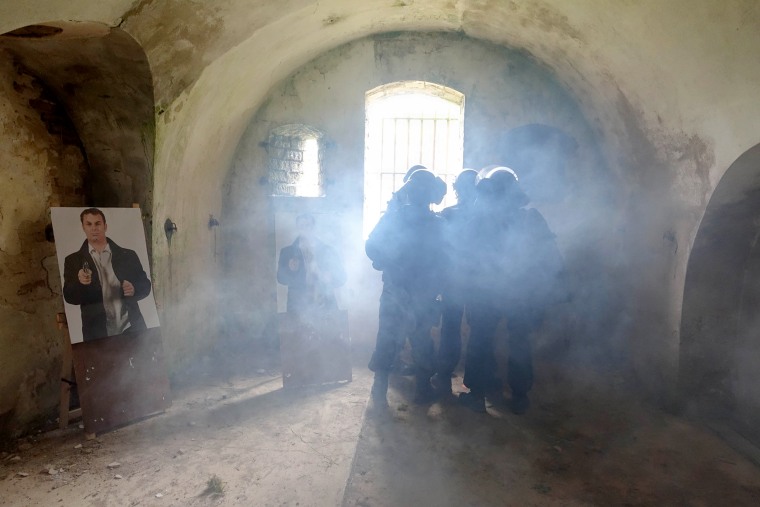 After pictures went global of French police responding to Kalashnikov-wielding attackers with small-caliber service revolvers, patrol officers and gendarmes have been issued better equipment and increased firepower, including Sig Sauer SP2022 9mm pistols, Beretta M12 9mm submachine guns and Ruger Mini-14 rifles.
Meanwhile, the elite response units now use equipment on a par with the world's best militaries, such as highly customized variants of the Heckler & Koch G36 5.56mm assault rifle, infrared optics and full-body armor designed to stop multiple shots from high-powered rifles.
"Since the Bataclan, our tools have evolved," Capt. Nicolas said. "We have more armor, better weapons, more armored vehicles and explosive devices we can use in responding to terror attacks."
Central to this response plan has been a sharp increase in the number of personnel assigned to such units, as well as a decentralization of command. An individual GIGN team, which used to be about 26 personnel, has now been increased to 32 officers. The overall numbers of GIGN officers is being increased by nearly 100 men.
There are now seven separate GIGN units and eight RAID units prepositioned across the country. The goal is to minimize response time to a major incident.
"Before, it was only veteran, experienced gendarmes who could qualify to become an intervention specialist," Capt. Nicolas said. "Now we are trying to recruit and train a new generation of younger officers, to build a solid foundation for the future."
Nevertheless, it is an open question as to whether all of these changes are actually making France safer. With every new incident that occurs, it is clear that individuals intent on doing harm are actively seeking new loopholes and blind-spots at which they can strike. Take, for example, the murder of a French police chief in Magnanville, outside Paris, on June 13.
The individual attacked the police officer in front of his house, stabbing him to death before entering his home and doing the same to the officer's wife.
Although elite units arrived and eventually killed the suspect, many questioned why an attacker with a knife was able to kill a police officer.
Since the officer was off-duty, he was not carrying his service weapon. Before the Magnanville attack, in fact, few off-duty officers carried weapons, and it was only after the Nov. 13 attacks that the law was changed, permitting them to do so.
"As we have already seen, any officer could be put on the front lines of the war against Daesh [another name for ISIS] at any moment," Gen. Guimbert said. "It requires a massive shift in our mindset and our mission."
The truck attack in Nice, which killed 85 people, is another example. Having mobilized nearly 90,000 national security personnel for the Euro 2016 soccer tournament from June 10 to July 10, the French authorities seemed to be caught flat-footed when a Tunisian national with permanent residency in France plowed a truck into throngs of people celebrating Bastille Day only a few days later.
"Terrorists tend to march to their own drum," Francois Heisbourg, a special adviser to the Fondation pour la Recherche Strategique think tank wrote in an opinion piece in the Financial Times. "They do not strike simply because we feel that an event is important."
The unending state of emergency has also stretched security forces thin, and also alienated the politically powerful police unions.
Several lawmakers also argue it has shifted the focus away from the real failures in each of the terror attacks over the past two years: failures of intelligence.
"Faced with the threat of international terrorism we need to be much more ambitious," wrote Georges Fenech, a French parliamentarian who headed an inquiry examining the country's intelligence services after the Nov. 13 attacks.
In July, his commission issued a damning and extensive report criticizing the government's security response. One of his key recommendations: create a unified national intelligence agency, akin to the CIA in the United States.
"Security policy will have to emphasize intelligence and surveillance," Heisbourg wrote. "Civil liberties may suffer as a consequence."