BEIJING — Tributes to Fidel Castro crowd the sidewalk near the Cuban Embassy in Beijing.
Wreaths and bouquets of white and yellow flowers compete for space among written tributes, apples and a pair of roses carrying the message: "Your Hero, Our Hero."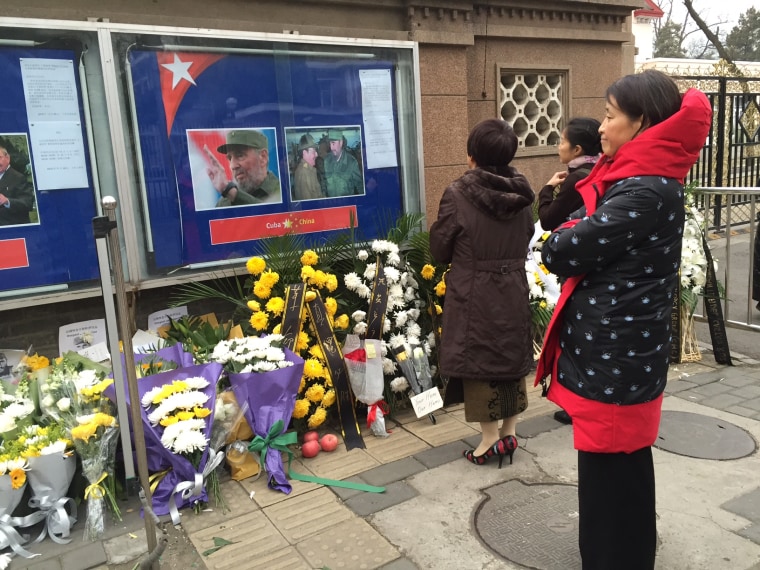 Tang Rui did not want to just leave her bouquet with the others on the street.
Instead, she asked to sign the book of condolences inside the embassy, which was open to dignitaries but not yet the general public.
When the guards would not let Rui pass, the soft-spoken 26-year-old pleaded with a Cuban official. She explained that she had studied in Cuba for five years, understands the people's affection for Castro and had traveled an hour on public transit from her job at Tsinghua University in east Beijing.
"He is to his people what Chairman Mao is to Chinese people," she told NBC News.
Finally, the official relented and Rui entered the embassy.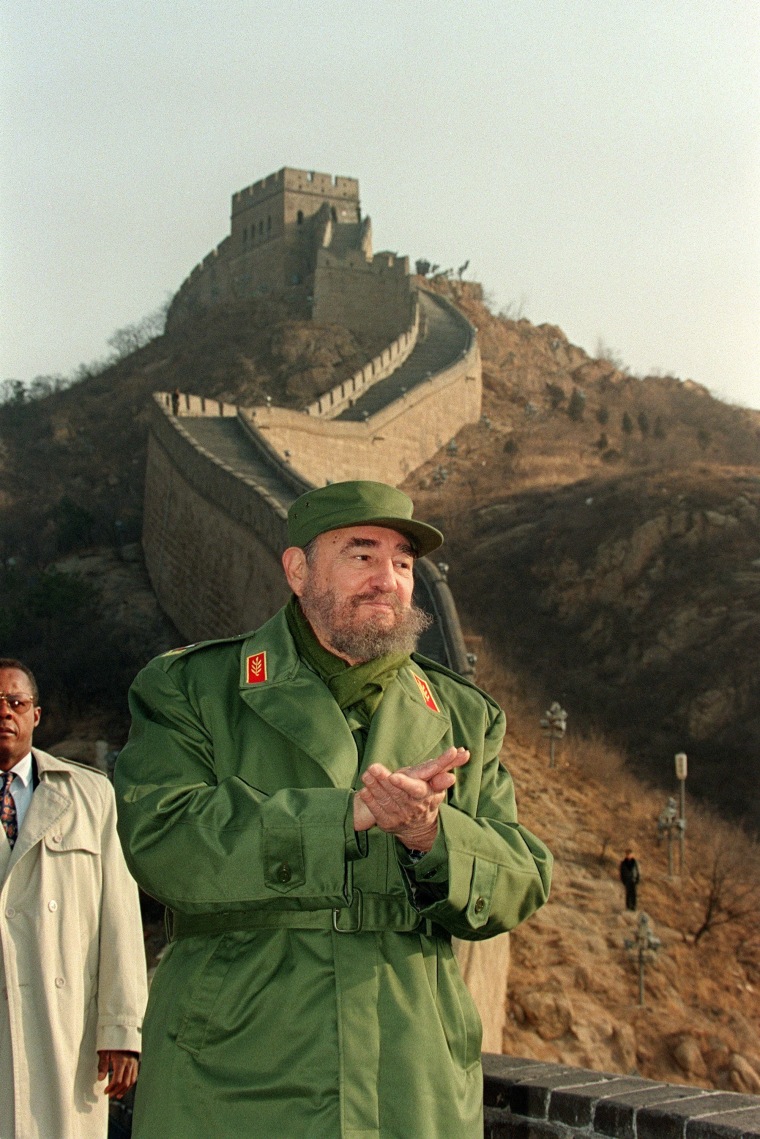 Her insistence and emotion betray Castro's enduring impact in China, where his death marks the end of an era for socialism.
Newspaper articles, television broadcasts and social media posts on the longtime Cuban leader's death were laced with nostalgia.
"His glorious image and great achievements will go down in history," Chinese President Xi Jinping said in a written statement.
The outpouring came despite the often-chilly relations between the two Communist stalwarts.
After establishing diplomatic ties with Cuba soon after Castro and his fellow revolutionaries overthrew dictator Fulgencio Batista in 1959, China split from the then-Soviet Union and launched Beijing's pivot toward eventual relations with the U.S.
China's move angered Castro, who saw it as a betrayal, and proved a driving factor behind Cuba's alliance with Moscow that brought the world to the brink of nuclear war.
Huang Zhiliang was a Chinese ambassador in Latin America during the tumultuous 1960s.
Now 85, Huang claims a deep admiration for Castro and his steadfast defiance of Western influence.
"He is a great revolutionary soldier," Huang told NBC News. "He is an immortal revolutionary leader."
Castro's death is also a sign of how much Communist countries' relationships with the West have changed since the end of the Cold War.
Related: 7 Bizarre Ways the CIA Tried to Assassinate Fidel Castro
In 2015, Cuba and the U.S. restored diplomatic relations after a half-century of animosity. Washington has also lifted its arms embargo against Vietnam.
North Korea remains the holdout, isolated from most of the world and increasingly at odds with its few remaining allies.
"Every country must adjust itself to change," said Jiang Shixue, director of the Institute of Latin America Studies at Shanghai University. "(But) I don't believe that Cuba will change its face to capitalism."
By the 1990s, when China and Cuba repaired ties, they forged relations along economic, not ideological lines.
Development became more important — China is Cuba's top creditor and among its largest trading partners.
At the embassy gates, a trio of women in high-heeled shoes took photos of the flowers with their cellphones and a man began singing in Spanish. Then he stopped, smiled and declared: "Viva Fidel!"