Fidel Castro, the cigar-chomping Cuban revolutionary leader and dictator who defied U.S. efforts to topple him for five decades, has died. He was 90.
President Raul Castro announced his brother's death on state television Friday night. Cuba declared nine days of national mourning early Saturday. A burial ceremony will be held on Dec. 4.
The bearded communist took power in a 1959 revolution and ruled Cuba for 49 years with a mix of charisma and iron will, creating a one-party state and becoming a central figure in the Cold War.
Castro antagonized 11 U.S. presidents and cast a uniquely long shadow over American politics, especially in Florida, where many Cubans refugees who fled the island turned the name "Fidel" into an epithet.
Related: Obama, World Leaders React to Death of Cuban Dictator
Castro claimed he survived 634 attempts or plots to assassinate him, mainly masterminded by the Central Intelligence Agency and U.S.-based exile organizations. They may have included poison pills, a toxic cigar, exploding mollusks, and a chemically tainted diving suit. Another alleged plan involved giving him powder that would make his beard fall out and so undermine his popularity.
"Socialism or death" remained Castro's rallying cry even as Western-style democracy swept the globe and other communist regimes in China and Vietnam embraced capitalism, leaving the island of 11 million people an economically crippled Marxist curiosity.
Related: 'History Will Absolve Me' and Other Castro Quotes
His ability to thrust his small nation on the world stage was unrivaled.
Castro's reign over the island 90 miles from Florida was marked by the U.S.-backed Bay of Pigs invasion in 1961 and the Cuban Missile Crisis a year later that brought the world to the brink of nuclear war.
Wearing green military fatigues, Castro was famous for long, fist-pounding speeches filled with blistering rhetoric, often aimed at the United States.
Under Castro, Cuba exported revolution across Latin America and around the globe, helping to ignite civil wars whose consequences are still felt today.
PHOTOS: Scenes From the Life of Cuban Leader Fidel Castro
To millions of his supporters, he was an icon of social justice who aimed to turn Cuba into a model of universal education and free health care for every citizen. But he was reviled by countless others, who saw him as an unrepentant tyrant, concerned principally with his iron grip on power. He would only relent in 2008, when he transferred the presidency to his brother Raul.
Raul Castro said that Fidel would be cremated Saturday.
He ended the televised announcement by shouting the revolutionary slogan: "Toward victory, always!"
The CIA revealed in November 2005 that it had concluded that Castro suffered from Parkinson's disease. Their assessment stemmed from Castro's public appearances and the opinions of doctors employed by the agency.
It is unknown if Parkinson's disease had a role in Castro's death.
PHOTOS: Cheers in Miami, Tears in Moscow: World Reacts to Castro's Death
Castro transformed Cuba from a playground for rich Americans into a symbol of resistance to Washington.
Aged 32, he played a crucial role in the Cuban Revolution that overthrew Cuban President Fulgencio Batista in 1959. He sought to turn Cuba into an egalitarian society.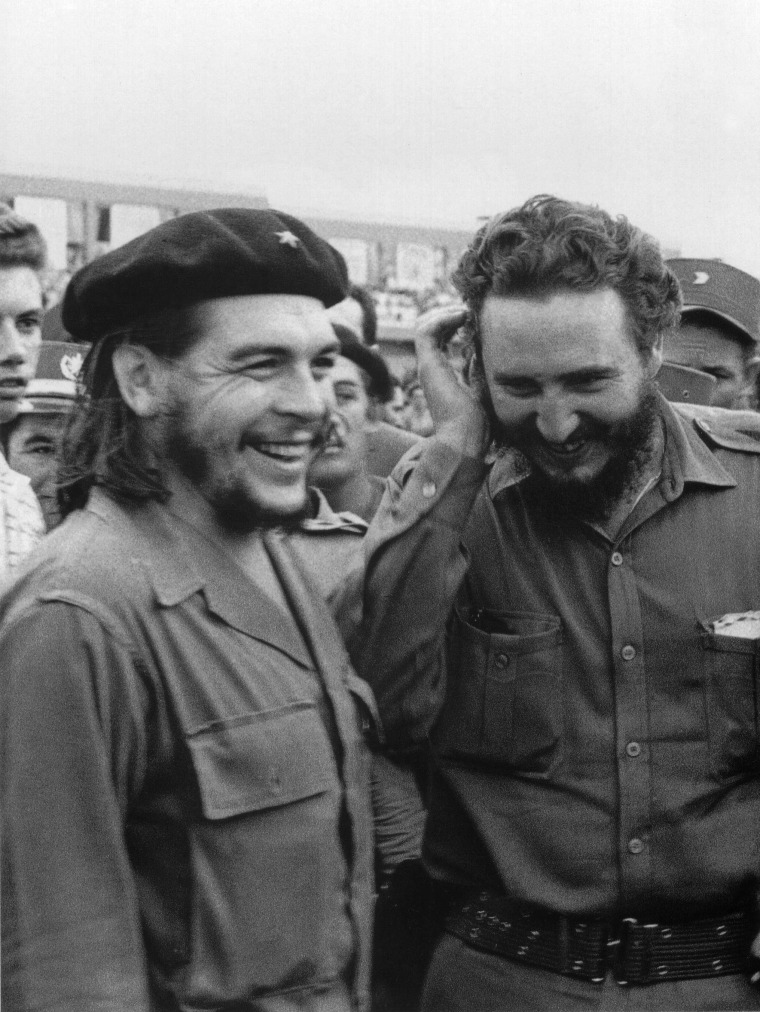 In December 1956, Castro and a rag-tag band of 81 followers sailed to Cuba aboard an overloaded yacht called "Granma."
Only 12, including him, his brother and Argentine revolutionary Ernesto "Che" Guevara, escaped a government ambush when they landed in eastern Cuba.
Taking refuge in the rugged Sierra Maestra mountains, they built a guerrilla force of several thousand fighters who, along with urban rebel groups, defeated Batista's military in just over two years.
After assuming control of the country, he established strong diplomatic and economic ties to the Soviet Union, which caused friction between Cuba and the United States. As a result, the United States placed a number of trade and travel restrictions on Cuba.
The biggest crisis of the Cold War between Washington and Moscow exploded on Oct. 22, 1962, when President John F. Kennedy announced there were Soviet nuclear missiles in Cuba and imposed a naval blockade of the island. Humankind held its breath, and after a tense week of diplomacy, Soviet leader Nikita Krushchev removed them.
Known by the militaristic title of "El Comandante," Castro tolerated little dissent, jailed opponents, seized private businesses and monopolized the media.
Castro's opponents labeled him a dictator and hundreds of thousands fled the island.
Related: 'Monster' Castro's Family Torn by Dysfunction, Affairs
In 1980, he said anyone could leave and the so-called Mariel Boatlift resulted in 120,000 Cuban migrants moving to the United States.
President Barack Obama lifted a number of the restrictions in Dec. 2014. He was also the first U.S. president to visit the island country in 88 years when he visited in March.
Castro did not meet Obama, and days later wrote a scathing column condemning the U.S. president's "honey-coated" words and reminding Cubans of the many U.S. efforts to overthrow and weaken the Communist government.
Castro never allowed statues of him to be erected or streets to be named after him, saying he did not want a cult of personality. Nevertheless, the cult was everywhere. His image and words were posted on billboards and his name was invoked at every public event.
He was a night owl. He would keep foreign guests waiting until late at night and then summon them for talks. Even his critics would sometimes find themselves oddly charmed by such encounters.
In Florida, particularity Miami's Little Havana, many Cuban-Americans celebrated the death of the former dictator.
Rep. Ileana Ros-Lehtinen (R-FL), the first Cuban American member of the House, released a statement shortly after the announcement.
"The day that the people, both inside the island and out, have waited for has arrived: A tyrant is dead and a new beginning can dawn on the last remaining communist bastion of the Western hemisphere," she wrote.
In an interview with NBC's TODAY on Saturday, Ros-Lehtinen added that Castro's death offers an opportunity for "freedom and democracy."
Plagued by chronic economic problems, Cuba's population of 11 million has endured years of hardship, although not the deep poverty, violent crime and government neglect of many other developing countries.
For most Cubans, Fidel Castro has been the ubiquitous figure of their entire life.
Many still love him and share his faith in a communist future, and even some who abandoned their political belief still view him with respect. But others see him as an autocrat and feel he drove the country to ruin.
Cubans earn on average the equivalent of $20 a month and struggle to make ends meet even in an economy where education and health care are free and many basic goods and services are heavily subsidized.