Amnesty International slammed the Qatari government Wednesday for its alleged abuse of migrant workers building stadiums for the 2022 World Cup, calling on major sponsors like Coca-Cola and McDonald's to lean on world soccer's governing body to clean things up.
In a 52-page report (PDF), Amnesty said every one of the 231 construction and landscaping workers it interviewed — most of them from Bangladesh, India and Nepal — reported some sort of abuse, including:
Squalid living conditions.
Pay far below what had been promised.
Pay not being distributed for months at a time.
Refusal to issue or renew residence permits, opening workers to deportation.
"Kidnapping" of workers by confiscation of their passports and refusal to issue exit permits.
Threats to silence complaints.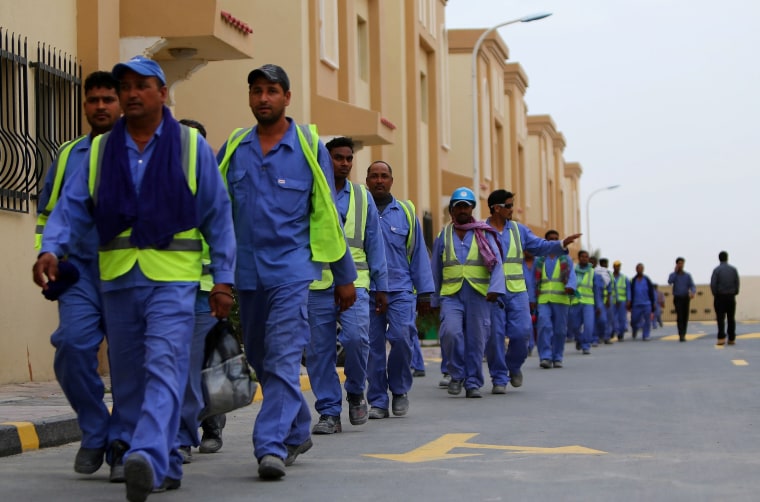 "The abuse of migrant workers is a stain on the conscience of world football," said Salil Shetty, Amnesty's secretary general. "For players and fans, a World Cup stadium is a place of dreams. For some of the workers who spoke to us, it can feel like a living nightmare."
The report quoted several of the workers, whose identities were withheld.
"He just shouted abuse at me and said that if I complained again I'd never leave the country," said an Indian metal worker whose employer withheld his pay for several months.
"Ever since, I have been careful not to complain about my salary or anything else," the man said. "Of course, if I could, I would change jobs or leave Qatar."
Related: 4,000 Migrants Could Be Worked to Death Building Qatar's 2022 World Cup: Union
The choice of Qatar — a tiny Persian Gulf emirate where temperatures can reach 120 degrees — to host the world's biggest sporting event has been controversial since it was announced five years ago by the Fédération Internationale de Football Association, or FIFA, the scandal-plagued organization that runs world soccer.
The decision is at the center of many of the corruption allegations against FIFA — including a 47-count U.S. indictment against 14 top FIFA and soccer marketing officials.
Despite the multiple investigations, FIFA said last year that the tournament would go ahead as planned in 2022. Bidding to host the 2026 World Cup has been suspended pending the investigations.
Major FIFA sponsors, including Visa, Coca-Cola and Adidas, called on FIFA last year to take allegations of mistreatment seriously.
But in a statement accompanying its new report, Amnesty in turn called on "major World Cup sponsors like Adidas, Coca-Cola and McDonald's to pressure FIFA to address the exploitation of workers" and to "disclose its plan for preventing further abuses in World Cup projects."