Nowhere in the 165-page federal indictment unsealed Wednesday charging numerous powerful world soccer officials with corruption does the name Sepp Blatter appear.
Blatter also wasn't among those arrested in a concurrent Swiss criminal inquiry into FIFA, the governing body of the world's most popular sport, of which he is president — although several of his most senior officials were taken into custody, including at least two FIFA vice presidents.
But one thing is undeniable: something happened to lead the Swiss authorities to bring down the hammer on FIFA and to persuade the Justice Department to bring 47 counts of racketeering, money laundering, obstruction of justice, tax and wire fraud and conspiracy against nine people. And it happened on Blatter's watch.
Joseph "Sepp" Blatter has led FIFA since 1998. By any measure, he is one of the world's most influential figures — the only sports figure on Forbes' list of the 100 most powerful people in the world.
"Sepp Blatter is Roger Goodell on steroids," said Richard Sheehan, a business professor at the University of Notre Dame who researches banking and the economics of sports — comparing Blatter to the all-powerful NFL commissioner.
Roger Bennett — a sports documentarian and co-host of the wildly popular "Men in Blazers" soccer podcast and its show of the same name on NBCSN — hit on the same analogy: Blatter, he told NBC News, "makes Roger Goodell look like a Boy Scout."
Wednesday's indictment certainly isn't the first time allegations of corruption have been attached to FIFA — and often to Blatter himself — since even before he took office.
Blatter, 79, a Swiss national, has worked for FIFA for more than half his life, beginning as technical director after leaving the Swiss Ice Hockey Federation in 1975. That was the first year of the 24-year presidency of João Havelange, an imperious Brazilian who quickly tapped Blatter as his right-hand man.
Together, they transformed FIFA through a series of shrewd advertising and marketing deals around the World Cup — deals that brought blue-chip companies like McDonald's, Coca-Cola, Adidas and MasterCard into the FIFA fold.
Havelange retired in 1998, and Blatter, who by then had risen to general secretary, succeeded him. In the following 17 years, he has continued to expand FIFA's marketing and advertising deals. Along the way, revenue from the World Cup, which generates most of FIFA's income, has risen by almost 1,100 percent — from about $400 million when he took office in 1998 to more than $4.8 billion for last year's tournament.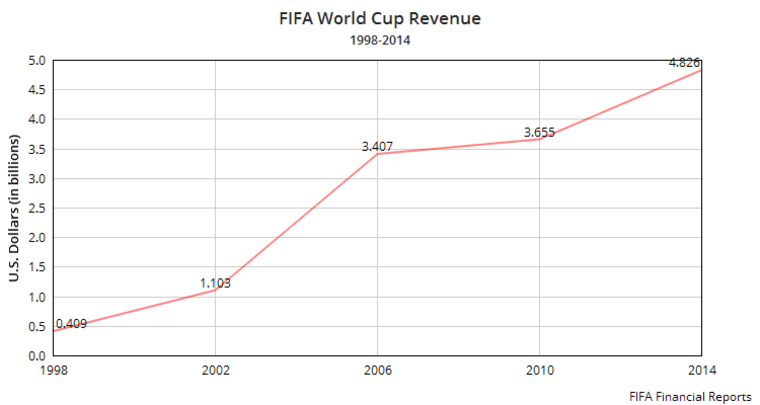 "Sepp Blatter is an ingenious man," Bennett said. "He took over FIFA at a time when football was still a relative amateur sport, a backwater in the '70s and early '80s."
But "as soon as television, mass marketing and football came together across the world, the World Cup became like a global eclipse — it became a money machine he's presided over like a Chicago politician in the 1960s," he said.
RELATED: Soccer by the Numbers: A Look at the Game in the U.S.
That authority has allowed Blatter to be re-elected every four years, running unopposed or easily defeating reform challengers who have pointed to the seemingly unending allegations of bribery and corruption that have attached themselves to the organization for more than four decades.
Blatter first won election in 1998 with significant help from the emir of Qatar — the small Arab country that has been a recurring presence in FIFA's scandals — who provided Blatter with a private airplane.
He used it to visit nearly all of the nations in Africa, the Middle East and the Caribbean with promises of FIFA money to help develop the game in its smallest outposts. Each of Blatter's elections have followed the same template, capitalizing on FIFA rules that give every member nation an equal vote, regardless of its size or its soccer history.
"Think about the NCAA with football," Sheehan said. "If you put a vote to all institutions in total, you have a lot more votes, and you're going to have decisions which are largely going to be in the interests of the smaller schools.
"When you look at one country-one vote, you get very much the same situation," he said. "You can buy the vote of Trinidad and Tobago or the Cayman Islands for maybe a couple of hundred thousand dollars, maybe less."
'I Was Not There'
And there have been widespread reports that cash-filled envelopes changed hands, beginning with the 1998 election at Paris' Meridien Montparnasse Hotel. Blatter denied them at the time and sidestepped them later with these words: "I will maintain that I was not there, so it couldn't be me."
There have been other scandals, some of them casting Blatter as sexist and racist.
In 2004, he offended many in the sport by saying women's soccer would be more popular if the players wore skimpier uniforms.
"They could, for example, have tighter shorts," he said in a widely ridiculed interview with the Swiss newspaper SonntagsBlick. "Female players are pretty, if you excuse me for saying so."
In a 2006 interview with the Italian newspaper La Gazzetta dello Sport, Blatter was asked about match-fixing in Italian soccer. He replied: "It's terrible what's happening, especially for the game's image. I could understand it if it had happened in Africa, but not in Italy."
In 2013, Blatter trumpeted that three women were among the 24 members of the Executive Committee this way: "We now have three ladies on the board. Say something, ladies! You are always speaking at home. Now you can speak here."
But far more serious than gaffes like those have been persistent questions about the fairness of the way FIFA awards hosting rights for the World Cup.
RELATED: Who Are the Victims in FIFA Corruption Scandal?
In 2000, the rights to the 2006 final round were awarded to Germany by a 12-11 vote after an Executive Committee member abstained against the orders of his own confederation, which supported South Africa. The committee member later said he'd been threatened by "influential European interests."
Then came 2010 and the controversial votes to award the final rounds in 2018 to Vladimir Putin's Russia and in 2022 to Qatar — a blisteringly hot country that has had little participation or success on the soccer field, but whose royal family has backed Blatter for more than a quarter-century.
The choice of Russia angered human rights advocates, but it was the oddity of Qatar's selection, in particular, that raised strong protests and accusations.
FIFA, in response, opened an internal investigation led by Michael Garcia, a former U.S. federal prosecutor. Last year, FIFA's ethics committee closed the investigation but refused to make Garcia's 430-page report public.
It released only a 42-page "executive summary" saying there was no corruption in the bidding. Garcia resigned, saying the summary grossly distorted his findings and expressing deep frustration that a nondisclosure agreement bars him from revealing them.
RELATED: FIFA Insists Qatar 2022 World Cup Will Go Ahead
Besides the behavior of Russia's and Qatar's bid committees, the ethics committee also looked closely at a company called International Sports and Leisure, or ISL, which brokered World Cup TV rights for FIFA. The committee said ISL paid bribes for eight years to three powerful figures inside FIFA, including Blatter's patron, Havelange, who had retired to the post of honorary president.
While the ethics committee said Blatter himself wasn't guilty of any "criminal or ethical misconduct," it called his handling of the scandal "clumsy" and said he should have known that "ISL had made bribes to other FIFA officials."
Money: 'The Only Real Language They Understand'
And yet, Blatter is still expected to win re-election on Friday, thanks to his coalition-building among small and developing nations and the undeniable growth in the sport he has presided over.
Marveling at Blatter's "ability to escape any indictment, his ability to avoid investigations," Bennett of "Men in Blazers" said: "If I was a betting man, Sepp would probably remain untouched."
"The sponsors, who pour their money into FIFA, like so many — McDonald's, Visa and Coca-Cola — now have to take action," Bennett said. "Once their money is threatened, that's the only real language they understand."
Noting that Blatter had democratized the World Cup, spreading it to Africa and the Middle East for the first time, Sheehan of Notre Dame said, "I tend to think of Blatter as someone who's, to use a word, 'evil.' But he's done some good things."
Sheehan added: "My gut response is you're going to have to remove him on a slab."