FIFA, the disgraced governing body of world soccer, is demanding tens of millions of dollars from the U.S. government as restitution for bribes and benefits paid to its own former leaders, according to court documents.
The claim, filed Wednesday in U.S. District Court in Brooklyn, New York, includes the first admission from the Fédération Internationale de Football Association that votes were bought and sold in bidding to host previous World Cups.
Officially known as a Victim Statement and Request for Restitution, the 22-page document argues that the organization itself wasn't corrupt — just its top leaders, dozens of whom are under federal indictment, including Chuck Blazer, at one time the highest-ranking American in world soccer.
U.S. prosecutors have seized or frozen about $290 million in their investigation of corruption surrounding bids to host and market television right to the World Cup, the premier showcase of the world's most popular sport.
"These funds should be used to compensate the victims of theDefendants' crimes, particularly FIFA and its member associations and confederations," FIFA said.
Read the Entire FIFA Claim (PDF)
Arguing that its former leaders defrauded FIFA by accepting their salaries and benefits, the organization says it's owed $28,224,687 in repayments, plus $10 million paid as bribes to Blazer and an unspecified amount for its own court costs and attorneys' fees.
FIFA is under new leadership after longtime President Sepp Blatter and much of its powerful executive committee were swept out in the international investigation. In December, Blatter and Michel Platini, the head of European soccer, were banned from all "soccer-related activities," although they haven't been charged.
"FIFA, as the world governing body of football, wants that money back, and we are determined to get it no matter how long it takes," FIFA's new president, Gianni Infantino, said in a statement Wednesday.
Related: FIFA Corruption Scandal: How Sepp Blatter Runs Soccer 'Like a Chicago Politician'
Calling itself "a complex international association that has been a global force for good," FIFA cast itself as the real victim of the defendants' "felonious schemes" to "line their own pockets and siphon off opportunities."
To make that argument, FIFA had to formally admit wrongdoing by its former leaders, and for the first time, it acknowledged on the record that "multiple members of FIFA's Executive Committee abused their positions and sold their votes on multiple occasions."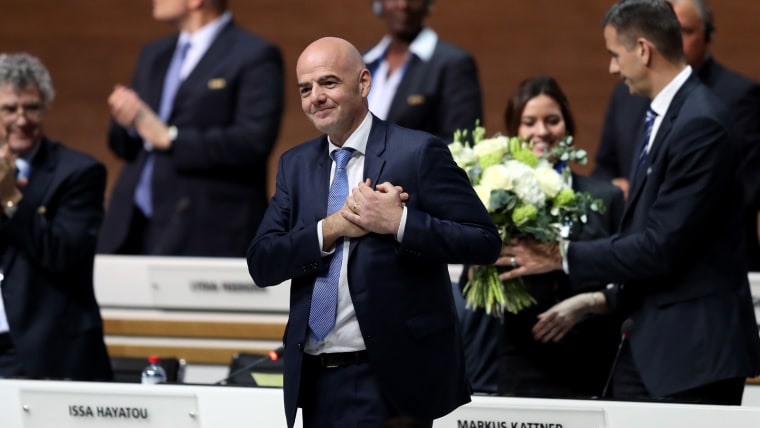 FIFA said it now concedes that Blazer, former executive vice president of the U.S. Soccer Federation and a member of FIFA's executive committee, accepted a $10 million bribe from interests seeking to win hosting rights to the 2006 World Cup for South Africa.
Blazer secretly pleaded guilty to a 10-count federal indictment in 2013 and agreed to pay at least $2.5 million — plus potentially millions more in taxes and penalties — for his role in the scheme, NBC News reported in June 2015.
FIFA's restitution claim names many other names, as well, alleging that dozens of other FIFA leaders and world soccer marketing figures were able to "profit from the prestige of the FIFA World Cup by skimming money and negotiating kickbacks."
"The damage done by the Defendants' greed cannot beoverstated," according to the document. "Their actions have deeply tarnished the FIFA brand and impaired FIFA's ability touse its resources for positive actions throughout the world."