Seven of the most powerful executives in soccer were arrested in Switzerland on Wednesday in what American prosecutors called a generations-long scheme to corrupt the most popular sport in the world.
The seven were arrested by Swiss authorities in an extraordinary raid at a sumptuous hotel in Zurich, where FIFA officials had gathered for their annual meeting. The Swiss planned to extradite them to the United States.
Attorney General Loretta Lynch announced the indictment of 14 defendants in all: Nine officials from FIFA, the world governing body of soccer, plus four sports marketing executives and one accused intermediary. Four others previously pleaded guilty.
Under the alleged scheme, the sports marketing executives paid the FIFA executives more than $150 million in kickbacks and bribes in exchange for the right to sell lucrative television and marketing contracts for soccer tournaments.
"This really is the World Cup of fraud, and today we are issuing FIFA a red card," said Richard Weber, the IRS' criminal investigation chief.
Swiss authorities also opened criminal investigations into the awarding of the 2018 World Cup, to be played in Russia, and the 2022 World Cup, to be played in Qatar. FIFA quickly said that the bidding process would not be reopened.
The indictments did not allege match-fixing or any other compromising of the games or tournaments themselves.
But Lynch said that the sport's governance was infested by "rampant, systemic and deep-rooted" corruption, including two generations of top officials. The indictment includes charges of fraud, bribery and money laundering, dating as far back as 1991.
The alleged scheme includes the bidding process for the 2010 World Cup, which was played in South Africa, and lucrative marketing and television contracts for smaller tournaments. Among them is the 2016 Copa America, to be played in the United States, Lynch said.
FIFA comprises six continental federations and 209 national associations, all charged with regulating and promoting soccer around the world. FIFA raked in $5.7 billion in the last four years, mostly from selling TV and marketing rights to the World Cup.
Lynch told reporters that the soccer officials had a responsibility to keep the sport open and accessible, from building soccer fields and providing soccer balls for children in developing countries to organizing the World Cup. They used that power to line their own pockets, she said.
The 18 indicted or convicted defendants included four Americans.
Sepp Blatter, who is up for re-election later this week as the president of FIFA, and around whom corruption allegations have swirled for years, was not indicted. Lynch declined to comment on whether prosecutors would target him, but she said the investigation was open.
FIFA also said that the presidential election, scheduled for Friday, would go forward as planned.
In a statement, Blatter said "such misconduct has no place in football," and said FIFA would "ensure that those who engage in it are put out of the game."
The charges threw the sport into unprecedented turmoil. Among the seven arrested in Switzerland were two current vice presidents of FIFA, Jeffrey Webb of the Cayman Islands and Eugenio Figueredo, who has dual American and Uruguayan citizenship.
Authorities also raided the Miami offices of CONCACAF, the governing body for soccer in the Americas. Webb is the president of CONCACAF and has been seen as heir apparent to Blatter. Another defendant, Jack Warner, is its former president.
In a statement, CONCACAF said it was "deeply concerned by today's developments" and pledged it would "continue to cooperate with the authorities to its fullest capacity."
"The defendants fostered a culture of corruption and greed that created an uneven playing field for the biggest sport in the world," said James Comey, the FBI director. "Undisclosed and illegal payments, kickbacks, and bribes became a way of doing business at FIFA."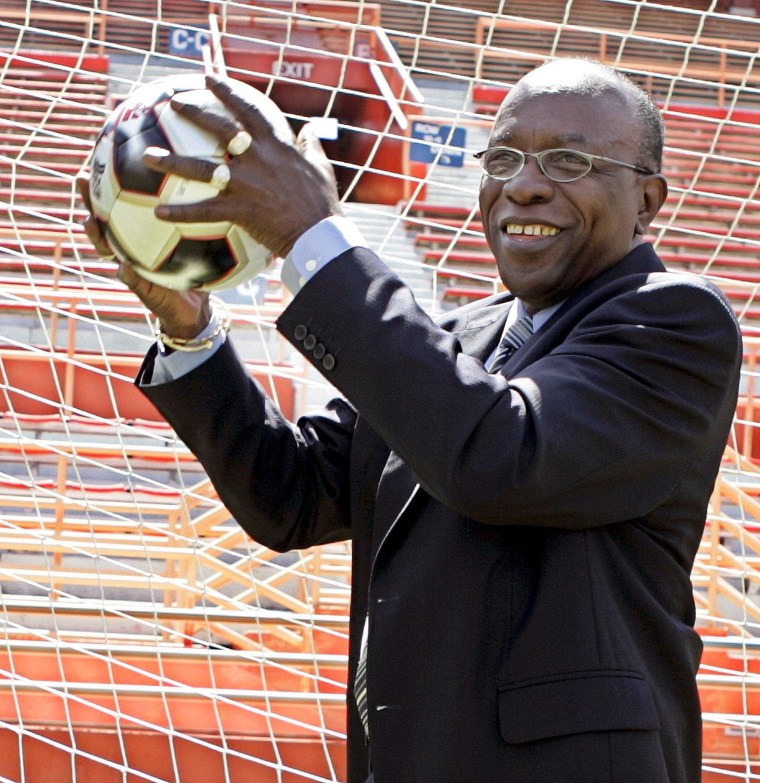 The indictments were unsealed in Brooklyn, New York. Prosecutors said the defendants had plotted part of the scheme in the United States and used the American financial system to move money.
Swiss authorities were questioning the soccer officials Wednesday. Depending on whether they challenge the arrests, extradition could happen quickly or take several months, said Folco Galli, a spokesman for the Swiss justice ministry.
Prosecutors revealed that Charles "Chuck" Blazer, the former U.S. representative on FIFA's executive committee, had pleaded guilty to 10 counts including racketeering conspiracy, wire fraud conspiracy, money laundering conspiracy and income tax evasion.
He forfeited more than $1.9 million at the time of his plea. He has agreed to pay more when he is sentenced and could also face jail time.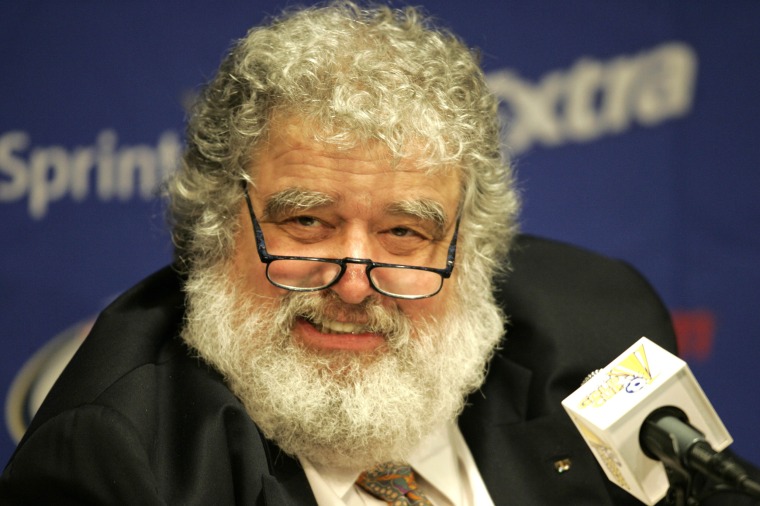 Warner's sons Daryan and Daryll also pleaded guilty to a series of charges in 2013, the Department of Justice revealed.
Aaron Davidson, the president of Traffic Sports USA Inc., was one of the four defendants who are sports marketing executives.
FIFA officials have been under investigation by the FBI for several years as questions have swirled over whether top officials were paid large bribes to select the host country for the World Cup dating back years.
The Swiss attorney general's office said that the separate probe into bidding for the 2018 and 2022 World Cups were related to "irregularities" and "unjust enrichment." The office said it was investigating money laundering through Swiss accounts, and was questioning 10 people.
The selection of Qatar for 2022 was widely questioned because of the tiny emirate's blistering heat, dismal human-rights record and lack of history in the sport, along with the close ties of its ruling family to Blatter.
FIFA has grown from a small nonprofit organization that did little more than award the World Cup hosting rights to arguably the most powerful and richest sports organization in the world since Blatter was elected president in 1998.
In an interview published Sunday, Blatter likened himself to a Swiss mountain goat, famed for its stubborn endurance.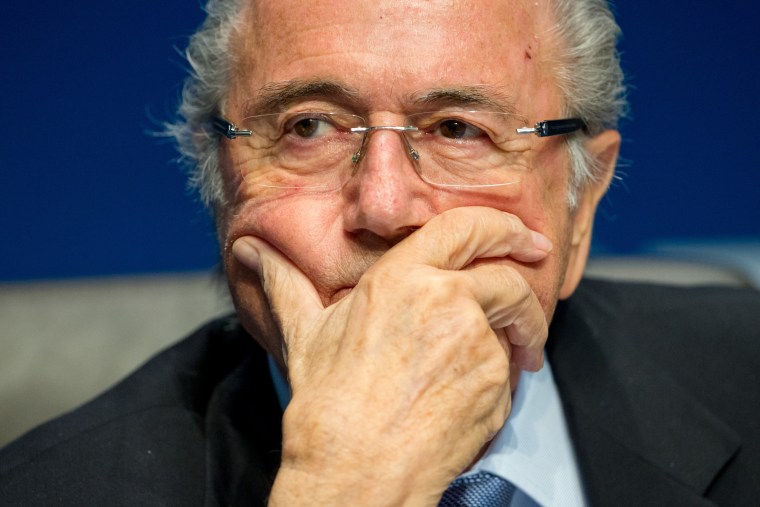 Last year, FIFA closed its own internal investigation, saying there was no corruption in the World Cup bidding.
But Michael J. Garcia, the former U.S. federal prosecutor who ran the probe, resigned over FIFA's refusal to release his full, 430-page report, filed in September. He has expressed deep frustration that a nondisclosure agreement bars him from publicizing his own findings.
Earlier this month, ESPN quoted a former media consultant for Qatar's 2022 World Cup bid as saying she was in the room as Qatari officials offered $1.5. million each to two members of the executive committee for their votes.
In 2010, The Sunday Times of London published video of an Executive Committee member accepting what he thought were bribes from a reporter acting undercover.
Last year, The Sunday Times reported on millions of secret FIFA documents that it alleged proved that Mohammed bin Hammam, a Qatari former member of the Executive Committee, bribed FIFA officials to the tune of $5 million in return for their support for Qatar's bid. FIFA's redacted version of Garcia's report cleared Qatar of all wrongdoing.
Blatter has since called awarding the World Cup to Qatar a "mistake" but has said the decision won't be revisited. "You know, one makes a lot of mistakes in life," he said in a Swiss TV interview.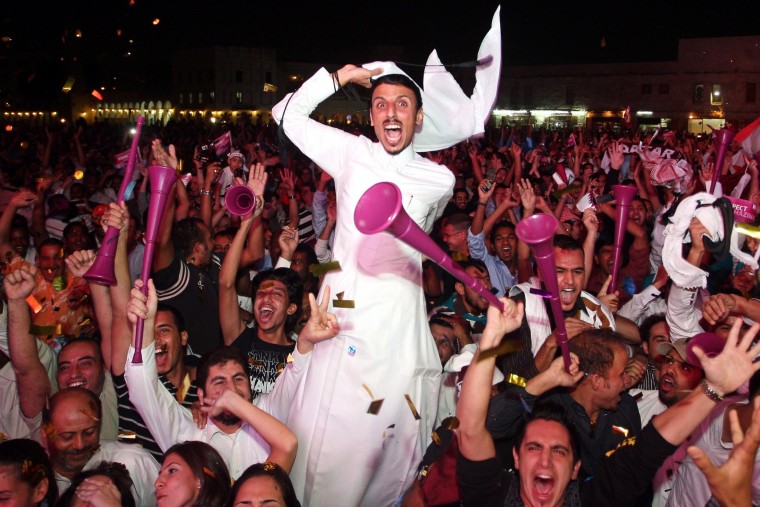 Damian Collins, the British member of Parliament who founded the reform group New FIFA Now, said the news was hugely significant for FIFA and could have a massive impact on the governing body.
"The chickens are finally coming home to roost, and this sounds like a hugely significant development for FIFA," he told Reuters. "It proves that Sepp Blatter's promises over the last few years to look into corruption at FIFA have not materialized and because he has totally failed to do this, it has been left to an outside law enforcement agency to do the job and take action."
Keir Radnedge, a British journalist who covers politics in soccer, said the arrests represented the "greatest crisis in FIFA's modern history."
Speaking to NBC News from Zurich, he said the development was an "amazing milestone" in the long-running allegations of corruption within the sport's governing body.
"In the past, FIFA has managed to keep these allegations at bay, usually with people disappearing from the sport when they were suspected of something," he said. "FIFA has a bad enough reputation, but if it is possible to get lower than rock bottom, then this is it."
NBC News' Alexander Smith, Alastair Jamieson, Jason Cumming and Christoper Nelson, Reuters and The Associated Press contributed to this report.