Sepp Blatter, the president of FIFA and the most powerful man in world soccer, abruptly announced his resignation on Tuesday, less than a week after the sport's governing body was engulfed by a corruption scandal.
"FIFA needs a profound restructuring," he said at a quickly assembled news conference in Zurich.
He had sailed to re-election only last Friday. Blatter, 79, said that he would stay on until a new election could be scheduled, probably between December and March.
He said that he made the decision after considering his presidency and "the last 40 years in my life."
"While I have a mandate from the membership of FIFA," he said, "I do not feel that I have a mandate from the entire world of football — the fans, the players, the clubs, the people who live, breathe and love football as much as we all do at FIFA."
On Wednesday, U.S. Attorney General Loretta Lynch unveiled sweeping corruption charges against nine current and former FIFA executives, accusing them of accepting bribes and kickbacks, mostly from sports marketing companies.
Some executives were hauled out of a five-star Zurich hotel. Prosecutors have hinted that other indictments could come later.
And a source familiar with the investigation confirmed to NBC News on Tuesday that the federal probe is also looking into whether Blatter engaged in any wrongdoing.
Related: 'World Cup of Fraud': Soccer Rocked by Corruption Arrests
In earlier comments on the indictments, Blatter had lashed out at Lynch and told a Swiss broadcaster that "something smells" about the investigation. He suggested that the United States was bitter about losing the bidding for the 2022 World Cup, which was awarded to Qatar.
Then, on Friday, he easily turned away a Jordanian challenger to win a fifth four-year term. Blatter nearly amassed enough votes to clear the two-thirds threshold on the first ballot.
"I'm not perfect. Nobody is perfect," he said that day. "But we will do a good job together."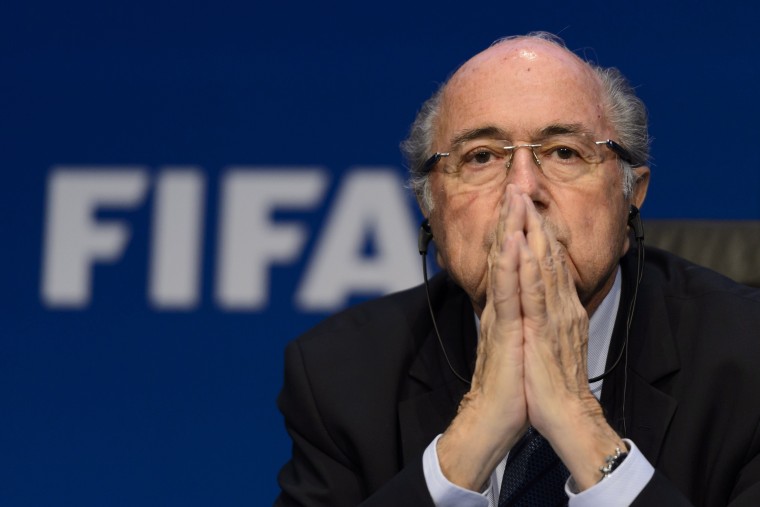 The indictments accused nine current or former FIFA officials of accepting bribes and kickbacks from sports marketing companies that sell lucrative soccer marketing and media rights.
Four sports marketing executives and an accused middleman were also indicted. Four others, including a powerful American, had pleaded guilty earlier in secret.
Related: How FIFA Boss Runs Soccer 'Like a Chicago Politician'
In addition, one FIFA executive was accused of selling his vote on the site of the 2010 World Cup for $10 million. Swiss officials have opened a separate investigation into how the 2018 World Cup was awarded to Russia and the 2022 World Cup to Qatar.
Blatter himself was not accused of wrongdoing, although American prosecutors stressed that their investigation was far from complete.
On Monday, The New York Times quoted U.S. officials as saying that Blatter's top lieutenant, Jérôme Valcke, made the $10 million payment in 2010. Valcke denied it. and FIFA on Tuesday pinned the payment on an executive who died last year.
Blatter joined FIFA in 1975 and assumed the top job in 1998.
Domenico Scala, the chairman of FIFA's audit committee, who will oversee the next election, praised Blatter's decision to step aside.
"This is the most responsible way to ensure an orderly transition," he said.