MOSCOW — Russian President Vladimir Putin has suggested FIFA boss Sepp Blatter deserves a Nobel Prize for his running of the soccer organization, which is currently embroiled in a multi-million-dollar corruption scandal.
The landmark case being pursued by U.S. prosecutors and alleging decades of bribes at the sporting governing body will also investigate the bidding process for the 2018 and 2022 World Cups — which FIFA awarded to Russia and Qatar respectively.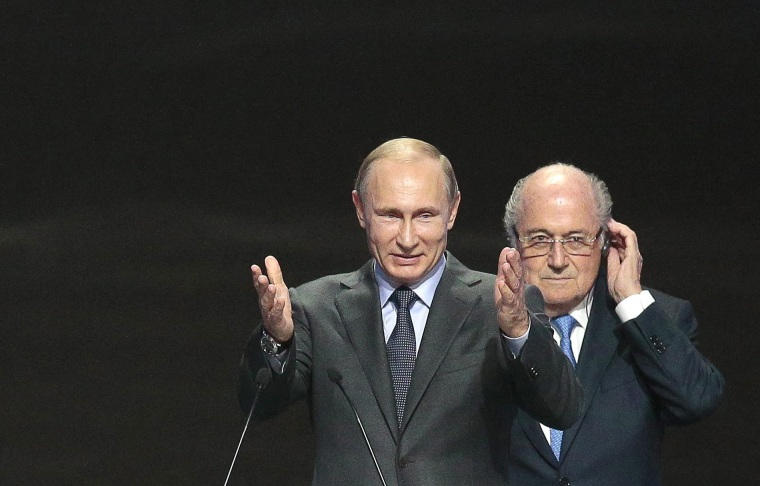 In an interview with Swiss state-run broadcaster RTS late Monday, Putin said people such as Blatter "deserve special attention and gratitude from public organizations" because they make an "enormous humanitarian contribution to the development of good neighborly relations between people and states."
The Russian leader said: "If anyone should be awarded Nobel Prizes, it is these people," according to a Kremlin translation of the interview.
Putin added he had "very good personal … and business relations" with Blatter and did not believe "a single word about corruption regarding him personally."
Blatter, 79, has not been accused of any wrongdoing, but many of the allegations circling FIFA are alleged to have happened under his leadership. In June, he announced he was standing down from his post after 17 years at the helm.
Putin also suggested that the investigation by U.S. and Swiss officials owed to lingering disgruntlement from countries that had lost out on hosting the World Cup. The U.S. was narrowly beaten by Qatar for the 2022 event.
Putin told RTS the allegations made him "wonder whether this is a continuation of the battle for 2018 and 2022."