It's official: the Flint water crisis is being prosecuted as a crime.
The man who ran the city treatment plant and two state environmental officials were hit with felony charges Wednesday for allegedly misleading regulators about the poisoned water supply — and prosecutors promised more charges are coming.
Mike Glasgow was charged with tampering with evidence and willful neglect of duty for allegedly filing false reports to the state about water quality. Stephen Busch and Michael Prysby were charged with misconduct, evidence tampering, conspiracy and violations of the Safe Water Drinking Act for allegedly altering water test results.
Related: Full coverage of the Flint water crisis
The charges, a mix of felonies and misdemeanors that carry up to five years in prison, were announced by Michigan Attorney General Bill Schuette, who launched a criminal investigation after the discovery of toxic lead in Flint's water sparked a state of emergency and a national focus on water safety.
"They had a duty to protect the health and safety of the families and citizens of Flint," Schuette said of the three defendants. "They failed us all."
Ellis Stafford, one of Schuette's special investigators and a Flint native, choked up as he spoke about the toll on the impoverished city of 99,000 people.
"It hurts," he said.
Schuette said as the investigation continues, more charges will be filed but he declined to say when or who the targets are.
"We will go down every rabbit hole. This is just the first wave," said Todd Flood, who is working as a special counsel in the AG's investigation.
Gov. Rick Snyder said he had not been questioned by investigators but his office was cooperating with the probe. He said he has always blamed a "handful of bureaucrats" for the crisis.
"If these accusations are correct, this would clearly take it to a whole new level," he said, announcing that Prysby and Busch had been suspended without pay.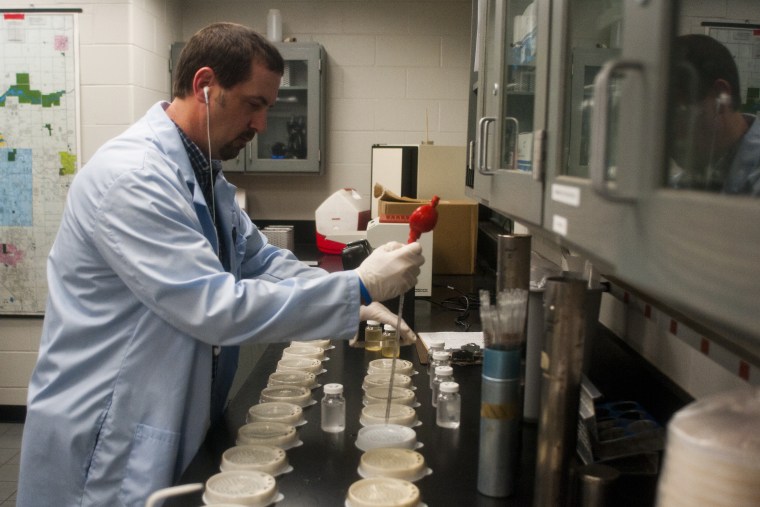 Busch was a district supervisor for Michigan Department of Environmental Quality who oversaw the drinking water plant in Flint, and Prysby is a former engineer for MDEQ. The both pleaded not guilty and were released on $60,000 bond.
The pair are charged with failing to ensure that corrosion control methods were in place when Flint switched water sources from Detroit's system to the Flint River in April 2014 — and with refusing to insist on corrosion control after high lead levels were discovered in the water.
According to charging documents, they manipulated results by directing those providing samples to pre-flush their taps, which would reduce the level of lead. They also allegedly tampered with three reports between February and August 2015 on lead levels in Flint water.
Prosecutors did not say what form the tampering took, but documents obtained by watchdog groups show the state excluded two water samples, which would have skewed the results.
The official misconduct charge against Busch and Prysby is tied to the allegation that state officials failed to cooperate with a county investigation of a Legionnaire's outbreak linked to the change in water sources.
Glasgow, who had not made a court appearance, is a city employee who ran the Flint water treatment plant. According to public records, he allegedly certified that water samples taken last year were from high-risk homes with lead pipes when they were actually from mostly low-risk homes.
The change in Flint's water source was a cost-cutting measure. Experts say that if officials had taken the simple step of adding anti-corrosives to the river water, it would prevented decay of the city's old pipes and stopped lead from leaching out.
After the switch was made without the necessary treatment, locals were repeatedly assured by government officials that their water was safe — even after outside experts began warning that it was not.
The mess unleashed a wave of lawsuits, triggered calls for Michigan Gov. Rick Snyder and EPA administrator Gina McCarthy to resign, became an issue in the presidential campaign, and was the subject of Congressional hearings.
Rep. Elijah Cummings, ranking member of the House Oversight Committee, called the criminal charges "one step towards justice for the families of Flint" but said the three men charged are not the only ones to blame.
"Governor Snyder can hold all the photo ops he wants drinking filtered water now, but that doesn't help the residents of Flint who were drinking poisoned, unfiltered water for more than a year," Cummings said. "The people of Flint deserve accountability for the actions of Governor Snyder and his officials that caused this crisis."
Snyder's office said he had no immediate comment on the charges and did not know whether he would make any statement at all.