Lead levels in kids' blood shot up just after Flint, Michigan changed its water supply and didn't fall until months later, federal health officials confirmed Friday.
They said children who drank Flint water had a 50 percent higher risk of dangerously elevated blood lead levels than before the switch.
The analysis from the Centers for Disease Control and Prevention cannot say just how many children were affected, or what it might mean for their futures. But it does confirm that the water poisoned them.
"What we have documented is there is a clear increase in blood lead levels in the children who were screened over time," said Patrick Breysse, director of the CDC's National Center for Environmental Health, who led the analysis.
"It provides a sound basis for providing services to children in Flint."
Related: Lead Rules Provide Only an Illusion of Safety
The lead got into the water starting in 2014 after water suppliers switched the city's water source from the Detroit Water Authority, which pulls water from Lake Huron, to the Flint Water System, which takes it from the Flint River.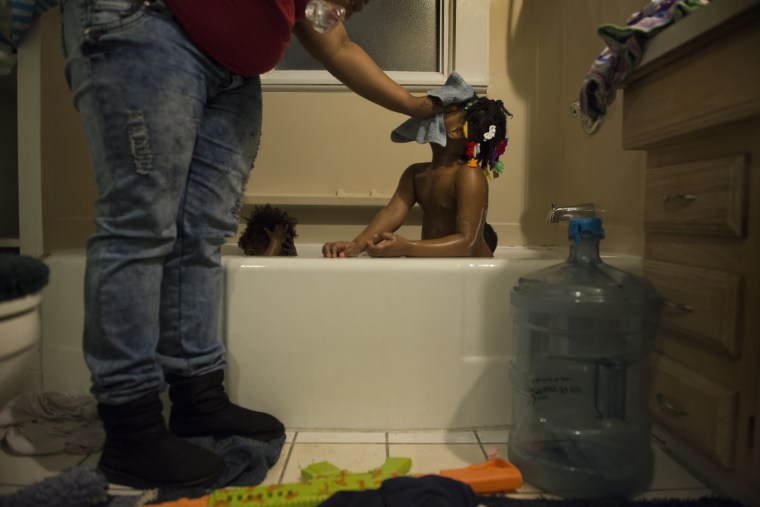 Because the water chemistry is different, the river water leached away a protective coating inside the water pipes and lead from the pipes got into the water supply.
In Flint, it took months for anyone to warn the public.
"We have shown there was about a 50 percent increase in the proportion of children with elevated blood lead levels in the population that was screened," Breysse told NBC News.
"We know why it happened and we know that it should not have happened."
The CDC defined "elevated" as above 5 micrograms of lead per deciliter of blood.
"After the switch back to the Detroit water system, the percentage of children under 6 years with elevated blood lead levels returned to levels seen before the water switch took place," the CDC team wrote in the report.
The team only tested about 7,000 children and Breysse says the study was not designed to get a count of how many kids were harmed. About 99,000 Flint residents were affected.
"We know that blood lead levels changed over time. We know that it changed by race, we know that it changed by sex and we know that it changed by age," he said.
The children are not free of lead and were not lead-free before the crisis, either, Breysse said. "Most inner city kids and children in other settings have blood lead levels that are detectable in their blood," he said.
Pediatricians say there's no safe level of lead for kids. Unborn babies and very young children are most vulnerable to the effects of lead.
Related: Flint Water Crisis Wasn't the First, Won't be the Last
The heavy metal kills developing brain cells and the consequences are permanent.
They can include lower IQ scores, poor school performance, inattention, impulsive behavior, aggression and hyperactivity. Studies increasingly link conduct disorder, delinquency, and criminal behaviors to lead toxicity.
Older children and adults are less vulnerable but high levels of lead can also affect a mature brain and, in very high doses, can kill.
"We know why it happened and we know that it should not have happened," Breysse said.
Federal officials said this week that it was safe for anyone to drink filtered water in Flint.
It's a national problem — tests in multiple cities show higher-than-safe levels of lead in the water.
Quest Diagnostics, which does a large proportion of lead testing in the U.S., said earlier this month that more than 3 percent of 5 million kids tested across the country had blood lead levels of more than five micrograms per deciliter of blood.
"We know that it has happened in other places in this country," Breysse said.
"There is a movement to remove the lead in pipes right now," he added. But the pipes are not always easy to find and replace. "It's easier said than done."
Related: Here's What Lead Can do to You
Lead paint is the major source of lead in U.S. kids but the CDC team said water was the culprit in Flint.
"There might be multiple sources of early childhood lead exposure in areas with houses built before lead paint use in the United States was banned in 1978. However, this analysis suggests increased lead exposure related to consuming contaminated water in Flint," they wrote.
"What we have documented is there is a clear increase in blood lead levels in the children who were screened over time."
While there is no treatment, experts say they're offering support to affected families.
"We have followed up directly with the families in Flint whose children showed elevated levels of lead in their blood in an effort to ensure they are getting the additional assessments and case management services they need," said Dr. Nicole Lurie, assistant secretary for preparedness and response at the Health and Human Services Department.
"We have also expanded Medicaid and strongly urge parents to enroll their children and schedule appointments for them to be seen by a health provider, who can follow their health as they grow and develop. It is also important to for families to take advantage of the programs we have made available that offer healthy foods, and to get kids involved in programs that stimulate their brains — like Head Start and summer reading programs."
If the federal government makes sure the kids get regular doctor visits, a healthful diet, and checks to make sure blood lead levels stay low, that will help, Breysse said.