FLINT, Mich. — A Michigan health official who didn't tell the public about an outbreak of Legionnaires' disease during Flint's water scandal was sentenced to probation Monday and ordered to write an apology to residents.
Corinne Miller is now retired as Michigan's director of disease control. She pleaded no contest last summer to willful neglect of duty, a misdemeanor, and wasn't expected to get a jail sentence. But the letter of apology was a surprise.
It's "perfectly appropriate in this case," Judge Jennifer Manley said.
In her plea agreement, Miller said she was aware of Legionnaires' disease in the Flint area when the city was using a different water source, but she didn't report it to the general public. There were nearly 100 cases in the Flint area, including 12 deaths, in 2014 and 2015.
During that time, Flint, population roughly 100,000, was drawing water from the Flint River but not treating it to reduce corrosion. Lead leached from old pipes and fixtures, and the water supply was contaminated.
Some experts have linked the water to Legionnaires', a type of pneumonia caused by bacteria that thrive in warm water and infect the lungs. People can get sick if they inhale mist or vapor, typically from cooling systems.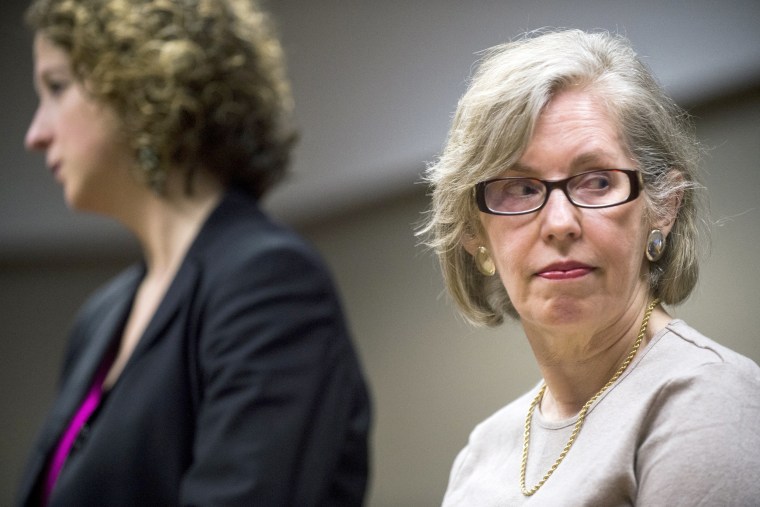 Miller declined to speak in court Monday. She was placed on probation for a year and ordered to perform 300 hours of community service. Defense attorney Kristen Guinn objected to the apology letter, saying it might be used against Miller in civil lawsuits.
The judge didn't indicate how the letter would be distributed.
Special prosecutor Todd Flood said the attorney general's office has received "substantial cooperation" from Miller in the ongoing investigation. Miller said she prepared a report on the Legionnaires' outbreak to people at the state health department identified only as Suspect One and Suspect Two.
Separately, the judge declined to make an immediate ruling on a request by two state employees to dismiss charges of misconduct in office. Manley said she wants to hear evidence about their alleged crimes at a future hearing.
Lawyers for Michael Prysby and Stephen Busch of the Department of Environmental Quality argued that they're career civil servants, not officials who would be covered by the charge. Flood disagreed, saying they were "police officers of our state" who could have stopped "pollution" of the Flint water system.
Flint's water quality has greatly improved since fall 2015 when the city switched back to Detroit's regional water system, although tap filters still are recommended. Separately, the city hopes to replace 6,000 lead water lines at homes this year but thousands more remain.