After weeks of meetings aimed at extending state-provided water relief credits, residents of Flint, Michigan, will resume paying the full price for water they still need to filter and have not been able to drink safely since April 2014.
The credits, totaling roughly $40 million in aid, have covered 65 percent of residents' water usage since 2014 when the city's water crisis began. The credits have also covered 20 percent of city businesses' water use.
The dangers of Flint's water drew national attention after an emergency manager answering to the state's governor, Rick Snyder, ordered the city's utility to switch water providers from Detroit Water and Sewerage Department water to the Flint River. The move filled the city's water pipes and residents' taps with water contaminated by high levels of lead.
Anna Keaton, Snyder's press secretary, said Tuesday that the state would provide credits until Flint's water met quality standards under the Lead and Copper Rule and Safe Drinking Water Act.
"That six month period, which is again required for every city in America, was June to December 2016," Keaton said. "They got those results back and they went over them with the EPA in Chicago and the city and a few independent scientists, such as Marc Edwards, and they all determined that the water met all the quality standards."
Related: Flint Residents Leery of Data Showing Decreased Lead Levels in Water
Federal officials last June declared that properly-filtered Flint water was safe to drink, after testing of close to 50 locations in the city of about 100,000. The U.S. Environmental Protection Agency found lead levels far below those considered to be dangerous, and the federal emergency declaration over the city's water crisis was lifted in August.
But Flint Mayor Karen Weaver has said previously that not all homes can be fitted with filters, and residents have proven skeptical of data showing decreased lead levels.
"They're not telling the truth about the water testing," said Melissa Mays, a community advocate with Water You Fighting For. "They're saying they're in compliance, but everyone here has had to learn the Lead and Copper Rule, and they're not.
"People are still testing way high for lead, as well as bacteria that the state's not even looking at."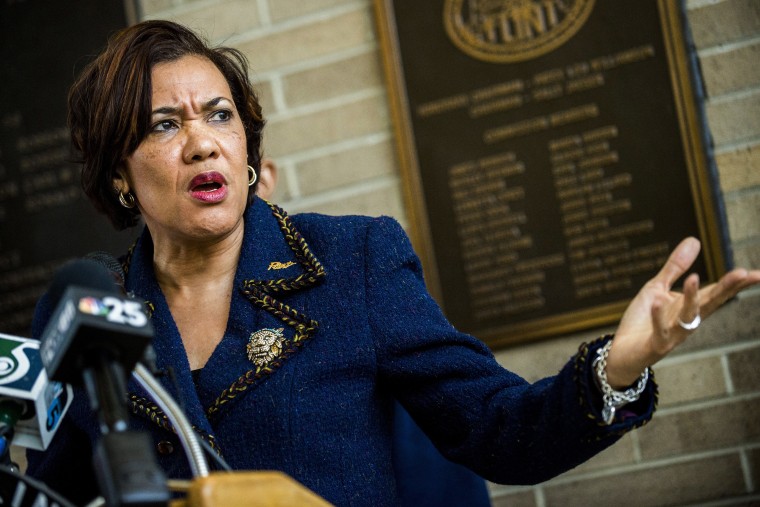 Keaton said she was not aware of bacteria causing people to fall ill and acknowledged the trust gap between Flint residents and the state's administration.
"We have said all along the all-clear is not going to come from our office because we understand there is an issue with trust," Keaton said. "So the governor is looking to the scientists."
Related: Bad Decisions, Broken Promises: A Timeline of the Flint Water Crisis
Others, the mayor included, were upset by what they considered the sudden nature of the credits' stoppage.
"The governor feels he has fulfilled his obligation," Weaver said at a Feb. 15 news conference. "He stated that Flint's water now meets the same quality standards as other communities in Michigan and meets the federal quality standards and in his opinion the water is good. And I told him that I disagree."
But residents may face more pressing issues than cost, even though a report released last February by Food and Water Watch found Flint residents' water bills were among the largest in the country. Lead poisoning symptoms tend to get worse in the hot summer months. That could spell trouble with this year's unusually early spring.
In either case, Flint residents will be filtering their water for at least a few years, while pipes and water mains are being replaced.
"When they're replacing a main or they're replacing a pipe some of the lead and other contaminants can become dislodged and get into the main, and that can affect water for your neighbors down the street, on the next block," Keaton said. "That's why out of an abundance of caution we are continuing to provide filters, but that construction is expected to go on for two to three years."
The wait might be too long for residents like Arthur Woodson, a veteran who helped service members sickened by tainted waters at Camp Lejeune and has experienced health problems from drinking Flint's water.
"They don't have any sense of urgency," Woodson said.