Michigan's embattled Gov. Rick Snyder is expected to use his state of the state speech later Tuesday to address furious Flint residents about the water crisis in their city.
And while Snyder is speaking, dozens of protesters are planning to vent their anger at the Republican governor's admittedly fumbled response to the evolving environmental disaster by picketing his Ann Arbor home.
Meanwhile, Mona Hanna-Attisha — the pediatrician who sounded the alarm about the elevated lead levels she was seeing in Flint children — told NBC News the recent deaths of 10 people in and around the hardscrabble city were "totally related" to the water crisis.
She noted that Legionnaires disease, which claimed the lives of those people, is a type of pneumonia spread by bacteria in standing water.
Under pressure
A Snyder adviser earlier Tuesday gave the Detroit News a preview of the governor's SOS speech.
"The No. 1 priority for this administration right now is dealing with the Flint disaster," the adviser said. "The governor's going to speak directly to the people of Flint about what the state is doing and will continue to do to address this disaster."
Michigan's Democratic leaders ripped Snyder ahead of his address.
"The state of our state is not strong when residents are being poisoned by their tap water," Tim Griemel, House Democratic leader, said.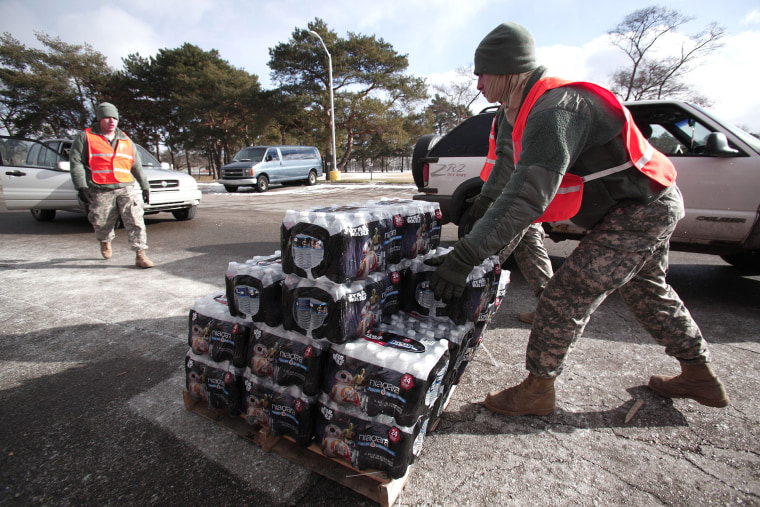 "We've seen documents that suggest top Snyder officials were aware of the grave health threats posed by Flint's drinking water months before he publicly acknowledged it," Michigan Democratic Party Chair Brandon Dillon added. "They were brushed aside and ignored by this administration. And still Governor Snyder continues to refuse to answer questions about why he waited so long to act ... Now we've learned that 10 people have died and dozens more have fallen ill due to Legionnaires disease."
Flint Mayor Karen Weaver, a Democrat, was to meet with "high level White House officials" on Tuesday afternoon to discuss the federal aid in response to a calamity that has exposed her hard-pressed city's 100,000 mostly poor and black residents to possible lead poisoning and other contaminants.
President Obama declared a state of emergency on Saturday and dispatched the Federal Emergency Management Agency and the National Guard to Flint while Michigan Attorney General Bill Schuette launched a criminal investigation. The feds are also probing the debacle.
And more lawyers are circling.
"Attorneys will meet Tuesday to discuss two new class-action lawsuits filed by Flint residents that target the governor, the state Department of Environmental Quality and former Flint emergency managers, among others," said Eric Hood, who is coordinating media for the plaintiffs.
The suits, Hood said, "will detail government officials' culpability and will provide a more detailed timeline than the previously filed federal lawsuit."
Snyder, who has apologized for the state's botched response to Flint, conceded on Monday that this has become his Hurricane Katrina.
"It's a dis­aster," he told the National Journal. "It's clearly a neg­at­ive on what we've ac­com­plished since I've been gov­ernor."
Snyder admitted his office knew last summer that Flint residents had complained they were "getting blown off" by state environmental officials. He also admitted his administration failed to follow-up forcefully but insisted he would not resign as many Democrats — including presidential candidate Hillary Clinton — have demanded.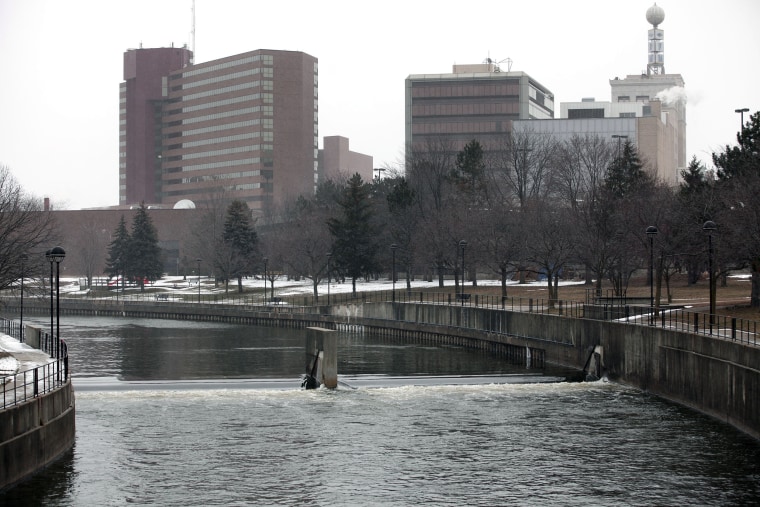 "I want to solve this prob­lem," the two-term GOP governor said. "I don't want to walk away from it."
The slow-poisoning of Flint began in April 2014 when — under the oversight of Darnell Earley, a city manager appointed by Snyder — the city began tapping the polluted Flint River for water to cut costs instead of using Detroit's supply from Lake Huron.
Soon residents were complaining about the foul taste, smell and urine-like appearance of the water. Tests later showed the river water was not being properly treated and causing lead to leach from old pipes.
Local children have shown elevated levels of lead in their blood, a condition that can cause permanent brain damage.
Campaign issue
GOP front runner Donald Trump said at an Iowa campaign that "it's a shame what's happening in Flint." But he declined to say anything more on the subject.
Clinton, during Sunday night's Democratic presidential debate, suggested racism played a role in the Flint crisis.
"We've had a city in the United States of America where the population, which is poor in many ways and majority African-American, has been drinking and bathing in lead-contaminated water," Clinton said. "And the governor of that state acted as though he didn't really care."
Her chief rival, Vermont Sen. Bernie Sanders, has also criticized Snyder's handled the unfolding disaster.
And filmmaker Michael Moore, a Flint native, said Snyder should be arrested for mishandling the crisis.